IPTV service refers to a TV service that is delivered via the internet over an IP-based network. The IPTV ecosystem includes the operators, middleware providers, set-top box vendors, and others. It makes use of a broadband internet connection to transmit TV signals; thereby, enabling efficient data transmission when compared with traditional broadcasting technologies. The increased penetration of Internet-based services is a key growth driver of the global IPTV service market. Other factors fueling the growth of the IPTV service market include better internet infrastructure and video streaming services in developed economies.
The IPTV market is mainly driven by technology, with leading players offering high-end services to consumers like HD and ultra-HD IPTV. However, poor infrastructure and slow replacement are major challenges, making it difficult for them to penetrate developing regions.
The Business Challenge
The client– A leading IPTV service provider

Objective– To identify and assess the market needs more profitably. Also, implement the right strategies to reach potential customers.
The client wanted to devise strategies to reach potential customers and appeal to their needs. The client wanted to leverage the use of Infiniti's market analysis solution to better understand their penetration levels in the market space. The client also wanted a detailed report of the entry barriers, new opportunities, risks, and competition in the IPTV service market space.
Results– Devised effective strategies to evaluate current market trends and drive profitability. Also, identified future growth areas for the IPTV service provider by drawing conclusions on customer preferences and market opportunities.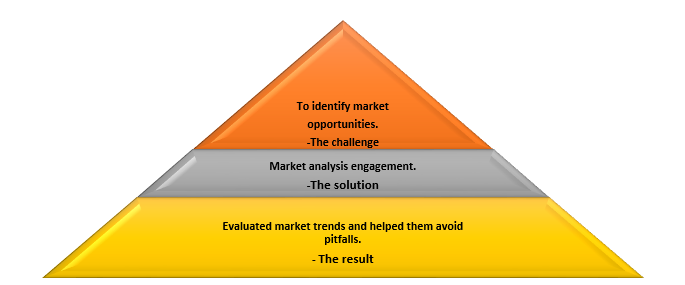 The market analysis experts at Infiniti carried out extensive research comprising of interviews and discussions with leading stakeholders to help the client improve business efficiency. The experts at Infiniti further compiled information from a wide array of secondary sources such as paid industry databases, company presentations, and industry forums to help the client understand the competitive scenario.
The Solution and the Business Impact
Implementing a market analysis engagement helped the client identify and target potential customers based on demographics. This engagement also helped the service provider avoid significant losses, which could have otherwise affected their overall market share. The market analysis solution offered enabled the client to modify and renovated their existing products and services to give them a competitive edge. Moreover, this helped them in identifying a scalable approach to discover new market opportunities and assess market trends.
The Future
The global telecommunication industry is undergoing a dramatic transformation. The emergence of internet protocol has brought about new encoding and transport mechanisms in the video streaming sector. Moreover, the ever-changing regulatory landscape, new technologies and delivery models, and the promise of ubiquitous broadband access have sparked new business opportunities among firms operating in the telecommunications industry. Therefore, those who carefully anticipate, access such opportunities, and address them proactively will be better positioned to succeed in this sophisticated market space.
Key trends in the IPTV service market
Wireless IPTV service: With the growing preference for wireless services, service providers are now focusing on offering services that differentiate them from their competitors in the market. This service is characterized by ultra HD videos based on the Wi-Fi connection between an Internet modem and an Internet protocol television (IPTV) set-top box.
Growing focus on HD and UHD IPTV service: Transition to HD has been one of the most important media technology. IPTV service providers are increasingly focusing on offering HD and UHD IPTV services.
Cloud-based IPTV service: Cloud computing is the new infrastructure environment that delivers on the promise of supporting on-demand services flexibly by scheduling bandwidth, storage, and compute resources.
Partnerships and acquisitions: The IPTV service market is experiencing an increase in mergers and acquisitions.