Given the rapid advancements in technology, there are plenty of growth opportunities across markets, but not all businesses have the capabilities required to identify and tap into them. This often presents a fundamental challenge to businesses in the biopharma industry. Identifying and capitalizing on new market opportunities in an ever-changing environment like pharma requires a research-backed market opportunity assessment.
Irrespective of the market position, i.e., start-ups or well-established firms, not many businesses have the research expertise, time, and resources to conduct an in-depth market opportunity assessment. At Infiniti, we leverage a realistic approach to conduct a market assessment study customized to meet the needs of our clients and the markets they operate in. Our tried and trusted research methodologies are bolstered by a comprehensive understanding of global markets and the strategies of leading businesses in every industry.
The recent advancements in pharma have impacted the pharma landscape leading to drug development delays and diminished R&D productivity. Conducting an in-depth market opportunity assessment can help you thrive amid such uncertainties. Contact our experts to know more.
About the Client
The client is a North American mid-sized pharma company specializing in small molecule drug development. The company is also known for developing and manufacturing therapeutic prescription drugs.
As drug development involves huge costs, it requires businesses to analyze the demand for their product at an early stage in drug development. Infiniti Research leveraged market opportunity assessment and portfolio prioritization metrics to help the client identify and capitalize on market opportunities.
Identifying and tapping into new market opportunities is essential for businesses to succeed in the long run. A detailed market opportunity assessment acts as a cornerstone of a successful business by helping you capitalize on new opportunities. Request a free proposal.
The Business Challenge
Evolving business landscape
Over the past few years, several factors have impacted pharma companies, including growing competitive pressures from new market entrants, the evolution of drug development methodologies and drug formulations, and the growing market needs. Many of these factors significantly contributed to the client's declining margins and market position.
Market size for new opportunities
Evaluating the market size for opportunities is crucial for pharma companies to successfully launch their product. Our client wanted to analyze the market size for their new drug by conducting a market opportunity assessment. They wanted to leverage this insight to create a product launch strategy and impact the lives of patients across geographies.
Barriers to market entry
Analyzing barriers to entry can help businesses develop a strategy that meets both business and market requirements. In this case, our client wished to gauge the competitive landscape and analyze similar offerings that could potentially impact their market success using market opportunity analysis.
Lack of market insights and visibility posed a major challenge for the client in this study, as they were unable to define a clear business strategy and justify their actions. Request a free brochure to learn more about market opportunity assessment and its benefits.
Market Opportunity Assessment: Our Approach
Based on a detailed analysis of the client's challenges, we recommended a three-pronged qual-quant research methodology to capture and validate real-time market insights. We began the project with a qualitative exploration of the client's industry perceptions and drug development approach. We then conducted robust quantitative research by leveraging online surveys to explore unmet market needs and analyze the market opportunity for novel compounds.
The three-pronged approach to market opportunity assessment offered critical research insights around the competitive landscape, market opportunities, drug development, and market positioning. In the initial phase of market opportunity assessment, both primary and secondary market data from various sources were leveraged to identify in-market and evolving players who could be future competitors.
Product profiling based on market segments was also conducted parallelly to understand the offerings of leading market players. Our global market research team also analyzed the pricing strategies of similar products and created price benchmarks to accelerate the creation of new pricing policies for the client.
Outcome
Market opportunity assessment empowered the client with in-depth research insights covering various factors like competitor offerings, market opportunities, regulatory timelines, administration routes, technologies employed, and new formulations. Using these insights, the client devised a robust drug launch strategy that helped them find a stronger niche in the market.
Market opportunity assessment also enabled our client to improve decision making and drug development by driving improvements through:
The design and development of a product profile
In-depth analysis of market needs
Quantification of market opportunities
Business expansion and portfolio development
How Infiniti's Market Opportunity Assessment Research Can Help Biotech and Pharma Companies
Drug development timelines and new drug launches are crucial factors impacting the growth of biotech and pharmaceutical companies. To address these issues, businesses must analyze market opportunities at an early stage of drug discovery and development. We at Infiniti help pharma and biotech companies assess and evaluate new opportunities systematically by offering research-backed market insights using market opportunity assessment studies.
Our approach to market opportunity assessment research is comprehensive and can help pharma companies find answers to the following:
What are the unmet needs in the market?
What is the viability of the new drug formulation?
What is the size of the opportunity?
How to identify market opportunities?
What is the likely demand for the new drug?
Where are the growth markets?
Who are the competitors?
Our custom market opportunity assessment research offerings include: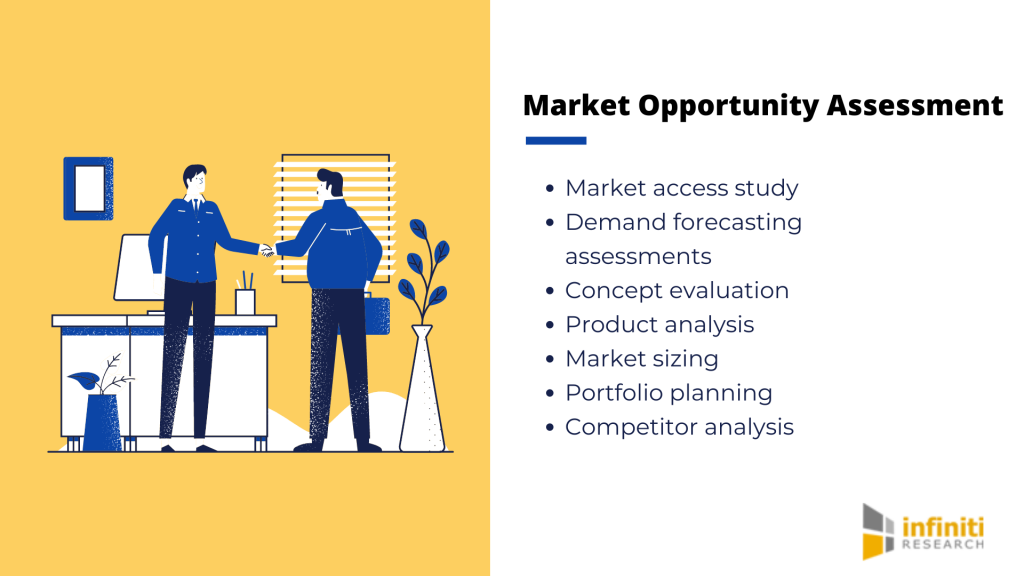 A must-read case study for strategists and decision-makers looking to identify new market opportunities. Request more information to gain comprehensive insights into our approach to market opportunity analysis.