Emerging companies focus on rapid growth, innovation, and agility. Each of these factors is often perceived to be missing from the agenda set by well-established companies. Yet leading market players continue to innovate, witness steady growth and even exhibit elements of agility.
As emerging market companies begin to grow, questions regarding predictability, repeatability, scale, and organizational structure become more critical than ever. Having worked with CMOs of emerging market companies and established firms, our experts recommend that emerging companies must focus on five critical areas when conversing with market leaders. It includes business growth, strategy, capacity planning, innovation, and societal issues. Contact us to find out how our market intelligence solutions bolster the value CMOs deliver.
Five focus areas for CMOs
CMOs often hold the most challenging and innovative roles in today's business world. They generally devise well-structured plans to innovate and evolve their organizations. However, the long-term success depends on the ability of these individuals to set realistic expectations and make tough choices. In addition, when it comes to strategic planning, the path to tomorrow is never a straight line. As such, CMOs are under intense pressure to deliver positive outcomes despite increasing competition, economic uncertainty, and geopolitical disruptions.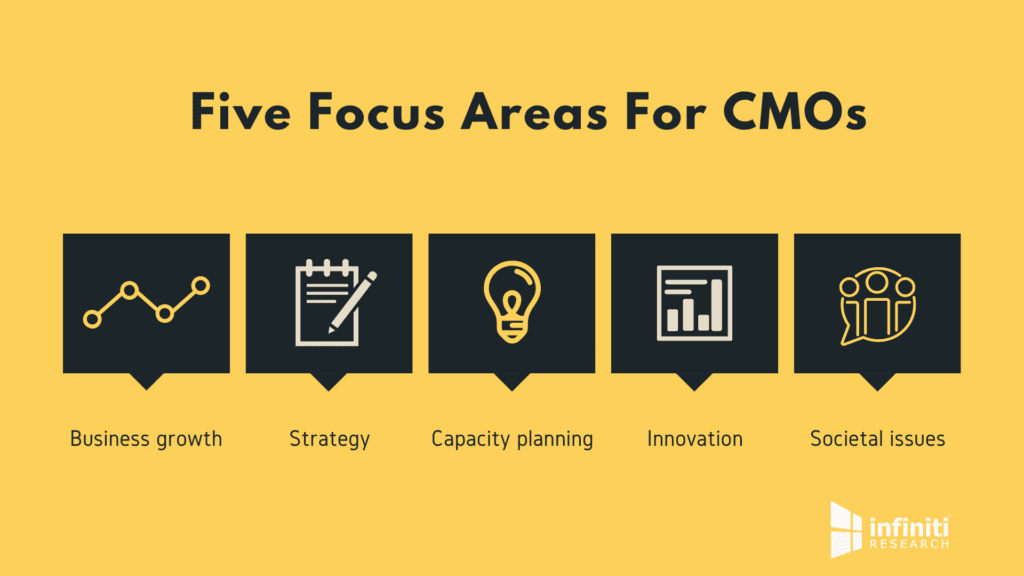 Business growth
CMOs of market-leading companies can offer detailed insight on ways to drive profitable revenue growth. The experiences of marketing leaders who have witnessed multiple growth phases from being a startup to a well-established firm could benefit CMOs of emerging companies looking to achieve similar goals. A CMOs perspective on strategy development and business development can be helpful for an emerging company striving to achieve similar goals.
Growth strategy
Unlike leading market players, the end goals of emerging companies are dynamic and change rapidly, making it crucial to analyze the growth drivers and develop a strategy to make the most of new opportunities. The approach to shifting from ad hoc planning to a formal approach without losing agility represents valuable insights that CMOs who have been a part of this transition can provide.
Our experts have the skills and expertise to support CMOs in their transformation journey as they navigate the complexities of today's business landscapes, anticipate upcoming trends, and respond to disruptions with agility. Request a free proposal to gain detailed insights.
Capacity planning
The two most significant challenges that CMOs of emerging companies face revolve around resource allocation and investment prioritization. If emerging companies analyze growth scenarios and determine when to add or complement resources, they might face several hurdles in achieving their business goals. However, chief marketing officers who have experienced multiple growth stages can provide insight into the key questions to consider when planning and allocating marketing resources, helping emerging companies scale their investments and achieve rapid growth.
Innovation
Innovation has become imperative for business success. Perhaps it is also one of the biggest challenges that emerging companies face as they expand their business. Emerging companies can benefit by gaining insights into the approaches that market leaders adopt to understand the marketplace and customers' needs. Interested in learning more about how we help emerging companies? Request a brochure now!
Societal issues
CMOs spearhead a company's efforts to ensure that their policies and practices reflect the ideals of consumers, especially when it comes to inclusion and diversity. Hence, analyzing how market leaders implement processes for monitoring and engaging with social issues can be a game-changer for emerging companies witnessing a misalignment between consumers' expectations and their societal actions.
Eventually, the end goal of every emerging company is to become a market leader. The most promising way to achieve success through this transformation is by understanding the approaches leveraged by CMOs who have lived through the various growth phases. Moreover, it is also essential to understand and learn about the failed initiatives and strategies developed to achieve progressive growth.
Request more information to learn how Infiniti Research has helped leading businesses and emerging companies anticipate and devise suitable strategies for the post-COVID-19 recovery phase.