With a growing focus on sustainability, flexible packaging is replacing traditional rigid packaging solutions. Also increasing market demand for consumer-friendly and sustainable packaging materials has propelled flexible packaging as a cost-effective alternative. Despite the strong market demand for flexible packaging services, the entry of new players in the global flexible packaging market is projected to boost the market competition. This has made it vital for major players in the flexible packaging market to conduct market research and approach the right partners to provide intelligent business solutions.
Wondering how partnering with Infiniti Research can help you tackle market challenges? Request a FREE brochure to gain insights into our portfolio of services and their benefits for your business.
The Challenge
A major flexible packaging company found several inefficiencies while trying to expand its business operations to the European market. The speed of transformative change, consumer perception of plastic, sustainability challenges, and difficulty in forecasting market size made this a complex undertaking for the team. The company also struggled with building up systems and processes to keep up with the escalating requirements of the flexible packaging market. All these challenges were further escalating the costs. With this, the client realized that assessing key competitors is not enough in this competitive market. It is vital for them to attain a wider understanding of the markets as a whole.
The company approached Infiniti Research for a solution to address the challenges and drive down the costs.
Are you facing similar challenges? If yes, our experienced market research experts can help. Request a FREE proposal to know how.
Our Approach
Our market opportunity analysis experts leveraged various paid and non-paid databases, and other secondary sources of information to study the flexible packaging market in Europe. Also, they tracked the distribution channels of major competitors and conducted porter's five forces analysis to examine the European flexible packaging industry's competitive forces and likely profitability.
Key takeaways of this engagement
Gained insights into market size estimate for the next 10 years

Identified factors affecting profitability and reduced time to market

Expanded their business operations around niche market segments
The client also achieved a 50% reduction in the total cost of operations and up to $13 million in potential annual operational savings.
Wondering how the client successfully achieved a spot in the European flexible packaging market? Download this FREE resource to gain detailed insights into this success story.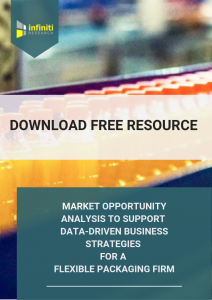 Why Infiniti's Market Opportunity Analysis Solution?
Today, it is indispensable for organizations to understand the competitive landscape and market attractiveness to gain an edge over their peers. Market opportunity analysis helps organizations to effectively connect their products and services with their target customers. Market opportunity engagement also helps organizations comprehend the potential challenges and barriers to entry across niche market segments. Infiniti's market opportunity analysis has helped various companies gain accurate and actionable data to devise effective go-to-market strategies.