Generic Drugs Manufacturing Market Overview and the Need for Demand Management
The generic drug manufacturing market has witnessed immense growth in recent years due to the increasing prevalence of chronic diseases, rising population, and higher dependence on the pharmaceutical industry. However, this market's time-sensitivity and highly competitive nature have made it increasingly challenging for industry players to grow and succeed. Significant challenges that impact generic drug manufacturers are the need for fast and efficient delivery of products, the importance of differentiating offers, and the increasingly crowded and competitive marketplace. Over recent years, industry leaders have focused on improving their supply chains and ensuring speed and quality in all their products. Demand management solutions help businesses address supply chain complexities, analyze past and present trends that affect their demand and identify the ideal management processes required to succeed in this combative market.
Growing demand for generic drugs and increasing competition have created a highly challenging marketplace. Request a free proposal to learn how our demand management solutions help generic drug manufacturers dominate their market.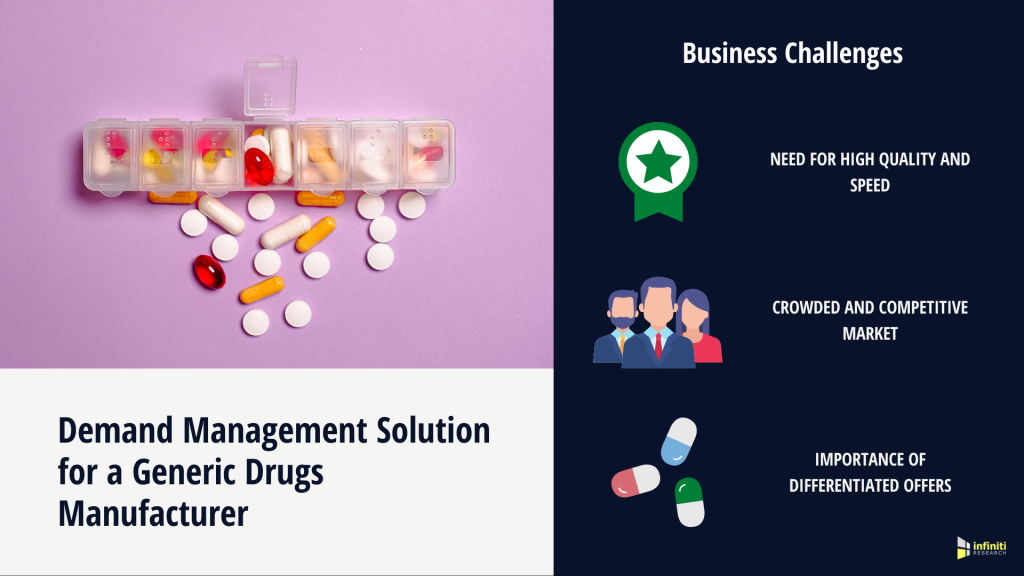 Business Challenges:
The client is a generic drug manufacturer based out of the United States. Rising competition and increasing consumer demand for differentiated offerings were challenging for the client due to the lack of supply chain visibility and rising costs. Additionally, the generic drug manufacturer could not spearhead the introduction of highly demanded new off-patent drugs into the market and meet their consumers' needs. This led to the client losing ground to competitors and an increase in customer attrition. The client also struggled to keep pace with competitive pricing and efficiently market their offerings, causing further losses. The manufacturer needed to streamline its supply chain, forecast and estimate consumer demand, and keep abreast of name-brand drugs' patent expiration. Therefore, the generic drug manufacturer approached Infiniti Research to leverage our expertise in offering demand management solutions.
By partnering with Infiniti's experts, the manufacturer of the generic drug also sought to:
Capitalize on profitable market opportunities
Identify suppliers for high-quality raw materials
Improve visibility into the supply chain
Understand and meet consumers' demands
Ensuring an efficient supply chain and identifying strategic partnerships in the crowded generic drugs manufacturing space is imperative and challenging. Request more information to learn how Infiniti's demand management solutions can help your business stay ahead of competitors.
Our Integrated Approach:
Infiniti's demand management solution experts developed a comprehensive three-phased approach to assist the generic drug manufacturer in addressing their business challenges. The demand management engagement included the following:
The initial phase of the demand management engagement included creating transparency in the manufacturer's supply chain, which required working closely with the company to identify, evaluate, and address supply chain complexities and potential obstacles.
The second phase involved a competitive benchmarking analysis to help the client identify strategies and approaches adopted by key competitors and industry leaders to ensure fast and high-quality new generic drugs into the market. Additionally, the client gained an understanding of their competitors' pricing strategies.
For the third phase, Infiniti's demand management experts helped the client improve communication across the supply chain and carried out strategic supply chain planning to enhance the manufacturer's strategic relationships with consumers and suppliers.
Business Outcome of the Demand Management Solution:
By leveraging Infiniti's demand management solution, the generic drug manufacturer successfully streamlined its supply chain by tackling complexities, mitigating potential obstacles, improving communication, and increasing visibility. The client also identified strategic supplier partnerships and successfully built a supplier base for high-quality ingredients and raw materials. Additionally, with our demand management experts' insights, the client developed comprehensive strategies to improve their go-to-market timeframe and kept abreast of patent expirations to stay ahead of competitors. With an efficient supply chain and improved supplier partnerships, the generic drug manufacturer reduced costs and employed better pricing strategies. Furthermore, understanding their consumers' needs and demands helped the client develop better demand management processes and increase customer retention. The demand management solution helped the generic drug manufacturer regain market share, reduce costs, and streamline their supply chain.
Waiting for the opportunity to become an industry leader? Speak with our industry experts to learn how our demand management solutions can help you create your path to the top.