Customer Experience Management in the Retail Industry
To stay ahead of the curve in today's digitally inclined retail market landscape, retail brands will need to step up their game and offer personalized customer experience (CX) across every communication touchpoint. However, this becomes difficult without gathering detailed visibility into the customer journey and understanding their needs and requirements. Leveraging customer experience management solutions can help retail companies to acquire new customers, enhance CX, and reduce marketing spend.
Today, businesses need to provide real-time, personalized experiences to better engage and connect with their customers. Our customer experience management strategy can help you achieve these objectives. Request a FREE proposal today!
Business Challenge
The client is a retail company based out of North America.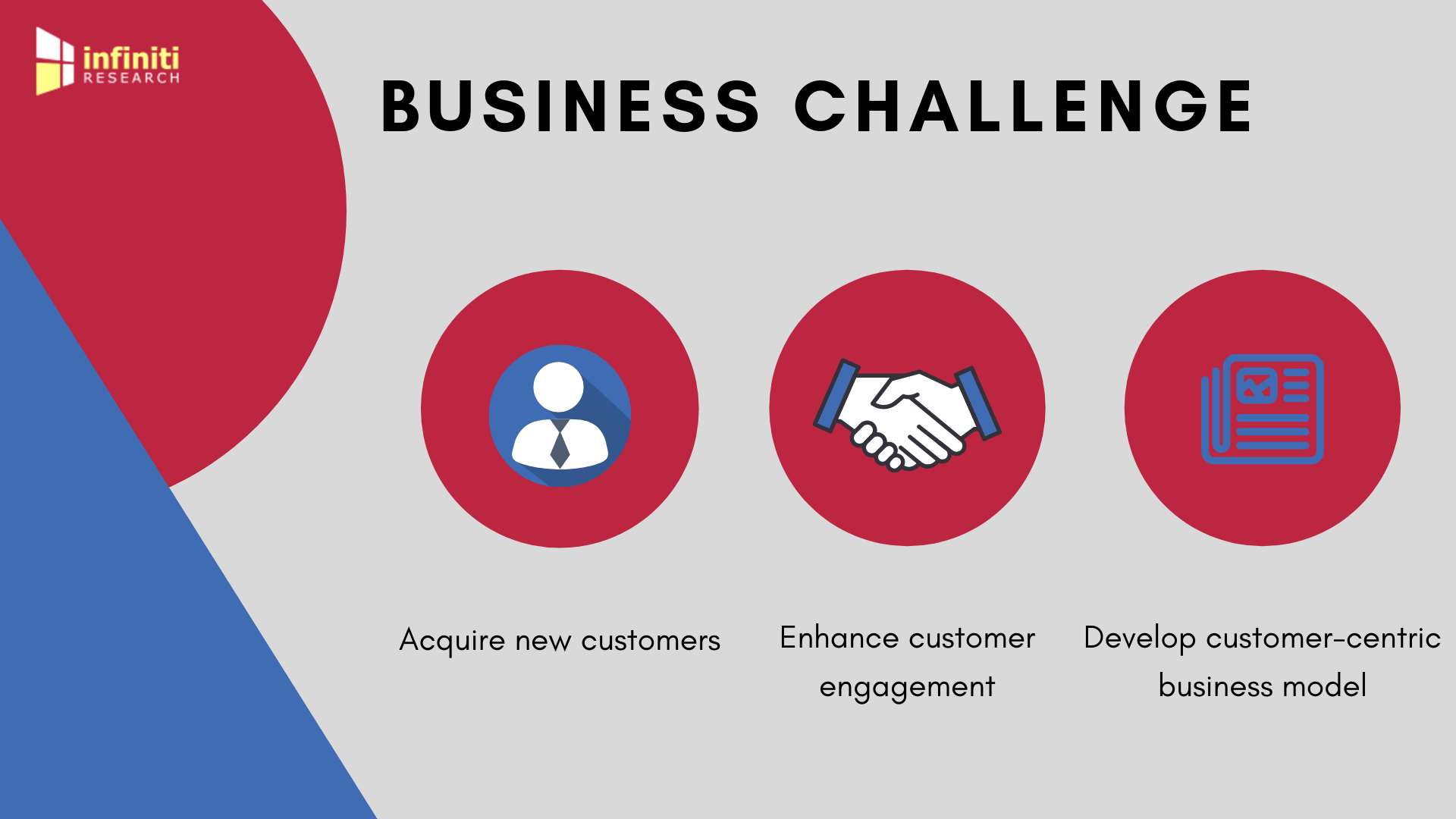 The client faced challenges in engaging with their target customer segments due to the lack of a methodology to analyze the customer buying behavior and their spending patterns. They even failed in their attempt to gather customer insights through multiple customer surveys as it was time-consuming and resulted in data duplication.
Due to the lack of insights into customers' needs and their value for the brand, the client faced challenges in satisfying their customers' demands and requirements. As a result, they encountered a steep decline in their sales rate and even started losing customers to their competitors. In addition, the company witnessed an increase in customer churn rate by 23%.
They realized the need to create a robust customer experience strategy. As such, they approached the experts at Infiniti Research to leverage their expertise in offering customer experience management solutions.
In addition, with Infiniti's customer experience management solution, the client wanted to:
Acquire new customers through targeted sales and marketing approaches
Enhance customer engagement by providing personalized product and service offerings
Convert prospects into long-term customers by enhancing customer experience
Take a more customer-centric approach to marketing and reduce marketing spend
Today's competitive retail marketplace necessitates retailers to enhance the customer experience across in-store and online channels. Our customer experience management solution can help you achieve this. Contact us today!
Solutions Offered
To help the client in devising a sound customer experience management strategy, our experts conducted a three-phased approach.
The initial phase of the customer experience management engagement involved conducting a customer segmentation analysis. In this phase of the customer experience management study, our experts helped the client to identify their profitable customer segment and categorize them into various groups based on their value for the brand.
The next phase of the customer experience management solution involved conducting a customer needs study. Through this study, our experts helped the client to analyze in detail the needs and demands of different customer groups. This analysis helped the client to devise targeted sales and marketing strategies depending on their customers' needs and requirements. This further helped the client to drive sales and enhance the customer experience of the brand.
The last phase of the engagement involved customer journey mapping, where they analyzed how customers interacted with the brand from the awareness to the purchase stage. This helped the client to identify stages along the customer journey that needs to be improved.
Results Obtained
The insights obtained from this study helped the client in understanding the shortcoming of the company in meeting the needs and requirements of their customers. Also, the client was able to make a shift to a customer-focused business model. In addition, the client was able to fine-tune their marketing strategies and better engage with target customer segments.
The customer experience management strategy also helped the client to reverse the decline in their market share, reduce customer churn, and improve profitability. With this, the company was able to increase its customer retention rate by 33%.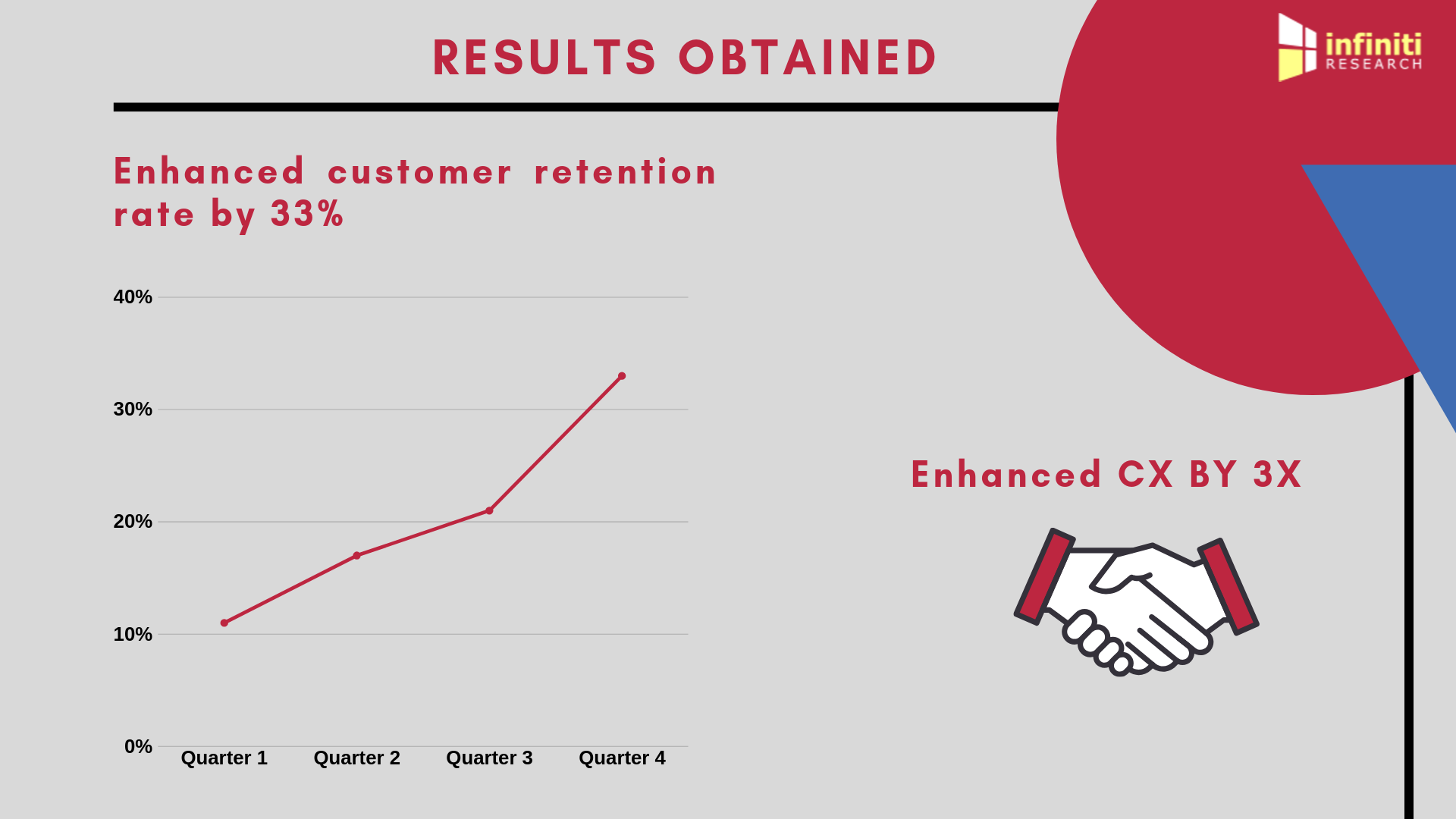 Interested to learn more about our customer intelligence solutions and their benefits for your business? Request for more info!