Major challenges for food packaging companies revolve around the four factors – sustainability, durability, aesthetics, and cost.
The food packaging industry is witnessing major technological advancements that are compelling leading food packaging companies and market researchers to focus on developing innovative packaging solutions. Also, the role of food packaging design in marketing and consumer appeal is growing considerably due which food packaging companies are focusing on addressing the concerns of consumer groups by implementing advanced technologies and intelligent solutions.
However, the future of the food packaging sector is quite secure owing to the development of smart packaging solutions that possess the capability to monitor and detect food spoilage. The challenges in ensuring food safety through excellence in food packaging design are many, but it is essential to address them systematically by devising an effective consumer segmentation strategy to drive growth strategically.

The Business Challenge
The Client: A leading food packaging company
One of the leading food packaging companies in the US wanted to devise an effective consumer segmentation strategy to identify different focus groups. To develop a precise consumer segmentation strategy the client approached Infiniti Research to develop an effective consumer segmentation strategy. The client was looking at leveraging our expertise to analyze the consumer base and gain a clear understanding of their specific needs and requirements.
---
Consumer Segmentation Strategy Benefits
The food packaging industry is growing at a rapid pace, making it necessary for food packaging companies to adopt appropriate strategies to thrive in a complicated market. No matter which market you operate in, every customer needs to be treated as an individual owing to their specific needs and preferences. This is where 'Consumer Segmentation' comes into play. It's nearly impossible for food packaging companies to cater to consumer needs on an individual level. But, with the right consumer segmentation strategy, they come pretty close to achieving this objective.
However, for modern food packaging companies, devising a consumer segmentation strategy is no more a suggestion – it's a necessity. It is essential to segment their consumer base into identifiable subgroups and develop precise marketing strategies for each focus group to drive growth. Our 'consumer segmentation strategy' solutions empower food packaging companies to focus on catering to the needs of their specific consumer segments.
---
Summary of Our Consumer Segmentation Strategy Engagement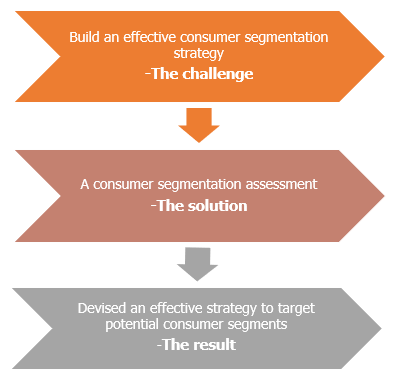 ---
Client's Journey
The consumer segmentation experts at Infiniti Research customized a comprehensive research method, which delivered valuable insights on consumer groups, market requirements, and target market segments. With the aid of our strategy, the food packaging company was able to analyze customer data to uncover meaningful insights and gain a better understanding of consumer segments.
Solution Benefits and the Business Impact
As with anything else, every consumer segmentation strategy has it own distinct pro and cons. However, the overarching goal of devising such a strategy remains the same i.e., identifying and connecting with the potential consumer base. The solution offered by our experts helped the food packaging company to devise an effective strategy to drive growth in each segment. By truly segmenting the potential consumer base, the client further gained a better understanding of their customers at an individual level and was able to expand its reach by targeting each consumer base individually.
The Future
The complicated food packaging landscape poses several challenges for food packaging companies who are looking to establish themselves to drive business growth. However, the ultimate goal of devising a customer segmentation strategy is to understand consumer needs and offer services that make them engage with your brand on a regular basis. The trick here is to make your end-users realize the importance of your services and when they do its quite certain that they'll continue to rely on your services indefinitely. Moreover, it's notable that customer surveys play a major role in uncovering the key attributes that can be used to segment the consumers effectively.
---
A must-read case study for food packaging companies looking to develop an understanding of the importance of consumer segmentation strategy.

---