Consumer demand has begun shifting in favor of electric, battery-powered vehicles. This shift is poised to disrupt the market in 2021 and beyond, making consumer market research imperative for success.
With the dawn of sustainable mobility solutions and the growing importance of green mobility, the battery electric vehicles market in Europe has been witnessing high growth rates over the past few years. As per research, this market represents a substantial, untapped market opportunity for European car manufacturers.
As a result, leading European car manufacturers have already made significant progress in the battery electric vehicle (BEV) market. With original equipment manufacturers and new market entrants paving their way into this sector, technological breakthroughs and improvements in areas such as manufacturing efficiency, driving range, charge times, and production have surfaced, benefitting the industry as a whole. However, the dynamic consumer landscape and demand shifts will create a real threat to existing market players, and new battery electric vehicle (BEV) manufacturers are poised to face several challenges. As a result, anyone looking to enter or succeed in the electric vehicles market must carefully analyze the consumer market and take necessary actions to gain a strong foothold in the market.
In this success story, we assess the market dynamics within the European battery electric vehicles market and gauge the major factors impacting consumer demand. We also analyze the key consumer decision criteria to help the client incorporate consumer market research data into their strategic decision-making approach.
To learn more about our extensive portfolio of consumer market research solutions, contact us.
Business Challenge
Cracking the code for profitability and aligning their offerings with consumer demand was crucial for a battery electric vehicle manufacturer to roll out new electric vehicle models to fuel economy targets and meet consumer needs for variety, accessibility, and affordability. The client approached Infiniti Research to leverage its expertise in consumer market research to understand the consumer landscape and the megatrends shaping the auto industry.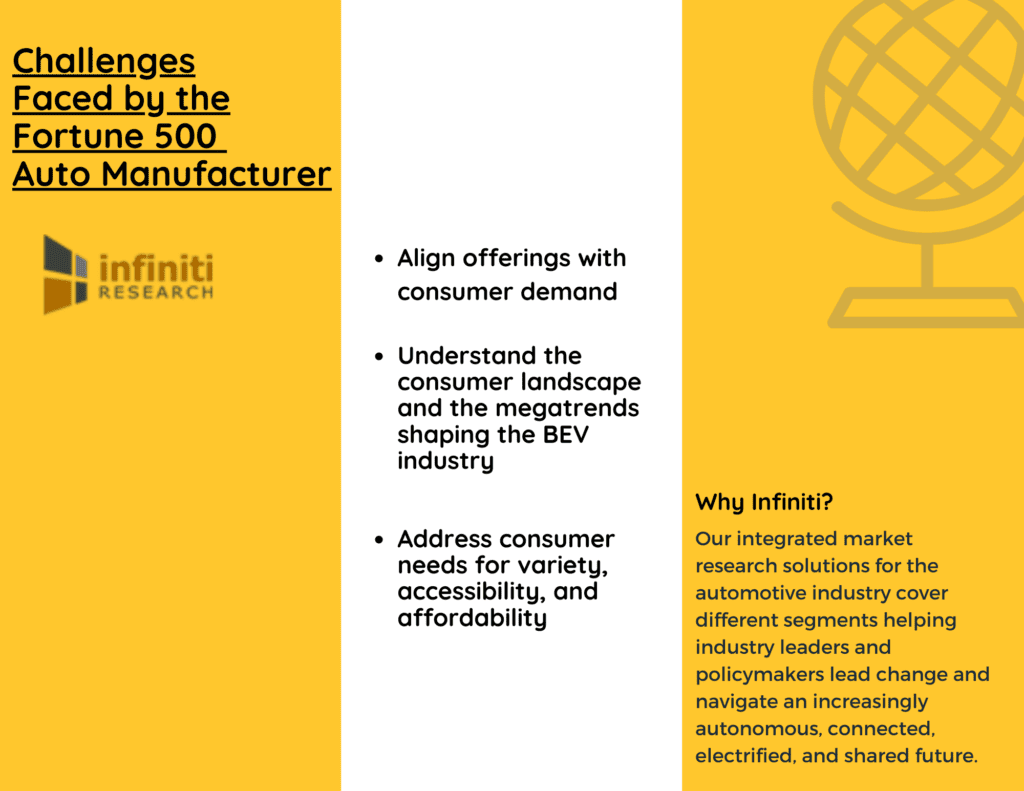 By conducting in-depth consumer market research, the client also wanted to find answers to the following questions:
Do consumers associate our brand with battery electric vehicles? If not, how can a consumer market research insights-driven strategy help us establish a strong global presence?
What are the key considerations for automakers as they create sustainable mobility solutions that align with consumer needs?
What are the critical BEV purchase criteria for customers?
How can consumer market research be leveraged to build trust amongst target consumer groups?
How can we innovate and develop services to cater to the dynamic consumer demands?
How can we utilize our expertise to maximize customer experience?
Can automakers set up e-readiness strategies to avoid profitability shocks?
Our comprehensive market reports can help you understand macro trends and synthesize competitive consumer insights to drive decision-making. Request a free proposal to know more about our capabilities.
Our Approach
Infiniti's consumer market research experts adopted a detailed approach that included four phases. They helped the client gain access to the relevant market and consumer data to align their offerings with market demand.
Infiniti's consumer market research surveys targeting different target consumer groups also helped unravel the reasons behind the growing demand and interest in BEVs. The accelerating demand for new battery electric vehicle models also indicated a positive growth potential in the client's target markets.
Outcome
To help the client address their concerns, we ensured the research was focused on creating more accurate forward-looking perspectives. The initial phase of the engagement revolved around the analysis of consumer groups and the identification of breakthroughs that will likely shape the market in the new normal.
A separate region-wise analysis of the battery electric vehicles market also unraveled consumer trends and demands. One of the most striking discoveries of the consumer market research – the battery electric vehicles market is more likely to witness quick recovery and growth in Europe than in the other regions.
To gain comprehensive insights into the battery electric vehicles (BEV) market landscape, catalysts and challenges, request a free brochure right away!
With Infiniti's consumer market research insights, the client developed an unparalleled understanding of the target consumers and the overall global consumer landscape. The study offered comprehensive insights that helped identify unmet consumer needs, bridge demand-supply gaps, and offer differentiated products to maintain a competitive edge.
Conclusive insights obtained from the consumer market research include:
Battery electric vehicles manufacturer in Europe can address customer demand more profitably by offering customized solutions and deploying new business models
To drive profitable growth, businesses must gain a clear understanding of the e-readiness of their global customers
Next Steps
As auto manufacturers face stiff competition, there is no enough space for everyone to grow and succeed in the long run. While customer satisfaction remains a top success criteria for most, not all manufacturers are aware of the market dynamics impacting growth. To gain a competitive edge, businesses must be realistic about their capabilities and focus on leveraging consumer market research insights to address the challenges in a rapidly changing automotive market.
While there is no set standard or approach to explore the consumer landscape and find answers to questions of where, how, and when to compete, we believe this success story can serve as a launching pad to help European automakers understand the factors impacting consumer needs and identify ways to drive profitable growth in an increasingly electrified world.
The pandemic has severely impacted consumer trends across industries. To learn more about the factors impacting consumer trends, request more information to learn how our market research analysts can help.