The consumer electronics industry is one of the most dynamic industries. Products that did not exist until a decade ago have undergone several transformations, spawning an endless chain of innovation that aids new product development. Hence, developing new products is crucial for business success, but at the same time, it's challenging and requires exhaustive product research, planning, and an effective innovation strategy. However, the growing consumer demand and competition make this a herculean task for small and medium-sized businesses in the consumer electronics industry. In addition, the constantly changing market dynamics have prompted consumer electronics companies to move faster and with more precision. Product research, when done right, can positively impact the bottom line and help create new value and attract new customers.
About the client
The client is a leading US-based consumer electronics company. The company employs around 70,000 people and has over 80+ outlets globally.
Business challenge
It can be said that the consumer electronics industry is at an inflection point when it comes to product research and development. Traditional approaches to product research are not sufficient to meet the challenges of the future. To manage competitive pressures, shrinking margins, and difficult-to-please consumers, consumer electronics companies need to create a product roadmap that expands the scope and role of product research.
The consumer electronics company approached us with similar requirements. By partnering with us, they wanted to ensure they remained at the forefront of innovation by finding new ways to differentiate their product based on customer needs and creating a product roadmap that can help them gain an edge. By leveraging product research, the client wanted to introduce new products that aligned with market demand. They also wanted to redefine their existing product lines to ensure it meets consumer needs.
Business success in the electronics industry depends on the successful development and launch of products that meet dynamic customer demands. Request a FREE proposal to understand our solutions can help you develop innovative products to maximize profits.
Solution offered
Product research offers granular insights essential for effective product development
Our research teams worked with the client to help catalyze product innovation and keep pace with consumer trends using a three-step approach. The comprehensive approach helped identify and analyze market issues that enabled the client to redefine the product design and development process.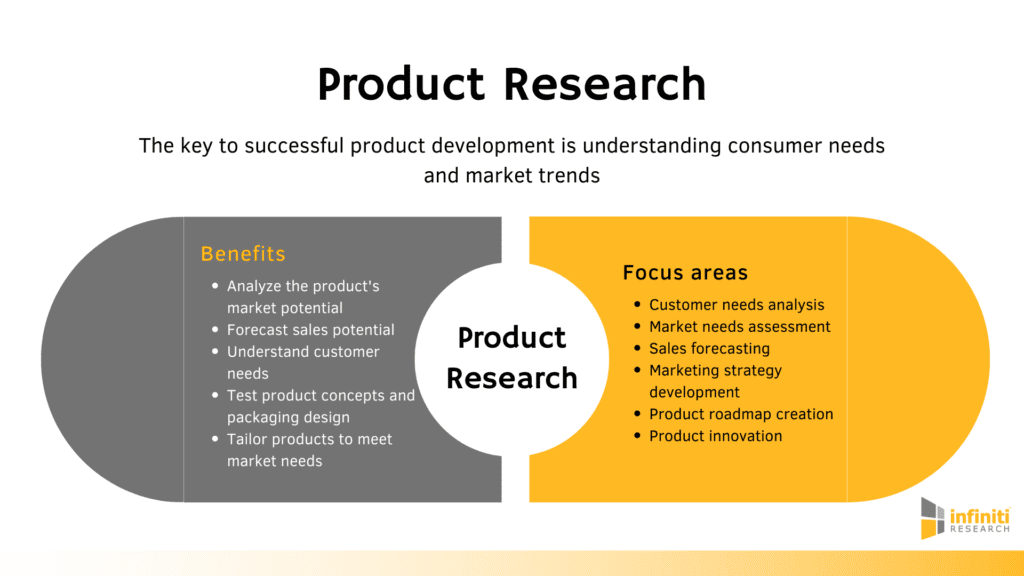 Our product research solutions offered granular insights on market needs and consumer demands that enabled the client to re-evaluate product ideas and factors impacting customer demand. Targeted consumer needs analysis performed in the final phase of this product research engagement, including in-depth profiling and sentiment analysis, helped determine customer response, needs, and the potential for the client's product offerings.
Using our three-pronged approach to product research, the client managed to identify the needs and expectations of customers who initially seemed unidentifiable. Therefore, proper execution of product research led to gaining unique market insights and knowledge about consumer needs, which eventually helped them gain a competitive edge.
Looking for new ways to supercharge growth and profitability?
Business outcome
In-depth product research enabled our client to refine new product ideas and improve the existing products in the market. Our experts also provided information on market needs, customer feedback and responses, technical feasibility, and resource evaluation that enabled the client to adapt and modify their products.
The client achieved several benefits, including the ability to-
Improve brand reach
Test product concepts and packaging design
Tailor products to meet market needs
Infiniti Research has a proven track record of contributing to the success of some of the most powerful brand launches in the consumer electronics and semiconductor industry. Our unique approach to product research has helped build iconic brands and deliver game-changing insights on innovations brought to market by leading market players. We ensure our clients land on the winning side by providing an opportunity to learn from the industry thought leaders and understand the strategies for accelerating growth.
To learn more about product market research and how we have helped leading players across industries.