While all phases in new drug development are complex, processes involved in the launch of specialty drugs used for treating rare genetic diseases are particularly so. The global specialty drugs market primarily consists of well-known pharma and biotech companies. However, several small and medium-sized pharma companies are looking to capture a fair share of the market by leveraging advanced technologies and innovative research to develop a successful drug commercialization strategy.
With more than 5,000 rare diseases and only about eight percent having effective treatments, specialty drugs offer new opportunities to expand market growth by catering to the unmet needs of the global population. As such, many pharma and biopharma companies are leveraging targeted R&D to develop new drugs. However, the business development model and commercialization strategy required to succeed in this segment are unique, requiring pharmaceutical companies to build new business models and capabilities. With over 17 years of experience working with leading pharma companies, Infiniti Research's market research experts suggest that pharma companies looking to excel in this segment must redefine their commercialization strategy to ensure successful drug launches.
Would you like to learn more about our market intelligence solutions for pharma and biopharma companies? Contact our market experts for detailed insights on our solution portfolio.
The commercialization of orphan drugs sheds light on the industry's shift to specialty medicines and the need for pharma companies to devise robust growth strategies.
Infiniti Research recently collaborated with a biopharma company and helped develop a robust strategy to commercialize specialty drugs and enhance launch success.
About the Client
A privately-owned biopharma company based out of North America. The client is a well-known manufacturer of specialty drugs and is globally recognized as a pioneer in developing and providing targeted treatments and therapies for people with rare diseases and health conditions.
Geographic focus areas– US, UK, Germany, and China.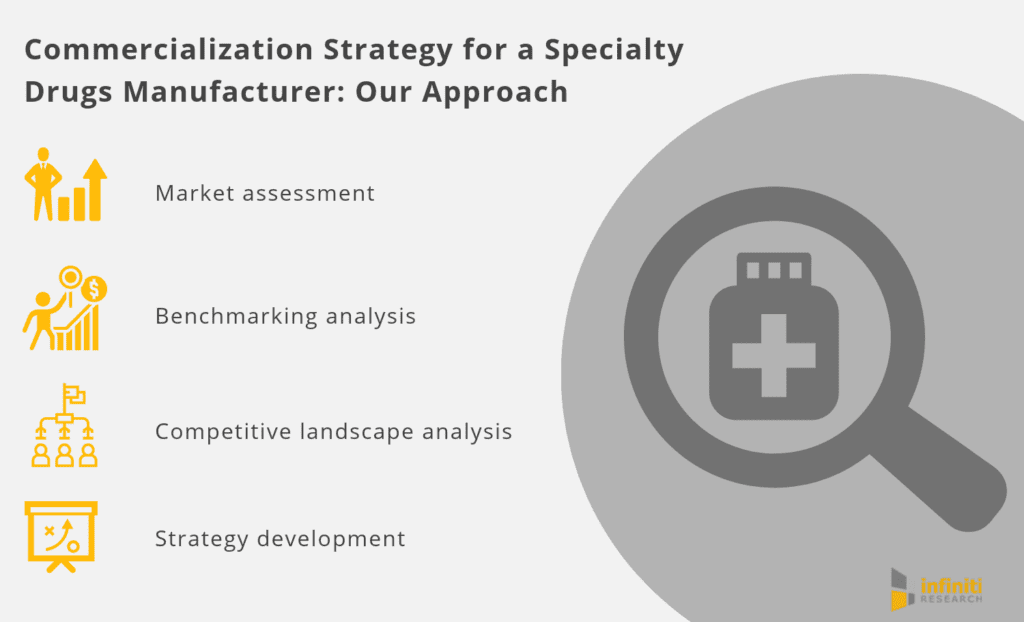 Business Challenge
The client partnered with Infiniti Research to conduct an in-depth market study to analyze the unmet needs of an orphan disease and devise a commercialization strategy for maximizing drug uptake. Realizing that the business development and commercialization model of specialty orphan drugs isn't identical to other health conditions, the biopharma company approached us to help them devise a commercialization strategy to succeed in this segment. The client wanted to identify the right patient population and devise a strategy to commercialize its products. They also wanted to devise a robust approach to streamline market intelligence and achieve its strategic business goals.
Given the rise in the occurrence of rare diseases, pharma companies often struggle to win rapid market access, launch new drugs, and devise new launch strategies. At Infiniti Research, we enable businesses to tackle many challenges like these using a holistic research-backed approach – Request a free proposal to get started.
Solution Offered
To gain in-depth market insights and identify the most suitable commercialization route, the pharma company sought an accurate analysis of market trends, market growth potential, and competitive landscape. Our research experts conducted an in-depth market study backed with market intelligence insights to help the company tackle its current business challenges related to product commercialization strategy and business development.
Global Market Outlook: Specialty drugs market
The rise in the number of pharma manufacturers developing new specialty drugs is poised to increase in the post-pandemic era due to the rise in rare genetic disorders.
The implementation of favorable government policies to inhibit the spread of contagious diseases will also contribute to market growth in 2021 and beyond.
Factors such as improved healthcare infrastructure, advanced healthcare technology, and extensive R&D activities that help detect rare diseases are also expected to drive market growth.
Market segmentation based on the drug type brought to light the fact that the biological orphan drugs market segment will drive the highest pharma market share and is expected to grow at a good pace in 2021.
Are you facing similar challenges? We can help you address them through custom-built, targeted solutions and a robust commercialization strategy. Request more information to learn how we can help you.
Our Approach
Market assessment: Qualitative in-depth assessments and interviews with commercial payers and key opinion leaders within the orphan drugs market segment.
Benchmarking analysis: Detailed market study of the orphan drugs segments to analyze price points, patient identification schemes, and product positioning strategies.
Competitive landscape analysis: To map business reach and analyze areas specific to the orphan drugs segment that require detailed analysis and in-depth research.
Strategy development: To aid in developing a commercialization strategy, we conducted several preliminary assessments that shed light on the need to develop unique, targeted strategies for every market segment.
Business Outcome
Identified unmet patient needs based on a detailed analysis of rare diseases
Analyzed pricing benchmarks by mapping the price-prevalence relationship in new orphan drugs
Weighed the pros and cons of three unique drug commercialization strategies
Prioritized factors driving decisions related to business strategies, several of which were unique to the client's situation
Offered customized solutions and recommended cost-effective pre-commercial tactics
A comprehensive market research report comprising intuitive charts and graphs for quantitative results, scatter plots, correspondence mapping, and qualitative and qualitative summaries were offered as part of the engagement. The insights illuminated the path for a robust commercialization strategy, including recommendations for enhancing market reach in target regions.
Given the rise in the prevalence of rare diseases, devising a successful commercialization strategy for orphan drugs might seem challenging even for well-established pharmaceutical companies. Companies aspiring to emulate a successful commercialization strategy for business development must solve complex medical problems, scrutinize key R&D capabilities, operating models, analyze organizational structures, and devise region-specific growth plans.
Request a free brochure to gain detailed insights into similar engagements.