Commercial due diligence and in-depth market study were conducted as a part of a buyer-side transaction to complement the M&A and business development efforts of a construction and building materials manufacturing company.
Commercial Due Diligence: Engagement Overview
M&A, in general, is complex and entails numerous challenges. But one must tackle these challenges and leverage commercial due diligence to identify the risks and opportunities within a market. To make a sound investment decision, it is essential to have a clear understanding of all external and internal factors impacting business growth and dynamics influencing and shaping the business context in which the potential target operates.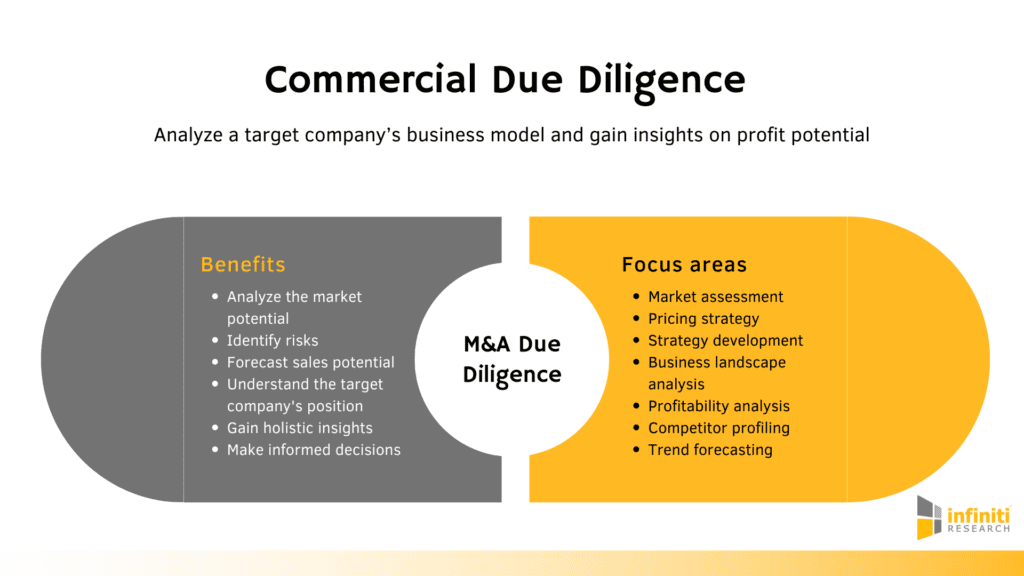 Making tough decisions and implementing new approaches to gain market differentiation and generate sustainable growth n be challenging. Contact us to find out how market intelligence can help tackle this challenge.
One of our clients, a leading construction and building materials manufacturer, was considering acquiring a European building automation company. The rising focus on safety and security prompted the client to focus on the building automation segment paving the way for new growth opportunities.The client wanted to collaborate with Inifiniti Research and leverage its expertise in market intelligence to conduct a commercial due diligence study as part of its final valuation analysis for the target.
The target company was active in North America in three distinct market segments, including packaging, power tools, and energy management. By conducting an in-depth commercial due diligence study, the client wanted to achieve the following objectives:
Study the market by performing a detailed market assessment: With the help of a detailed market study, the client wanted to gain insights on the target market size, segmentation insights by technology, competition, and pricing.
Assess the target company's competitive position: By leveraging commercial due diligence, the client wanted to analyze the strengths and weaknesses, unique value propositions, level of technology adoption, barriers to market entry, and threats of share loss.
Understand the ability to drive business growth: The client wanted to leverage commercial due diligence insights to analyze competitors' market share and define critical characteristics, success factors and barriers, that can potentially impact business in the new target market.
We adopt a holistic approach to M&A and commercial due diligence, which aims to analyze the attractiveness and sustainability of the business landscape, evaluate cash flows, and identify potential risks by enabling access to accurate market data. Request a free proposal to know more about our services.
Our Approach
Leveraging our expertise, we put together an extensive network of market intelligence experts and construction and building materials industry thought leaders to conduct primary research and analyze the market scenario with commercial due diligence. Our evaluations were based on the upfront defined M&A strategy and business development goals of our client.
This resulted in a clearer understanding of the transaction's value and reduced the risk of overpaying by shedding light on potential risks. Our market experts know how to address typical challenges like complexity, limited available data, lack of expertise and stakeholder insights, and a tight schedule based on our in-depth project expertise. Request more information to gain detailed insights into our approach to commercial due diligence.
Business Outcome
The insights obtained from the commercial due diligence engagement prompted our client to discontinue the acquisition process due to the limited adaptability of the target company's technologies to other geographical regions and insufficient possible synergies with the client's business. This helped the client save themselves from potential losses, and a decline in market share had they gone ahead with their M&A activity.
The other benefits achieved by the client include:
Gained detailed market insights and analyzed the business landscape
Assessed the target market region by technology adoption, market value, and growth potential
Leveraged insights obtained to build strategies and enhance M&A efforts
At Infiniti Research, we understand key levers and typical challenges of M&As and commercial due diligence projects. With over seventeen years of expertise working with leading market players, our professionals work with proven, standardized, and state-of-the-art research methodologies and tools, delivering insightful and targeted solutions for your every requirement. Request a brochure to learn more about our custom market research services.