Globally, the demand for product shipment is outpacing the supply, and prominent logistics providers are optimizing their supply chain to improve transportation capacities. While transportation, plays a prominent role in sustaining the growth of the economy, various third-party logistics companies are coming into the picture to manage inventory, reduce capital expenditure, and mitigate supplier-related risks. To identify the potential markets and enhance their service offerings, 3PL providers are including market entry as a part of their business strategy. Market entry strategies assess the company's strengths and weakness and help devise strategic plans to enter a new market. In the transportation industry, 3PL providers can analyze the consumer's preferences and create a business model to meet the demands of their end-users.
To improve efficiency in logistics activities and reduce the cost associated with the supply chain process, prominent 3PL providers are approaching solution providers like Infiniti. Infiniti's market entry strategy helps businesses identify the current market scenario in terms of the potential drivers, the competitors, and their product positioning strategy.


The Business Challenge
A leading 3PL provider wanted to understand the global market scenario and address issues pertaining to the sales channels and the marketing practices. The client also wanted to formulate a go-to-market strategy to scale across potential market segments. With the help of Infiniti's market entry strategy, the 3PL provider wanted to refine its existing marketing models, reduce costs, and enhance service improvements.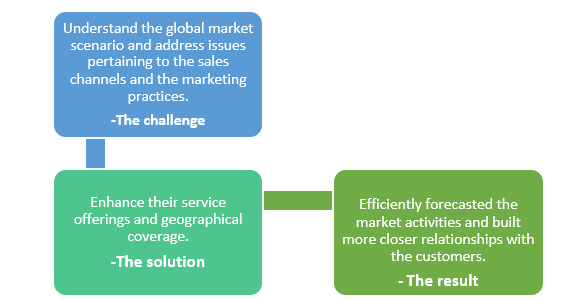 Want more information about how our market entry strategy helped the 3PL provider?


---
Our Approach
Infiniti's market entry strategy experts carried out extensive interviews and discussions with prominent stakeholders in the 3PL space. Additionally, to identify potential challenges, Infiniti's market entry strategy experts also analyzed information gathered from a wide array of secondary sources such as industry forums, company presentations, and white papers.
Benefits of Market Entry Strategy Solutions
The market entry strategy offered by our team of experts helped the 3PL provider enhance their service offerings and geographical coverage. Moreover, the engagement assisted the client to foray into areas such as value-added services and financial services. Furthermore, the client was able to differentiate themselves from their competitors in the market space and meet the current level of customer expectations.
Additional Benefits Offered by Infiniti's Market Entry Strategy Include
Efficiently forecasted the market activities and built close relationships with the customers

Anticipated growth opportunities and lowered logistics costs and promoted efficiencies

Improved the service levels and reduced capital requirements while focusing on the core competencies
---
A must-read case study for strategy specialists and decision makers looking to develop an understanding of the transportation industry