The meat packaging industry is crucial, convenient, and complex. It comprises of various sectors and sub-sectors, due to the multiple kinds of meat that are packaged and transported every day. Industry experts have forecasted steady growth for the meat packaging industry over the next five years. They have also highlighted the key market drivers and key challenges of the industry.
As developing countries grow, urbanization increases manifold, and this leads to an increase in demand. Consumers prefer hygienically procured and conveniently placed products. This allows for customers to save time and energy, even if it is at a higher cost. This is one of the crucial market drivers of growth in the meat packaging industry.
However, as demand for convenience increases, so does the demand for environmentally responsible and strictly regulated products. Consumers are more aware of the environmental impact of every industry and prefer sustainable packaging. They are also highly aware of the health effects of various products and are extremely particular about their consumption patterns. This is currently the most significant challenge faced by meat packaging industry players.
This challenge requires companies to implement strategic and tailored marketing approaches efficiently. Some of the top meat packaging industry players leverage target market segmentation solutions to develop a marketing approach that understands and targets customers' needs and preferences. This strategy allows for a higher return on investment and reduced losses on marketing. Additionally, brand identity is crucial to consumers today, and targeted marketing enables companies to control and improve their brand identity.
Infiniti's experts have identified the key market drivers and key market challenges of the meat packaging industry in this article. Additionally, they have further explained the importance and benefits of target market segmentation analysis.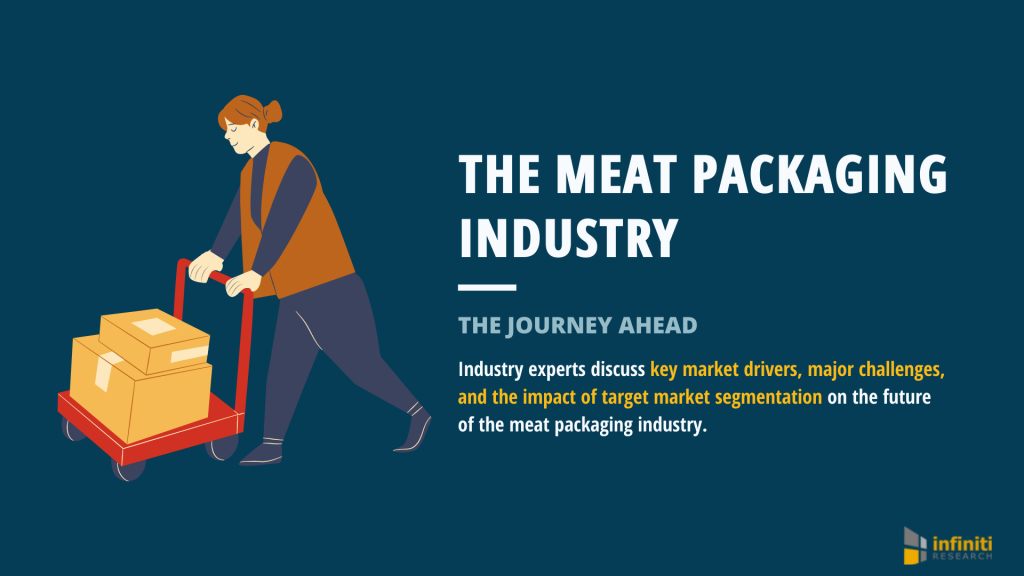 The meat packaging industry is forecasted to grow in the coming years. To identify and conquer every opportunity in this growing market, request a free proposal.
Market Drivers of the Meat Packaging Industry
Various factors influence the growth of an industry. The three factors listed below have been and continue to be key market drivers for the meat packaging industry. Infiniti's experts have identified these factors as contributing to an increase in demand and improved operational efficiency.
Urbanization
As developing countries continue to proliferate, urbanization increases. This leads to a rise in demand, due to lack of access to fresh meat, and the need for convenience. Cities develop continually, and consumers focus on convenience and health. The meat packaging industry allows busy consumers to gain access to meat at a convenient time and location.
The Need for Packaging of Meat
Fresh meat must be stored and transported in controlled and regulated environments. Packaging of meat allows for creating a constant protective environment for the necessities. Fresh meat packaging helps by controlling the level of oxygen within the packaging, while also keeping the meat hygienic, protected, and conveniently available to all consumers.
Efficient Storing and Transportation
With innovation and development in technology, storage and transport have become easier and more readily available. The need for controlled environments has been met by improvements in cold storage and increasing shelf life. Additionally, there are various efficient and suitable transportation options for companies and consumers to rely on in the meat packaging industry.
To gain more in-depth insights into these key market drivers and their impact on the meat packaging industry, request more information.
Challenges of the Meat Packaging Market
The meat packaging industry has experienced growing demand and is forecasted to continue growing over the next five years. However, certain major challenges have surfaced in this industry and serve as barriers to growth. Infiniti's experts have identified the following barriers, and have further discussed the most effective solution to recovering growth efficiently in the meat packaging industry:
Sustainability
The environmental crisis and negative impacts of plastic have changed the way consumers and companies interact with packaging. As sustainable options continue to develop through innovation with a crucial social cause. While sustainable packaging options are readily available, the scale of change required is challenging. Having to make equipment, operational, and personnel changes to adapt causes a variety of issues for meat packaging industry players. This continues to act as an obstacle to the growth of the meat packaging market.
Health and Hygiene Regulations
As consumers become more aware and conscious about health, meat packaging market players face a changing market. Consumers are more particular about policies, licenses, health, and hygiene evaluations, as well as the quality of the product. Hygiene and health requirements have become more stringent recently, negatively impacting the meat packaging industry. However, consumers are a more challenging prospect as they are directly affected by quality, and they are well-informed. These changes in consumer behavior and regulations have led to an increased need for efficient and tailored marketing.
Logistics
With increased consumer awareness, changing health regulations, and the need for sustainable manufacturing make flawless execution difficult. While these changes are favorable for the industry and consumers from a long-term perspective, they pose various operational barriers for companies. Sustainability packaging requires deep-rooted and high investment change. Additionally, changing health and hygiene regulations require more stringency and efficiency within the companies. This increases the need for efficient operations, higher investment in training, and proficient machinery in the meat packaging industry.
Why Market Segmentation Matters
As customers become more aware and social causes influence buying behavior, the meat packaging industry must market their offerings efficiently. Social and health-related causes, and environmentalism, cause a series of challenges when it comes to marketing. However, target market segmentation enables companies to gain an understanding of consumers' needs and preferences. This helps companies create tailored marketing approaches.
By segmenting customers according to various factors such as needs, preferences, value for the brand, companies can identify their most profitable segments. It also enables companies to tailor their marketing according to the preferences of each customer group and reduces costs substantially. Companies leverage market segmentation to efficiently strategize and implement tailored marketing, improve brand recognition, and boost customer loyalty. Additionally, other crucial market intelligence solutions can help companies overcome other challenges while identifying opportunities in a growing market.
To further understand what market segmentation analysis can achieve for meat packaging companies, speak to our industry experts.