Businesses across sectors are dissatisfied with sales in global markets as old ones have become saturated and new ones must be found to thrive. In such situations analyzing how businesses can enter new markets or adopt new strategies to succeed in saturated markets is crucial.
According to our research experts, thriving in a highly saturated market is no small feat. Saturated markets are characterized by a lack of demand and profit potential for existing products. Hence, if your offerings are similar to your competitors' products and services, the big question that needs to be answered is- What will set you apart from your competitors from a consumer's perspective?
This is what you must prepare yourself for if you're looking to enter a saturated market. In this article, Infiniti's research experts weigh in on a few strategies to help businesses get off the ground and win the battle with contenders across markets.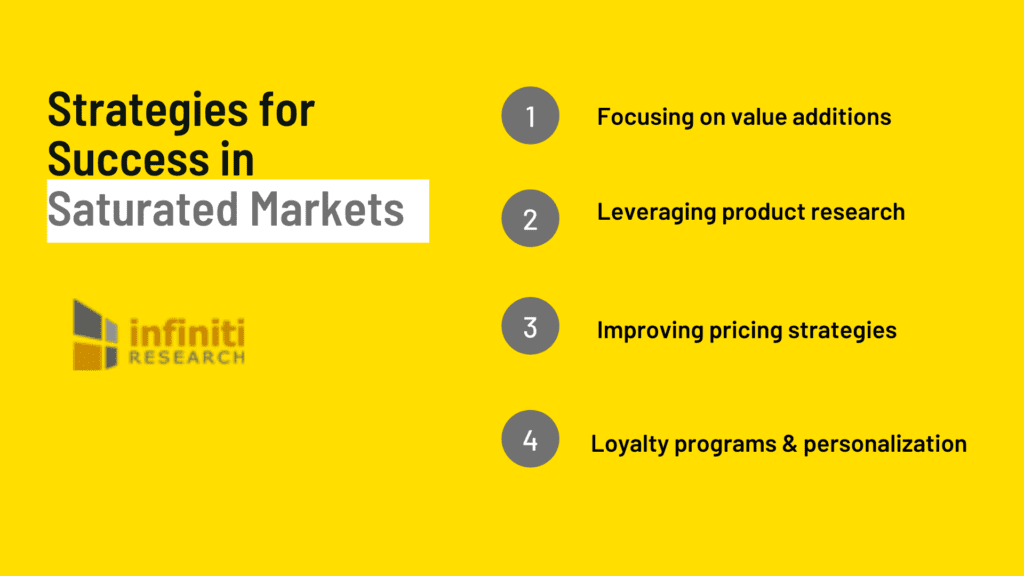 If you're looking for new transformative business opportunities, request a free pilot study to find out how we can help.
What does a saturated market mean to your business?
A saturated market segment is one in which consumer demands are met and additional demand cannot be generated. In such a scenario, companies can only grow by protecting their customer base and expanding market shares. Product research and acquisition of competitors are only a few examples of a market share winning strategy for those looking to thrive amid these market situations.
In today's rapidly changing world, fundamental shifts have made it possible for businesses to stay connected with customers through networked digital systems, creating amplified network effects that increase competition and innovation across industries.
Notably, a highly saturated market can also signify a strong demand and future growth potential for those who identify and capitalize on new market opportunities. However, identifying opportunities within a saturated market segment requires innovation, strategic planning, and in-depth research.
Strategies for succeeding in saturated market segments
The end objective of leveraging these strategies is to find new opportunities that can act as market differentiators for your business, both now and in the future. In this blog, we weigh in on a few proven strategies that can help you compete in a saturated market.
Focusing on value additions
Capturing a fair share of the market requires businesses to differentiate themselves from the competition. Revamping the product portfolio, redefining pricing, and enhancing value for customers are a few ways in which value-additions can help. Apart from these approaches, offering incentives like robust customer support and free upgrades can increase the likelihood of purchase.
To penetrate a highly saturated market, you'll need accurate market information to analyze and determine factors impacting consumer behavior. Contact us to learn how in-depth research insights can help meet the needs of your target groups and fill any given niche by providing exactly what your consumers want.
Leveraging product research
Offering new products is one of the most effective ways of gaining a strong foothold in any highly saturated market segment. The goal is to expand market share and win new consumers by offering new products or redefining the existing ones. Leveraging new product research can help businesses to break into new profitable segments to increase demand and growth.
Improving pricing strategies
Businesses can break into a saturated market in two ways using appropriate pricing strategies. The first is to undermine the competition to capture the attention of budget-minded customer groups. This, however, comes with the caution of creating a negative reputation for offering lower quality products. The other option is to set high prices and present your product as the premium or high-end option. The drawback here would be the possibility of losing out customers looking for less expensive products.
Request a free brochure to learn more about custom market research and its role in helping businesses penetrate and succeed in saturated markets.
Customer loyalty programs & personalization
Adopting a mixed approach can help businesses thrive in any circumstance in a highly saturated market segment. As such, creating customer loyalty programs that offer incentives like discounts, free trials, rebates, and personalized services can act as a key differentiator enabling businesses to expand market share. Advanced customer loyalty programs can also help you break into a saturated market by leveraging the customers you already have and rewarding them for repeat business.
Hence, it's evident that to succeed in a saturated marketplace, you must go head on head with the competition and innovate to win more customers. Advanced research insights can help you tackle this issue by helping you find innovative, new opportunities to improve your chances of success and develop a robust business plan to ensure you stay on track with your business objectives.
Performing necessary research is crucial to thriving in today's complex business environment. Request more info to learn how we can equip you with in-depth market insights to make the right move.