What is lean product development?
'Lean' refers to any process improvement that substantially and sustainably improves the output of your system. Lean product development involves increasing the focus on using lean to meet the need for innovative solutions in the manufacture of a product. Lean principles are used in lean product development to meet the rising challenges in product development. Some of the key issues that a lean product development process seeks to address include:
Long development cycle times
High costs of development
Need for innovative solutions
Rising production costs
Redevelopment cycles
80% of business failures can be attributed to how products are developed. Request a free proposal to learn we can help you strategize for an optimal product development process.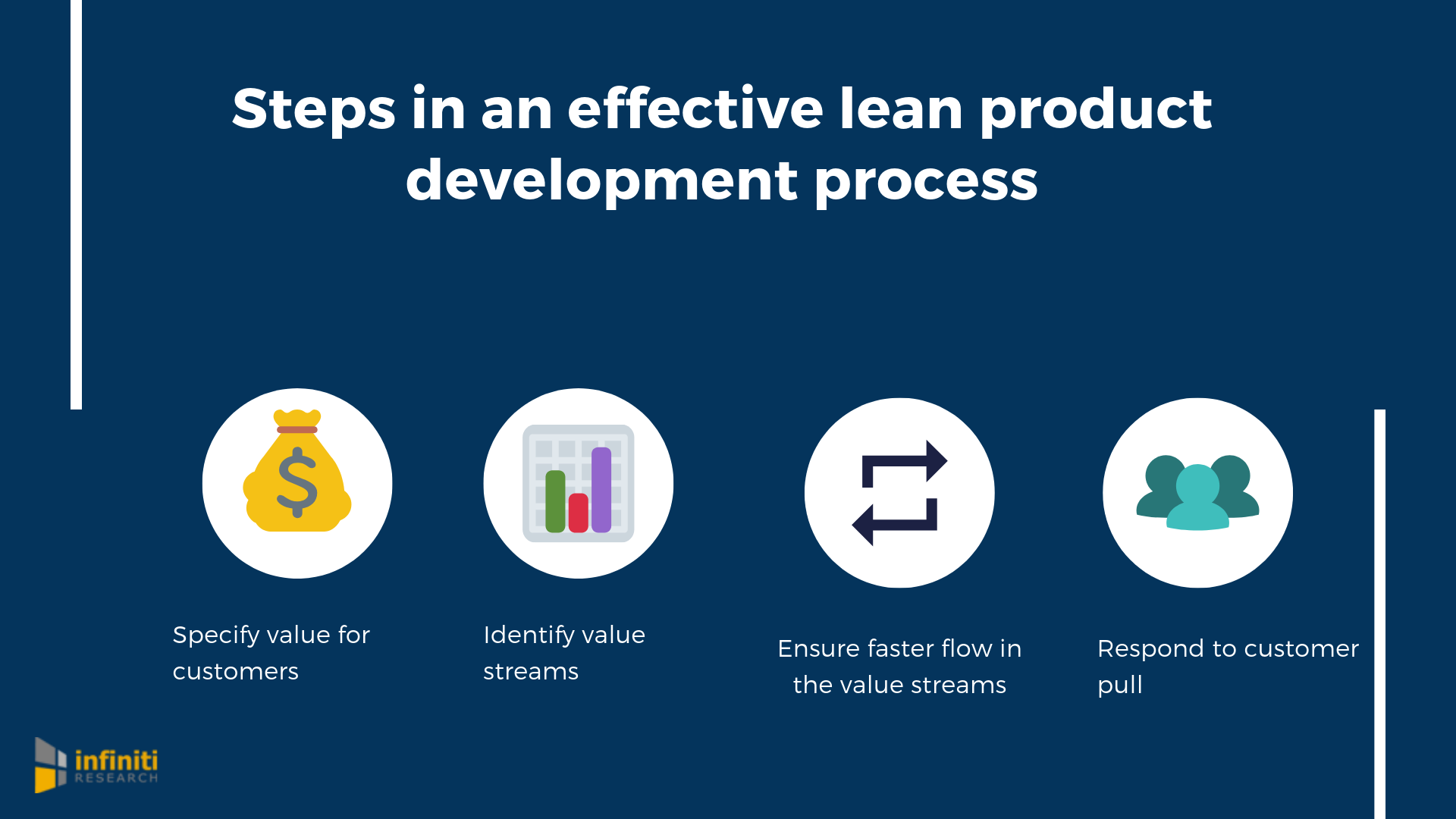 Steps in an effective lean product development process
Lean product development process has been traditionally applied in manufacturing environments. However, lean methods can be applied to any industry, because all businesses benefit from cycle time improvements, increased productivity, and cost savings. Here are the key steps involved in an effective lean product development process:
Specify value for customers
The success and sustainability of a lean product development largely depend on the value that is being created for the customers. Before the actual product development process, manufacturers must look at the existing market and work backward to ensure that the product being produced will attract the target customers and induce them to make a purchase. This step will allow businesses to invest in winning products even before their production begins.
Businesses that place cost reductions ahead of value creation while implementing lean principles often see their lean efforts fall flat. Get in touch with our experts for more insights on lean product development.
Identify value streams
Product development has a major impact on a company's overall ecosystem. For products to be brought to the market successfully, it is essential to think end-to-end and ensure that all the employees are clear on the job roles assigned to them. Processes in organizations run smoothly when manufacturers, engineers, marketers, and the sales team know their role in the value stream. Often, during the traditional product development cycle, the numerous communication errors due to hand-offs between departments leave little room for improvement. In the case of lean product development, the different stakeholders are united and in sync with one another's processes from day one.
Ensure faster flow in the value streams
A lean company always aims at ensuring a faster flow of processes and value streams. This consequently ensures that customers are served faster, lead times are shorter, and improved product quality and flexibility. This would also eventually result in lower product costs.
Respond to customer pull
Gaining a clear understanding of customer pull is vital to make product development flow faster. Pull refers to customer demand. Eliminating wastes and responding to customer demand effectively would also create a positive customer experience by allowing time to work on things that create more value.
Request more info to learn more about how to adopt lean production principles at your organization.