The healthcare industry and in-vitro diagnostics market have grown exponentially in recent decades. Advancements in technology, changing customer expectations, and increased investment in healthcare have contributed to this growth. As the industry continues to grow, in-vitro diagnostics (IVDs) have gained substantial momentum as a modern medical diagnostic system. Currently, the in-vitro diagnostics market is expected to witness significant growth in the coming years.
Advancing diagnostic technologies, acceptance of precision medicine, and improved quality of life in developed and developing countries are some of the factors influencing and influenced by the in-vitro diagnostics market. As these factors and various other trends and challenges affect the market, key players are shifting their focus to new strategies.
With increased attention towards developing new products and strategic initiatives, such as mergers and acquisitions (M&A), key players are attempting to gain greater market share. However, the first step to achieving a greater market share is having a comprehensive understanding of the drivers influencing growth in the in-vitro diagnostics market.
Growth drivers such as increasing automation, supportive government policies, rising geriatric population, and increased demand for point-of-care testing are currently most prominent. Being aware of the driving factors in the in-vitro diagnostics market assists companies in their efforts to grow, expand, and gain a strategic advantage. In this article, Infiniti's healthcare research experts discuss the driving factors in the in-vitro diagnostics market and highlight the need for market research services in this fast-growing and highly competitive market space.
As the in-vitro diagnostics market continues to grow, pioneering development and staying abreast with the market is key to being an industry leader. Request a free proposal to gain in-depth insights into the market, and develop optimal strategies to gain higher market share.
What are the expected driving factors in the In Vitro Diagnostics Market?
While the in-vitro diagnostics market faces challenges such as the lack of fully developed clinical laboratories, various driving factors in the market are often overlooked. Identifying, evaluating, and capitalizing on these growth drivers can be a significant differentiator for companies in the market. Additionally, awareness of growth drivers, trends, and opportunities enables companies to pioneer development and change in specific segments. Currently, biomarkers have gained value and interest in the medical industry for the screening, diagnosis, and treatment of specific diseases. As this develops with the increased availability of biomolecular tools, the market will soon see new opportunities. However, companies must stay abreast of trends and driving factors to capitalize on opportunities successfully. Therefore, Infiniti's healthcare market research experts identified and discussed the following four noteworthy expected driving factors in the in-vitro diagnostics market: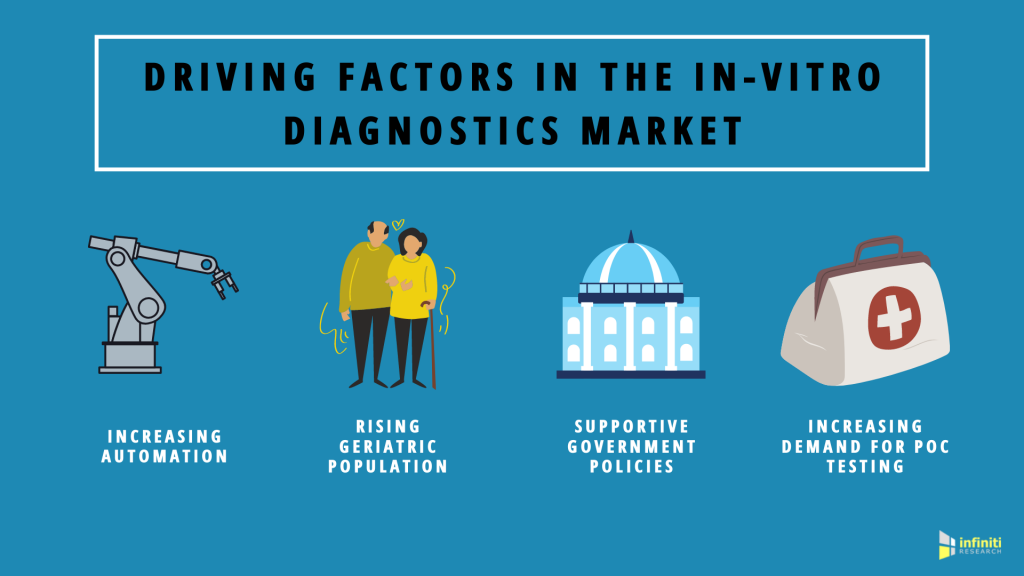 Increasing Automation
Diagnostic laboratories are increasingly adopting fully automated instruments. Automation in laboratories enables increased efficiency and accuracy of diagnostic tests. Additionally, automated instruments deliver faster results, decrease hands-on time, are easily scalable and high-performance. Due to these benefits, the potential of total laboratory automation, and the reduced need for batch tests, key players are working on developing automated instruments. The increasing demand for automated medical devices, accuracy, efficient diagnostic systems, and faster results are expected to drive growth in the in-vitro diagnostics market.
Supportive Government Policies
Favorable regulations to spur the approval of medical devices by governments across the globe is contributing substantially to the growth of the in-vitro diagnostics market. Additionally, governments have undertaken various initiatives to provide information and education on IVD tools and personalized medicine for effective patient management, which is expected to further influence growth in the market. Increased government funding to support research and development in the healthcare and medical devices industry has improved awareness and boosted the market further.
Rising Geriatric Population
With improving quality of life, better diagnostic tools, improved healthcare systems, and increased awareness about health and wellness, the global geriatric population has grown substantially. Consequently, improved life expectancy has increased the prevalence of chronic and cardiovascular diseases. Additionally, the rising population has led to an increased prevalence of infectious diseases. Therefore, the demand for efficient and accurate diagnostics systems and improved healthcare systems has increased. These changes have directly influenced demand, product development, and growth in the in-vitro diagnostics market.
Increasing Demand for Point-of-Care Testing
Advanced techniques such as biochips and nano-biotechnology have facilitated easy access to point-of-care tests. Additionally, these techniques enable accurate and fast results, further fueling the demand for IVD instruments. Companies are now developing point-of-care testing for the diagnosis of infectious diseases, which will further influence the shift from traditional diagnostic tools towards IVD tools. The increased adoption of point-of-care testing is due to the ability to conduct tests and procure results in close proximity to patients. This enables faster diagnosis, and in turn, more immediate treatment. Therefore, point-of-care testing is expected to increase demand and fuel growth in the in-vitro diagnostics market.
Request more information to further understand the impact of the noteworthy driving factors in the growing in-vitro diagnostics market.
Why does the In Vitro Diagnostics Market need Market Research Services?
The in-vitro diagnostics market is developing and growing at an exponential pace. This has led to increasing competition and a constant battle of wits. Higher market share is often acquired by companies that understand their market and are prepared for all factors that influence it. Infiniti's healthcare market research services provide companies with the ability to gain and maintain substantial market share.
Infiniti's healthcare market research enables companies to stay abreast of influencing factors in the in-vitro diagnostics market. Additionally, it includes the following services that each serve a crucial function:
Market Trends Analysis: Our market trend analysis solutions enable companies to identify and understand significant current and future trends in the in-vitro diagnostics trends.
Product Development Research: With product development research, companies can analyze the complete product development lifecycle, gain insights on the most profitable and relevant segments, and boost value proposition.
M&A Support: Mergers and acquisitions (M&A) can help companies gain significant market share. With our M&A support, companies can identify potential opportunities and have our team support investors at each stage of the process.
In the growing in-vitro diagnostics market, staying updated on market trends assists companies in developing appropriate strategies to approach and capitalize on them. New product development is the optimal way to become an industry leader, an innovative and evolving community. Additionally, M&A has become a common strategy adopted by key players in the in-vitro diagnostics market. To gain exclusive insights into why healthcare market research services are the new norm for healthcare industry players, gain limited period free access to our resources here.
To gain market share and become an industry leader, companies must efficiently approach and capitalize on ideal opportunities in this highly competitive space. Infiniti's healthcare market research services assist and support companies by providing these specific and essential services for efficient growth.
To gain comprehensive insights into the scope and benefits of Infiniti's market research services in the in-vitro diagnostics market, speak to our experts – Contact Us.