The advent of the food processing industry is commonly credited to the makeover and reshaping that technological advancement brought to the food and beverage industry. While the industry suffered significant losses during the financial crisis of 2007-08, it rapidly recovered in the mid-2010s and continues to grow. However, the challenging aspects of the COVID-19 pandemic led to a substantial reduction in revenue due to reduced disposable incomes, and suffering GDPs across the globe.
As the food processing industry attempts to recover from the aftermath of the pandemic, industry leaders are encouraged to identify, evaluate, and mitigate the risks in the market. Consumers' changing preferences, supply chain disruptions, current economic conditions, and, most importantly, food safety, are some of the risks of food processing. Consequently, food processing companies are shifting their focus on risk management solutions.
This market is also influenced by various dynamic trends and significant growth drivers. Trends such as the innovation of technologies that reduce the detrimental impact on food, and maintain higher nutritional value, are having a major impact on the market. The demand for ready-to-eat meals, changing lifestyles, and an increasing population of nuclear families is acting as highly impactful market growth drivers. However, due to the risks mentioned above in the food processing industry, companies are finding it challenging to capitalize on these crucial growth drivers efficiently.
Therefore, food processing companies require appropriate risk management solutions to mitigate risk and capitalize on the trends and growth drivers in the market. To help food processing industry players achieve this, Infiniti's risk management experts discuss the significant risks impacting the food processing industry and detail the benefits of risk management solutions below.
Identifying, understanding, and mitigating risks in the food processing industry is an extremely challenging task. Request a free proposal to gain in-depth insights and guidance from Infiniti's risk management experts.
Food Processing Industry Risks
Infiniti's risk management experts identified four significant risks that have impacted the food processing industry for years. However, since the COVID-19 pandemic, the risks have evolved, and companies require a comprehensive understanding of these risks as they currently affect the market. The four most significant risks impacting the food processing industry are as follows: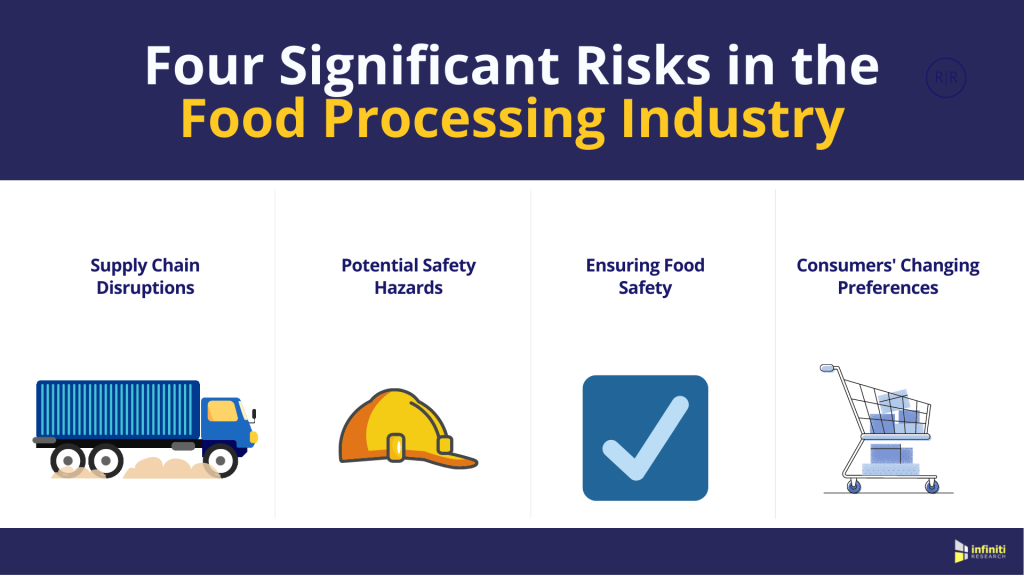 Supply Chain Disruptions
Crops, livestock, and other raw materials in the industry are highly prone to exposure, damage, and disruption. Factors such as the weather, rising energy costs, storage constraints, and transportation issues are increasing risks to the supply chain. The disruption caused by these factors can lead to loss of raw material, delays in processing and delivery, and consequentially, substantial monetary losses. Due to COVID-19, energy costs have risen in many geographic locations, while many countries have gone into lockdown, stopping domestic and international transport entirely. These combined factors can make the supply chain processes of food processing industry players highly vulnerable to significant damage.
Potential Safety Hazards
Industrial food processing utilizes heavy machinery, and this often leads to health hazards for employees in food processing companies. Heavy machinery accidents can and do lead to severe injury quite often. To ensure employee safety, food processing companies need to take prior initiatives, provide proper training, and ensure that all appropriate regulations are met. Since the COVID-19 pandemic, this risk has included exposure to the virus. Social distancing and other precautionary measures are and will continue to be extremely crucial for the foreseeable future. The potential spread of the virus within the company can cause significant monetary losses, further spread of the virus, and, more importantly, the possible loss of lives. The inability to safeguard the health and wellness of employees can take a tremendous toll on the entire food process industry and consumers.
Ensuring Food Safety
With the risk of potential supply chain disruptions, ensuring that processed food is not contaminated or damaged in any way can be highly challenging. Additionally, direct human contact, hygiene disparities within the company, machinery issues, and storage challenges substantially increase the risks. With various regulations and rising consumer awareness about health and safety since the start of the COVID-19 pandemic, these risks are being more strictly scrutinized. Direct human contact can cause exposure to the COVID-19 virus and other contagious diseases. Storage issues and hygiene disparities can contaminate or spoil food – particularly meat and crops – in turn, causing a severe backlash from consumers.
Consumers' Changing Preferences
The changing preferences of consumers are one of the most significant risks in the food and beverage industry. For many segments of the food processing industry, this risk can have a negative impact as well. Currently, consumer preferences and needs are shifting towards healthy, hygienic, and convenient food. This has led to an increased demand for ready-to-eat meals, which is part of the tertiary sector of the food processing industry. With hygiene requirements and expectations increasing due to COVID-19, food processing companies must take an extra step to ensure they meet customer expectations and consequentially increase customer satisfaction. A major consumer-driven trend in the food and beverage industry is the increased awareness about health and wellness. Consumers prefer healthier food products that retain nutritional value and are conveniently available. The secondary and tertiary sectors of the food processing industry must develop strategic processes that enable them to adapt to the dynamic preferences of consumers.
For more detailed insights into the influence of the COVID-19 pandemic on food processing industry risks, request more information.
Risk Management Solutions in the Food Processing Industry
The risks mentioned above pose significant challenges for food processing industry players. However, there are a plethora of other risks plaguing the industry and companies within it. To efficiently mitigate these risks, companies should be able to identify, understand, and forecast them. Infiniti's risk management solutions assist companies in achieving this. Our solutions help companies avoid being blindsided by market risks and suffering substantial losses. There are five steps to efficiently implementing risk management solutions. These steps are as follows:
Identifying potential and upcoming risks that clients' business operations are exposed to and informing them of the same.
Analyzing the risks to understand other risks and factors within the organization that may be affected by it, as well as the scope and potential impact of the risk.
Evaluating and prioritizing the risks according to severity or urgency to ensure major risks are appropriately prioritized and resolved.
Eliminating or containing the risk to reduce or stop the potential impact on the clients' business.
Monitoring risks that cannot be eliminated is crucial to ensuring the risk management solution is effective.
Infiniti's risk management solutions help companies identify potential risks that can be exploited, and mitigate major risks, to help business continuity. Risk management solutions can also help companies reduce annual spending, optimize warehouse management, and identify processes with high risks. During the COVID-19 pandemic, potential risks in the food processing industry have increased exponentially. With Infiniti's risk management solutions, food processing industries can develop solutions that mitigate supply chain risks, ensure food safety, and stay ahead in this dynamic and highly competitive industry.
Speak to our experts to learn how Infiniti's risk management solutions can help food-processing industry players mitigate market risks and survive the COVID-19 pandemic.