The human race has borne the brunt of malaria for thousands of years, and the disease has significantly influenced human evolution and history.
Every year, nearly 300 million individuals around the world are affected by malaria, and more than a million people die from this dreadful disease. Plasmodium falciparum is the chief causative agent of this disease, and as drug-resistant strains of the parasite emerge, there is a critical need to identify new biochemical targets for developing antimalarial therapeutics. One of the principal components of the global strategy to control and eradicate malaria is highly dependent on the safety, efficacy, availability, affordability, and acceptability of antimalarial drugs. An effective antimalarial drug not only reduces the mortality and morbidity of malaria but also reduces the risk of resistance to antimalarial medicines. However, to notably decrease the burden of malaria around the world, a more holistic approach, one that integrates research on health, climate, agriculture, and housing, along with regular interventions, has to be adopted. Furthermore, this will require better collaboration among different national government bodies, UN agencies, research centers, and NGOs to improve the overall quality of health, vector control activities, and in the future, education and improved housing.
Although in the early 2000s, the world had witnessed considerable success in the fight against malaria,  with a significant decrease in the overall number of disease outbreaks and deaths, this achievement has been mostly uneven. There are still settings where the toll of malaria is intensifying, and a seasonal spike in patient numbers are

getting higher. Over the years, medicinal research has helped recognize a number of potential drug targets, but factors such as understanding the increasing resistance to conventional therapeutics coupled with the identification and characterization of new therapeutic targets and inhibitors are essential to combat the disease. Several efforts to control, eliminate, and eradicate malaria have ebbed and flowed with periods of noticeable progress followed by disinvestment, leading to the return or worsening of this environmentally fueled infectious disease over and over again.
The Business Challenge
To analyze the changing demand-supply landscape of antimalarial treatment market across tropical countries, the client – a leading global healthcare company with core business in pharmaceuticals, vaccines, and generics – approached Infiniti to obtain effective insights on healthcare information mapping and actionable assessments on emerging and untapped market opportunities, which they can target.
The primary goal of this market potential assessment was to understand the future potential for antimalarial drugs in tropical countries, including Nigeria, Indonesia, India, and Brazil. Additionally, the market potential assessment also looked at resolving strategic and tactical issues by transforming marketing and sales strategies. Moreover, the market potential assessment was also aimed at providing insights on the expansion of business pertaining to antimalarial drugs to countries like Nigeria and Indonesia, with different demographics and needs.
Infiniti's experienced market potential assessment team tracked recent developments and innovations in the market through a meticulous process of collecting and analyzing information from exhaustive primary and secondary. Our market potential assessment team referred to secondary research sources, including a broad range of public and proprietary databases, internally developed research reports, company brochures, and business journals and reached out to stakeholders, such as industry experts, KOLs, device users, procurement experts to understand their views on the market. Our analysts also spoke to stakeholders responsible for the sales and distribution of antimalarial drugs to understand how the market would perform in the short and long term and validate the market size and market potential assessment model developed for this segment.
Why Infiniti Research is the preferred partner for more than 55 Fortune 500 Companies
Solution Offered and Impact
By evaluating a broad range of published literature to develop an initial hypothesis, Infiniti's market potential assessment team identified numerous market stakeholders and conducted in-depth primary and secondary research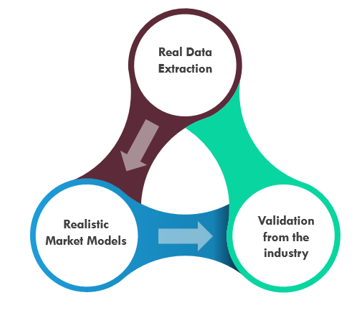 to determine the prevalence, prescription patterns, key treatment methods used, and new trends affecting the antimalarial drugs market. The market potential assessment team also conducted many interviews and discussions with important market stakeholders to obtain information specific to the market.
In just 10 weeks, our market potential assessment helped the client – a global healthcare company – identify the target markets for antimalarial drugs and devise strategies for the expansion of businesses to countries such as Nigeria and Indonesia.  Moreover, with the help of this market potential assessment, the client was also able to resolve strategic and tactical issues by transforming marketing and sales strategies.
To address the challenges specific to the pharmaceutical sector, Infiniti's healthcare experts have developed an extensive proprietary database comprising of information on more than two million industry experts, doctors, physicians, KOLs, payers, end-users, and patients. This database also includes high quality and accurate information obtained through quantitative and qualitative surveys with effective response rate. We also have a collection of the best-in-class global network of 3000+ payers, influencers, and key opinion leaders spread across multiple channels in more than 50 countries.
Benefits of Our Integrated Approach?
In just 10 weeks, the client saw clear benefits from our relationship. The benefit was not only in terms of revenue impact or analytics turnaround time but also in terms of the experience we were staging for them by introducing them to a novel approach of problem-solving.
Here are some of the key points appreciated by our clients
Dedicated Market Potential Assessment Portal. A centralized platform for the collection, storing, processing, reporting, and dissemination of information with the specific purpose of assisting the decision-making process and developing actionable insights. This portal includes comprehensive information on quantitative and qualitative aspects on target markets, competitors and end-users.
Collaborative learning. We leveraged experience of our healthcare team and our technical capabilities to enable report-sharing and other collaborative features appreciated by client teams.
Database Access. Access to a patient database containing information about 60+ medical diseases and conditions, such as patient undergoing treatment, untreated patients, and patients with chronic conditions.
Interactive Dashboard. Using our portal based solution for healthcare professionals, we took a design-first approach to problem solving and helped break through previously held assertions.
Value for Money. Infiniti's dedicated client management team customizes reports to suit business requirements and offers the best insights for every dollar spent.
A must-read case study for strategy experts and decision makers looking for effective market potential assessment for antimalarial drugs.