Over the next few years, smoking rates are likely to continue declining in high-income countries due to expected changes in legislation, awareness of health risks, and anti-smoking campaigns. However, the overall tobacco consumption may increase, driven by the rising consumption in emerging countries.
In recent years, market-leading companies in the cigarette and tobacco production industry have had to deal with numerous challenges. Growing public awareness of the adverse health effects of smoking tobacco, implementation of stringent regulations, and increasing taxes have placed downward pressure on the demand for industrial goods. While global tobacco consumption is anticipated to remain consistent due to the growth in developing markets, smoking rates have declined in key emerging economies across the globe. However, despite the lower smoking rate in certain countries, market players were able to offset lower volume sales by raising product prices. Also, the shifting preference for premium brands in emerging economies has helped spur growth in terms of both revenues and profit margins. This demands market intelligence services.
For companies looking to enter this competitive market space, understanding the industry's value chain, recent legislation, and developing an effective decision-making strategy is essential to understanding the marketability of their products. Our market intelligence study helps companies keep track of their competition and market space to improve their businesses' operating model. At its very core, our market intelligence study utilizes various sources of information to generate a broader picture of the business's existing market space, customers, competition, problems, and growth prospects of new products.
The Business Challenge
With a keen eye on identifying future growth opportunities before its competitors, the client – a global corporation engaged in the manufacturing, supply and distribution of cigarettes, red ginseng, pharmaceuticals, and cosmetic products – approached Infiniti to carry out a market intelligence study on cigarettes and tobacco products across target regions. The scope of this market intelligence engagement was to assess the change in market dynamics and demand trends specific to cigarette and tobacco products in Australia and North America. Additionally, the client also wanted to gain an understanding of the specific age group that was affected by the regulation of warning pictures, the impact of brand switching, and an effective sales volume assessment of their tobacco-based products.
At Infiniti, our "market intelligence" team understands that to develop an effective market entry strategy, following recent innovations and developments in the market through secondary journals and reaching out to prominent stakeholders such as KOLs, industry experts, product users, and procurement experts are essential. Additionally, our market intelligence team also spoke to prominent stakeholders responsible for the distribution and sales of similar products to analyze how the market would grow in the near future.
Solution Offered and Business Impact
By evaluating country-specific data on influential decision-makers and key players in the value chain, our market intelligence research team carried out a market assessment for each country under focus. This market intelligence assessment would offer a brief description of the cigarette and tobacco market in North America and Australia and the current marketing activities for such products. Our research team also offered the client a brief understanding of the legal system on tobacco control on warning pictures by each country. Furthermore, to meet the client's specific business requirements, an analysis of the market's dynamics was also carried out to analyze the impact of new regulations and get insights on consumer choice behavior.
In a mere span of six weeks, the client – a global corporation engaged in the manufacturing, supply and distribution of cigarettes, red ginseng, pharmaceuticals, and cosmetic products – was able to effectively assess the impact of warning pictures and regulations on the sales revenue of cigarette and tobacco products in certain regions.
Our market intelligence study follows a blended approach of secondary research, which consists of an analysis of proprietary and paid industry databases, annual reports, media platforms, and news aggregators, and limited primary research consisting of in-depth interviews and discussions with industry experts, and market stakeholders to validate information specific to the market space. Furthermore, with market intelligence study, the key influencers from related industries and suppliers were also interviewed to procure and verify crucial information and assess the product's sales prospects in the current and future market scenario.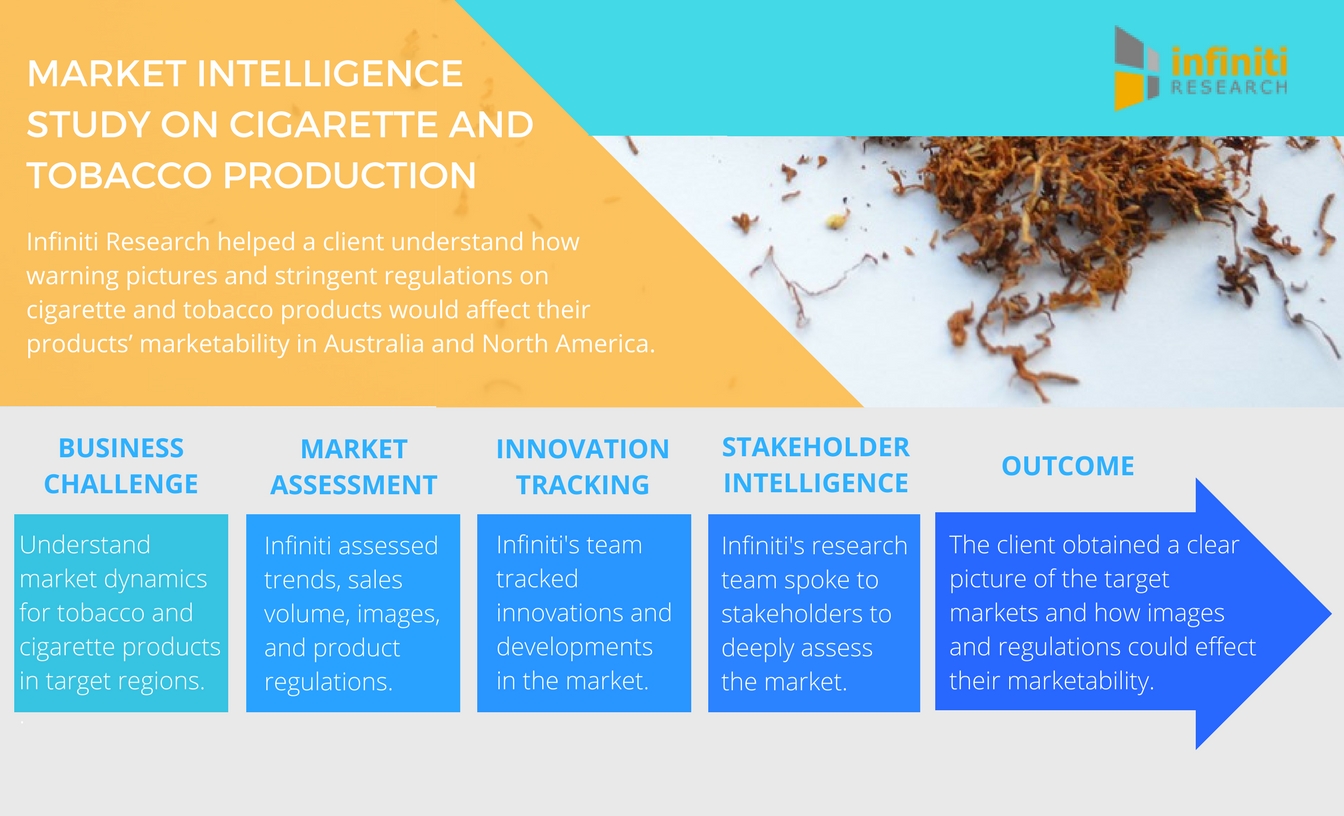 Why Infiniti Research?
Dedicated Market Intelligence Portal. A centralized platform for the collection, storing, processing, reporting, and dissemination of information with the specific purpose of assisting the decision-making process and developing actionable insights. This portal includes comprehensive information on quantitative and qualitative aspects on target markets, competitors and end-users.
Collaborative learning. We leveraged the experience of our healthcare team and our technical capabilities to enable report-sharing and other collaborative features appreciated by client teams.
Database Access. Access to a patient database containing information about 60+ medical diseases and conditions, such as patients undergoing treatment, untreated patients, and patients with chronic conditions.
Interactive Dashboard. Using our Portal based market intelligence solution for healthcare professionals, we took a design-first approach to problem-solving and helped break through previously held assertions.
Value for Money. Infiniti's dedicated market intelligence management team customizes reports to suit business requirements and offers the best insights for every dollar spent.