During 2015, the global market for batteries was valued at over USD 18 billion and is envisaged to grow at a CAGR of over 8% by the end of 2020. An analysis of the market reveals that they are used as a replacement for standard lead acid batteries and help ensure compliance with stringent CO2 regulations to bring about cost savings.
To develop effective market entry strategies, keeping track of your competition and the state of your industry becomes an integral part of operating any business effectively across the globe. Traditionally, that information is termed as "market intelligence." However, in recent years, the practice of collecting market intelligence has expanded to include analysis and analytics, which can help clients improve their businesses' operating model. At its core, market intelligence uses numerous sources of information to create a broader picture of the company's existing market space, customers, problems, competition, and growth potential for new products and services. Primary sources of raw data for that analysis include surveys, sales logs, and social media.
The Business Challenge
To assess and understand the dynamic demand-supply landscape for this market space, the client – an internationally operating German automotive part supplier – wanted Infiniti Research to assess the market and competitive dynamics to help them gain insights into the market structure and technical requirements for automotive battery systems in Europe, NAFTA, and APAC regions.
The key objective of this market intelligence engagement was to provide actionable insights on automotive Lithium-ion batteries, including market potential and forecast, current solutions in the market, market and technical requirements, customer or competitive dynamics, and to identify potential partners for business growth. Additionally, our market intelligence analysts also worked with the client's team to identify potential best fits partners across specified regions. The final decision on partners was made after going through a long list and selecting the right company based on multiple parameters such as the size of the business, the existing experience of target products, etc.
Infiniti's experienced market intelligence team tracked recent developments and innovations in the market through secondary journals and reached out to relevant stakeholders such as industry experts, KOLs, end users, procurement experts to understand their views on the market. Our market intelligence analysts also spoke to key stakeholders responsible for sales and distribution of these battery systems to understand how the market would grow in short and long term and also to validate the market size and opportunity model developed specifically for this segment.
Solution Offered and Impact
With an eye on helping clients understand the acceptability of their products, a dedicated project management team with hands-on experience in serving the various information needs of leading global companies were assigned to this engagement. To address the challenges specific to the clients' requirements, Infiniti's automotive team recommended a step-wise approach for this engagement. The market intelligence approach would provide a complete 360-degree view of the Lithium-ion battery market and then proceed with further drill-downs to identify potential partners for the business. Furthermore, the experts also utilized a blended research methodology consisting of in-depth primary and secondary market intelligence research followed by data analysis to offer insights into partner-specific developments. In just eight weeks, the client – a leading global supplier of electronic products for the automobile industry gained actionable insights on the latest trends and future requirements for automotive battery systems.
Infiniti is a leading market intelligence and advisory firm for battery, automotive, and allied market segment across the globe. Our team currently serves clients such as Palladium Energy, Volkswagen, Ferrari, Toyota, Sumitomo, Briggs & Stratton, Mann+Hummel, ThyssenKrupp, Pirelli, Komatsu, and Supreme Corporation on a wide variety of market intelligence and strategic initiatives.
In a relatively short period of time, just eight weeks, the client saw clear benefits from our relationship. The benefit was not only in terms of revenue impact or analytics turnaround time but also in terms of the experience we were staging for them by exposing them to a new way of problem-solving.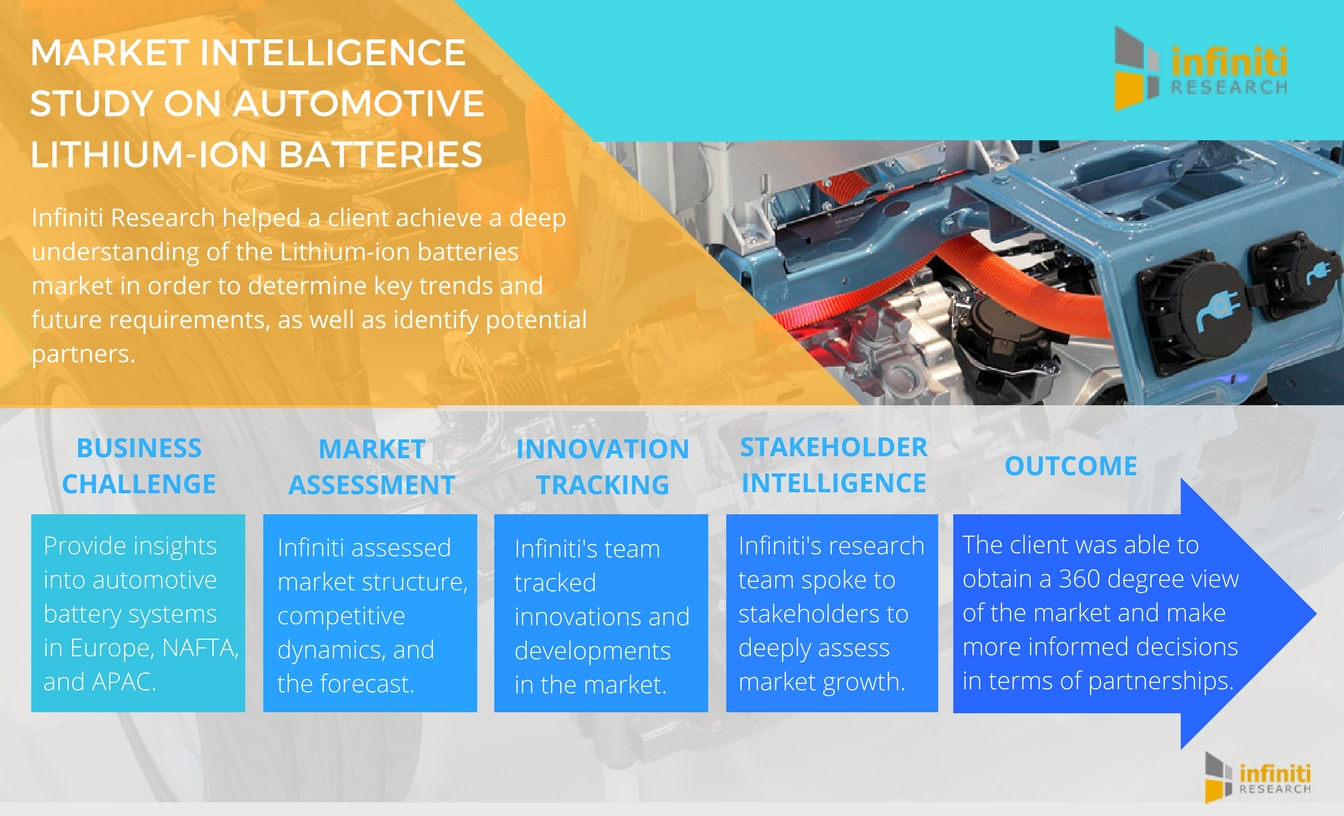 Why Infiniti Research?
Dedicated Market Intelligence Portal. A centralized platform for the collection, storing, processing, reporting, and dissemination of information with the specific purpose of assisting the decision-making process and developing actionable insights. This portal includes comprehensive information on quantitative and qualitative aspects on target markets, competitors and end-users.
Collaborative learning. We leveraged the experience of our healthcare team and our technical capabilities to enable report-sharing and other collaborative features appreciated by client teams.
Database Access. Access to a patient database containing information about 60+ medical diseases and conditions, such as patient undergoing treatment, untreated patients, and patients with chronic conditions.
Interactive Dashboard. Using our Portal based solution for healthcare professionals, we took a design-first approach to problem-solving and helped break through previously held assertions.
Value for Money. Infiniti's dedicated client management team customizes reports to suit business requirements and offers the best insights for every dollar spent.