Digital signage is a novel way to consumer engagement by the integration of interactive displays, touch screens, and gamification solutions
With advancement in technologies, companies have changed the way they communicate with their customers. Digital signage is one such technology that has witnessed tremendous growth mostly because of the use of advanced technologies including LCD, LED, OLED, and projections. It is primarily used to display content such as videos, digital images, streaming media, and information in different places including hotels, transportation systems, stadiums, retail stores, and corporate buildings. It helps in cutting down costs associated with traditional printed advertisements, which are not only time consuming but extremely tedious to implement. These displays use content management systems which can be run either from personal computers and servers or regional/national media hosting providers. However, compatibility, networking, electrical interference, and connectivity related issues are expected to pose major challenges to this industry's growth.
With the undeniable potential of digital signage market, there are significant challenges and pitfalls in the digital world. Firstly, the initial input cost for deployment of digital signage is always higher compared to traditional media. Furthermore, the majority of digital signage is connected over the cloud for real-time transmission for scheduling and managing content; this generally requires a higher bandwidth connection for faster transmission of data. If digital signage is put up in a remote location with bandwidth-related issues, transmission of HD content, which requires a higher bandwidth of 8–15 Mbps, poses a major challenge. Also, buyers of digital signage systems need to have basic IT skills to operate them, and special coding skills are required if the buyers wish to develop their own content.
Infiniti's market intelligence experts offer actionable insights to help clients in the digital signage industry deduce effective marketing strategies to venture into new markets. By offering clients customized services, our market entry solutions help global LCD technology companies analyze business risks and identify investment opportunities.
The Business Challenge
The client – a leading LCD technology company, approached Infiniti to assess the market and customer landscape for reflective LCDs in the Oceania region. Additionally, the client also wanted to gain comprehensive insights on the outdoor signage segment specifically for Australia and New Zealand.
The primary objective of this market intelligence assessment was to offer an in-depth analysis of the current market scenario, market segmentations, competitive landscape, and key accounts for reflective LCDs, with specific focus on outdoor signage segment across the Oceania region. The market intelligence study also offered a holistic overview of the various market segments – by application, potential customers, and types of digital signage (outdoor and indoor) for the target region. The market landscape assessment also offered clear insights on the key strategies to promote reflective LCDs and highlighted the unique offerings and services trending in the current market. To understand the growth prospects of digital signage industry, Infiniti's market intelligence experts gathered valuable information on the new technological trends introduced in the market by established players. Our research experts reached out to industry experts and key end-users to understand their views on the market's growth potential and carried out a deep-dive assessment of potential customers, unique vendor offerings, and value chain analysis.
Why Infiniti Research is the preferred partner for more than 55 Fortune 500 Companies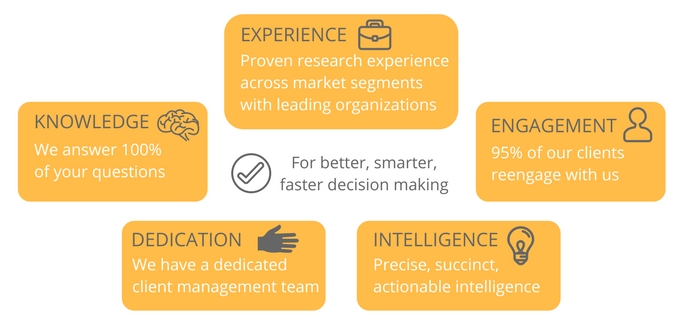 Solution Offered and Impact
A dedicated market intelligence team with industry-specific knowledge and extensive experience in meeting the various information needs of leading global companies was assigned to this engagement to help the client understand the current state of the market and the growth prospects of the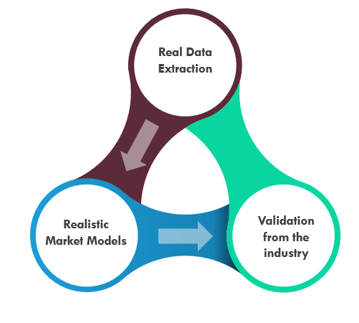 market in the future. To address the challenges specific to the client's requirements, Infiniti's market intelligence team also recommended a comprehensive and methodical project management approach. The approach offered a complete overview of the digital signage market in the target region, including a detailed analysis of the market landscape, customer landscape, along with a detailed outline of the established players in this market space.
By following a secondary research approach, the market intelligence experts evaluated various research journals, annual reports, media platforms, news aggregators, and company and executive presentations to  build an initial hypothesis and analytical framework for conducting primary research. With various data modeling and scenario testing, our experts offered strategic insights to the client. Additionally, our research specialists also engaged in semi-structured interviews and discussions with market stakeholders, KOLs, channel partners, regulatory bodies, and trade associations to validate the data obtained through secondary sources and for filling potential information gaps.
In just a few weeks, the client – a leading LCD technology company, gained a better perspective of the current and future market scenario, along with key insights to devise effective marketing strategies to promote reflective LCD in the target region. An in-depth analysis of the customer landscape performed by our market intelligence team, offered valuable insights on the end customers' purchase frequency, purchase volumes, and criteria for vendor selection.
Benefits of our Integrated Market Intelligence Approach
In just a few weeks, the client saw numerous benefits in terms of identifying the most effective marketing channels and deducing effective strategies needed to promote reflective LCD specific to the target audience. Additionally, the recommendations from our market intelligence experts also helped the client get a holistic overview of the customer landscape of the digital signage market and gain insights into the key trends and players in the market.
Here are some of the key points appreciated by our clients:
Dedicated Market Intelligence Portal

. A centralized platform for the collection, storing, processing, reporting, and dissemination of information with the specific purpose of assisting the decision-making process and developing actionable insights. This market intelligence portal includes comprehensive information on quantitative and qualitative aspects on target markets, competitors and end-users.
Collaborative learning. We leveraged experience of our healthcare team and our technical capabilities to enable report-sharing and other collaborative features appreciated by client teams.
Database Access. Access to a patient database containing information about 60+ medical diseases and conditions, such as patient undergoing treatment, untreated patients, and patients with chronic conditions.
Interactive Dashboard. Using our market intelligence portal based solution for healthcare professionals, we took a design-first approach to problem-solving and helped break through previously held assertions.
Value for Money. Infiniti's dedicated market intelligence team customizes reports to suit business requirements and offers the best insights for every dollar spent.
A must-read market intelligence case study for strategy experts and decision makers looking to develop effective market entry strategies for the digital signage market.