A recent survey estimates that maritime transport is expected to double the share of global greenhouse emissions by 2050.
The transportation industry is constantly evolving owing to the relentless growth of technology and innovations. Consequently, prominent logistics companies are facing several bottlenecks addressing increasing concerns related to compliance. While leading logistics companies are emphasizing on improving their transportation facilities to address issues like increasing infrastructure investments and rising industrial production activities, stakeholders are looking out for promising solutions to stay ahead of the competition. In this competitive market landscape, it becomes vital for logistics companies to take strategic decisions with the help of market opportunity assessments. Market opportunity assessment helps leading businesses profile the potential competitors and identify the pain points and unmet needs in the market.
Infiniti's market opportunity assessment solution provides better visibility into the market landscape in terms of the competitors and their service offerings. The engagement focuses on segmenting the market based on the preferences and identifying segments with similarities.

The Business Challenge
A prominent logistic company wanted to validate new opportunities and venture across niche potential market segments. The client wanted to leverage market opportunity assessment to identify the bottlenecks, and adequately allocate their resources to meet the business requirements. The primary concern of the client was to gain a comprehensive understanding of the opportunities and develop winning strategies to expand to new segments. Moreover, through this engagement, the client wanted to seek ways to address the needs, requirements, and preferences of the customers.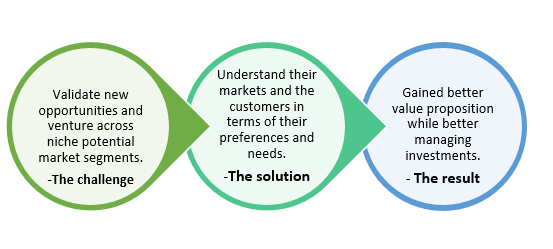 Want more information about how our market opportunity assessment helped the logistic space?


---
Our Approach
Infiniti's market opportunity assessment experts carried out interviews and discussions with the prominent logistics companies. To best enter the market by understanding and gaining information, our experts synthesized information from a wide array of syndicated reports, secondary data, industry experts, and company presentations.
Benefits of Infiniti's Engagement
The market opportunity assessment offered by Infiniti assisted the leading logistic company to understand their markets and the customers in terms of their preferences and needs. The engagement also helped the client find new relevant opportunities and validate their viability across the potential markets in the logistic management space. The client was able to specialize in competitive pricing and was able to tap potential market opportunities. In a span of eight weeks, the client was able to develop a robust tactical action plan while delivering promising business outcomes compared to other logistics companies.
Additional Benefits Offered by Infiniti Include:
Identified potential market opportunities and characterized the unmet needs of the customers
Gained better value proposition while better managing investments
---
A must-read case study for strategy specialists and decision makers looking to develop an understanding of the transportation industry