Animal nutrition focuses primarily on the dietary needs of animals, mainly those in agriculture and food production, and also in zoos, aquariums, and wildlife management. Animal nutrition companies are the ones that develop and deal with the manufacture of nutrition premixes, feed additives, and other related services. Based on research-backed risk assessment, several leading companies have started developing better formulations to enhance the quality of animal feed.

The Business Challenge
The client– A leading animal nutrition company, involved in the research and development of animal feed.
Objective– To assess the risks and opportunities in the market space and help them determine potential expansion areas by implementing a risk assessment study.
The client, a leading animal nutrition company, specializing in the manufacture of animal nutrition premixes, wanted to gain detailed insights into the potential industry risks that would lead to negative results. The client was looking at conducting a risk assessment study to identify industry risks and potential threats. They also wanted to understand the relative risks in different subsegments within the market space. Moreover, they wanted to leverage risk assessment-based solutions to evaluate and group the risks based on specific geographic areas.
Results– With the help of our risk assessment solution, the client was able to gain detailed insights into the potential risks that helped them in developing an easy-to-use dashboard that enabled them to identify and compare industry risks in different geographical segments.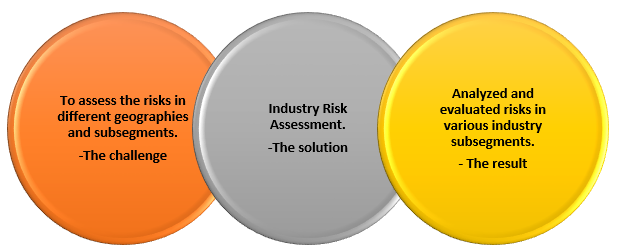 Want more information about our industry risk assessment solutions for animal feed manufacturers?

---
The Journey
Infiniti's industry risk assessment experts carried out extensive research, comprising interviews and discussions with leading stakeholders in the animal nutrition market space, to help the client achieve an integrated customer development process. Our risk assessment experts also compiled information from a wide array of secondary sources such as paid industry databases, company presentations, and industry forums.
The Solution and the Business Impact
Infiniti's risk assessment solution helped the pharmaceutical industry client to gain detailed insights into the industry risks and potential threats. The risk assessment solution also helped them to focus on developing a dashboard that enables easy comparison of risk factors across their business units. It also provided detailed information on the psychographics and demographics of the target markets while taking into account the end-user demand for different geographies.
---
The Future
The animal nutrition sector is likely to become intertwined with information technology, eventually allowing for a flow of information throughout the operations. Also, the use of NIR technology and equipment advances will help in the analysis of raw materials in real-time, allowing reformulations of animal nutrition.
Moreover, widespread digitization and technological innovations will result in real-time monitoring of animal nutrition in the feed. Furthermore, as technology evolves, it will also be possible to control digestion and nutrition utilization; whereas, the traditional formulation methods based on compositional analyses will play a less important role. However, analytics technologies such as advanced in vitro fermentation modeling, nutrigenomics, and NIR will intervene in nutrition formulation so that the nutritional value is defined and feed formulation and manufacturing become a more precise science.
Animal nutrition industry challenges:
Exchange rate instability

– Globalization has made it possible to procure inexpensive raw materials from regions across the globe. This brings in issues related to exchange rate stability.

Safety and quality assurance

– The ongoing food scarcity will increase the pressure for manufacturers and marketers to ensure the animal feed is safe and of high quality. However, this will bring about several challenges for small players who may find it difficult to comply with such feed quality requirements.

GMOs

– Another factor that acts as a major challenge for players in this sector is the use of GMOs. Also, the industry players can cope equally well with or without GMO crops, but the presence of both is what acts as an impediment to the majority.
Several such challenges make it a necessity to implement risk assessment studies to identify potential risks and set risk management standards to overcome them.
---
A must-read case study for strategy specialists and decision makers looking to develop an understanding of the pharmaceutical industry.

---