In today's complex business scenario organizations of all types, i.e., SMEs, multinational firms, and small-scale startups, are striving to make their service and product offerings more accessible than ever. As such, the foreign market expansion is occurring at an ever-increasing pace. Foreign market expansion is crucial for organizations looking to expand their business reach and operations to other international markets. Considering the significant investments involved in market expansion, it is not surprising that foreign market research is gaining traction and is becoming the most sought-after service by players across industries.
This success story outlines our research methodology carried out as a part of a detailed analysis of the foreign market entry process for one of our clients. It also sheds light on the development of a foreign market entry model that describes the process. Talk to one of our market entry experts to learn how we can help you capitalize on opportunities in new markets.
About the Client
The client is a leading energy service company (ESCo) based out of the United Kingdom. The client's business objective revolves around reimagining the energy generation and transmission process to become a net-zero company that develops zero-carbon products and services. As such, companies operating in developed countries are reconsidering their foreign market expansion strategies.
Business Challenge
Despite the complexity involved in foreign market expansion, developing economies have become increasingly attractive for doing business. Among other reasons, it is likely to note that the growth rates in emerging markets in the coming years will be higher than those of mature, well-developed markets.
The client, a leading UK-based energy service company, approached Infiniti seeking help to scope out a new foreign market entry strategy. By collaborating with us, the client also wanted to evaluate the new market in terms of its scope, risks, market size, M&As, and potential threats.
At Infiniti, our foreign market entry experts follow a comprehensive approach to analyzing new opportunities in the target market based on in-depth research, opportunity analysis, and market size. Companies that have worked with us have minimized their market entry failure risk and have successfully capitalized on new market opportunities. Request more info to learn more about our market entry engagements.
Our Approach to Creating a Foreign Market Entry Strategy
Multiple data sets from both primary and secondary market research were collected and analyzed to help the client gain clarity on the risks and opportunities associated with new market entry. Infiniti's foreign market entry experts adopted a holistic approach to bridge the gap and debunk preconceptions that the client initially had by offering objective insights that helped evaluate the opportunities in the new market.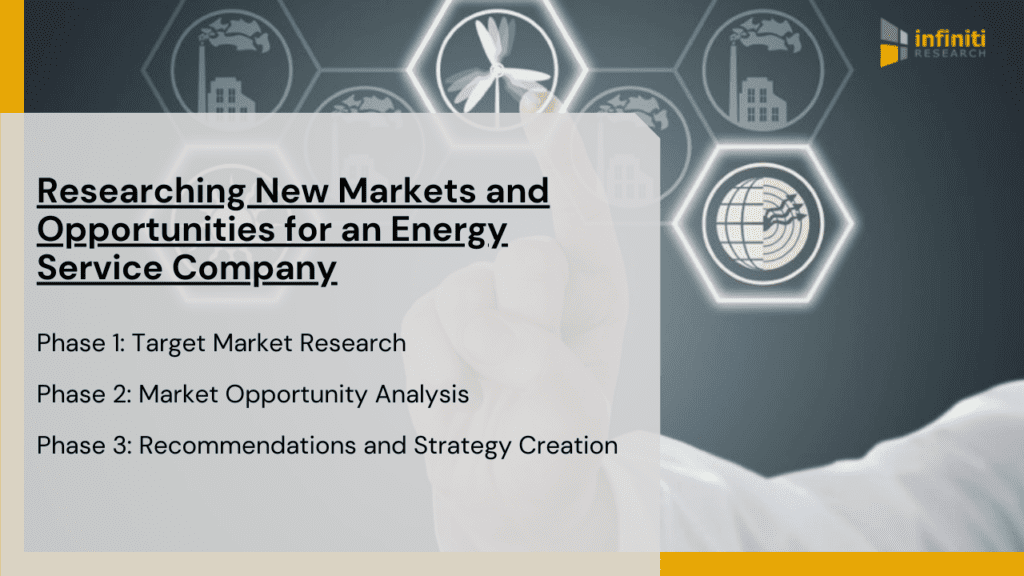 Our market entry strategy experts adopted a three-phased approach to help the client gain insights into the new market, which led to the development of a successful market entry strategy.
Phase 1: Target Market Research
This project's initial phase focused on in-depth market research that empowered the client with market data and insights to chalk-out a market entry strategy.
Our approach helped the client in the following market research areas:
Market value analysis with a strong focus on evaluating historical and projected growth rates and market trends.
Identification of growth factors like barriers to growth and other market entry restrictions may emerge in the new target market.
In-depth analysis of market components like investors, incumbents, adjacent market segments, and leaders in those markets.
Understanding the market in terms of regulatory needs, technological developments, and social and political factors within the market.
If you'd like to know more about our engagement models and pricing plans, request a free proposal, and we'll reach out to you.
Phase 2: Market Opportunity Analysis
With a strong focus on analyzing market opportunities, the second phase of this research helped uncover insights into the new opportunities and threats awaiting the new market. Within this analysis, Infiniti's foreign market entry experts also offered information on:
How the client's value proposition capabilities must evolve to succeed in the new market
The market size and how the target market can be captured efficiently and cost-effectively by the client
Competitive landscape analysis to understand the business environment in the target market
The cost estimate of entering the new market in terms of inputs, distribution, and innovation
Phase 3: New Market Entry Recommendations and Strategy Creation
Our foreign market entry experts offered exclusive insights and personalized recommendations on market entry factors like speed and time, international market entry strategies, and entry type. Apart from providing this information, we also helped the client understand opportunities in terms of joint ventures, buyout opportunities, turnkey project implementations, licensing, M&As, and investments.
Other recommendations offered by our market entry experts included product and service viability, potential entry-supporting partnerships, optimal business models, and an overall foreign market entry strategy that helped our clients position themselves for long-term success.
Business Outcome
Upon completing this foreign market entry project, the client was equipped with all the details required to build their market plan and assess its outcome. Our experts offered personalized solutions that helped the client gain a strong foothold in the new market and further expand into new, lateral market segments. Our three-pronged approach helped them set foot in the new market and establish a strong presence by capitalizing on high potential opportunities and M&As, driving their ROI by 3x.
Are you looking for detailed insights? Fill out this form to request a free brochure.