Due to the rising instances of diseases across the globe, it has become indispensable for organizations to offer promising healthcare solutions to reduce health complications. More like smoker's cough, the chronic obstructive pulmonary disease (COPD) is an inflammatory lung disease, which causes obstruction in the airflow to the lungs. Also, with the lack of health literacy among the populace, people with the COPD can only be diagnosed once the disease has advanced. With a considerable number of the population being infected by the disease, renowned drug manufacturers in the COPD space are facing the need to reduce inflammation and improve patient health outcomes. Moreover, to enter a market space and outline the prevalence rates of COPD, leading drugs manufacturers are facing the need for an effective market analysis study. Market analysis, helps drugs manufacturers profile various customer segments and buying patterns and understand the economic environment in terms of the barriers to entry and regulation.
With the help of Infiniti's market analysis solution, drugs manufacturers in the pharmaceuticals market space can identify the attractiveness of the market and the potential bottlenecks hindering the market's growth.

The Business Challenge
A renowned COPD drugs manufacturer with a considerable number of manufacturing units spread across the globe was facing predicaments assessing the demand and supply for their products. The COPD drugs manufacturer wanted to tap potential opportunities in the market and penetrate across niche market segments. Furthermore, with the aid of market analysis, the COPD drugs supplier wanted to gain relevant insights on the popular treatments and forecast the market's growth prospects. The primary objective of the engagement was to analyze the market outlook in terms of the competitors and compliance regulations.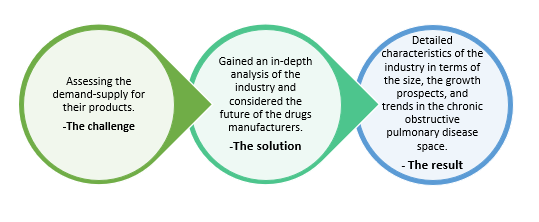 Want more information about our market analysis solution?

Our Approach
To gain detailed insights into the COPD drugs market space, Infiniti's pharmaceutical experts followed a qualitative and quantitative research methodology. To analyze the shift toward patient engagement, the market analysis experts at Infiniti also compiled information from proprietary sources, including industry databases, company forums, and newsletters.
Market Analysis Solution Benefits:
Gained an in-depth analysis of the industry and assessed the potential of new COPD drugs
Analyzed the market outlook in terms of the trends and sustainability of the industry
Gained a holistic view of the industry in terms of its growth potential
Devised a comparative analysis of the competitors and their product positioning
Identified potential bottlenecks and devised an effective go-to-market engagement
Benefits of Our Integrated Approach
The market analysis engagement offered by Infiniti offered the client detailed insights into the industry in terms of the size, the growth prospects, and trends prevalent in the COPD drugs market. Moreover, with the aid of this market analysis engagement, the COPD drugs manufacturer was able to profile the most suitable customers and understand the latest innovations taking place in the COPD drugs market.
A must-read case study for strategy experts and decision makers looking to target potential markets in the healthcare industry.