Despite various regulatory bodies mandating the need to benchmark health and safety policies, the recent years witnessed more than a million cases of self-reported health and safety incidents at workplaces.
With almost all industries requiring employees to work with dangerous machinery, electricity, huge display screen equipment, and toxic substances, workplace accidents have become more common. According to a survey conducted by the government of the UK, there were more than a million cases of people suffering from work-related illness during the year 2015 to 2016. It has been observed that in addition to the loss of valuable working hours due to work-related injury and illnesses, employers in the UK had to incur losses amounting to more than USD 17 billion due to health and safety failings.
Adherence to strict health and safety policies can help businesses reduce losses in terms of work hours and revenue due to reduced productivity and compensations. Additionally, since employees in a safe workplace are more efficient, it results in the production of high-quality products. This helps the business overcome challenges and increase their market value by acquiring new customers and retaining existing ones. By identifying the key competitors and analyzing their growth strategies and the health and safety standards they adhere to, we at Infiniti, help clients benchmark health and safety policies. By analyzing the guidelines set by regulatory bodies in various regions, our competitive intelligence solutions also help global conglomerates benchmark health and safety policies for industries in different countries across the globe.
The Business Challenge
To better understand the health and safety policies followed by competitors and the guidelines set by various industries, the client – a leading multinational data networking and telecommunications equipment company with operations in more than a hundred countries across the globe – approached Infiniti to engage in a competitive intelligence study that would help them benchmark health and safety policies. This competitive intelligence study would also help the client understand the risk appetite of the customers. The scope of this market intelligence engagement was to perform a comprehensive analysis of all the end-user industries, customers and the major competitors, and offer strategic market insights to help the client implement and adhere to stringent health and safety guidelines and subsequently establish a strong presence in the industry.
The primary objective of this market and competitive intelligence engagement was to help the client – one of the renowned technology companies that provides end-to-end portfolio of products

and services to large enterprises and governments – realize competitors' adherence to health and safety guidelines and the strategies followed by them – such as regional campaigns to promote health and safety awareness. Additionally, this competitive intelligence study also helped the client benchmark health and safety policies for various industries as set by the regulatory bodies of different countries.
To gain a clear understanding of the growth of the industry over the short- and long-term, Infiniti's competitive intelligence experts gathered information from reliable social media sources, databases, and market research reports. Furthermore, our analysts also carried out interviews and discussions with business executives, channel partners, dealers, and key stakeholders in the industry to understand their views on the market's potential.
Why Infiniti Research is the preferred partner for more than 55 Fortune 500 Companies

Solution Offered and Business Impact
By identifying credible information sources such as media platforms, annual reports, trade partners, suppliers, company executives, and equity analysts and following a proven approach for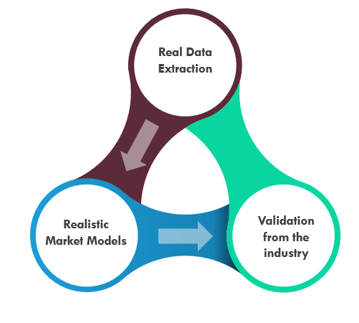 acquiring credible information through primary and secondary research techniques, we offered the client a detailed analysis of all the major competitors, end-user industries, and key customers. Furthermore, our competitive intelligence solutions helped the client understand the safety guidelines implemented by the end-users across various segments and gain strategic insights into the benchmarking of health and safety policies for various industries.
In a mere span of just eight weeks, the client – a leading company designing technologies for connected health and immersive experiences – was able to gain industry-specific insights for benchmarking health and safety policies. With a detailed analysis of the guidelines and strategies followed by the major competitors and customers, the competitive intelligence solution offered by us also helped the client deduce strategies to maximize revenue potential.
To assess industry-specific challenges, Infiniti's market intelligence experts have developed an extensive proprietary database that consists of information on more than two million industry experts, key opinion leaders, end-users, and trade associations.
Benefits of Our Integrated Approach
In just eight weeks, the client – a well-known technology company with operations in several countries around the world – saw numerous benefits in terms of benchmarking health and safety policies across various industries and understanding the risk appetite of the customers. Additionally, the client was also able to understand changes in health and safety policies in different geographies and identify high-risk areas that are primarily focused by competitors.
Here are some of the key points appreciated by our clients
Dedicated Competitive Intelligence Portal

. A centralized platform for the collection, storing, processing, reporting, and dissemination of information with the specific purpose of assisting the decision-making process and developing actionable insights. This portal includes comprehensive information on quantitative and qualitative aspects on target markets, competitors and end-users.
Collaborative learning. We leveraged the experience of our healthcare team and our technical capabilities to enable report-sharing and other collaborative features appreciated by client teams.
Database Access. Access to a patient database containing information about 60+ medical diseases and conditions, such as patients undergoing treatment, untreated patients, and patients with chronic conditions.
Interactive Dashboard. Using our Portal based solution for healthcare professionals, we took a design-first approach to problem-solving and helped break through previously held assertions.
Value for Money. Infiniti's dedicated competitive intelligence team customizes reports to suit business requirements and offers the best insights for every dollar spent.
A must-read market opportunity case analysis for strategy experts and decision makers looking to benchmark health and safety policies at workplaces.