Owing to constant cost pressures coupled with rising expectations to reduce time to market, medical device manufacturers are increasingly engaging in outsourcing their device manufacturing and assembly in full or partially. This creates room for medical device companies to focus more on their core competencies and also capitalize on opportunities for cost reduction and speed to market. But are these the only factors that companies must consider before committing to a medical device outsourcing partner? Experts at Infiniti Research believe that there is much more to evaluate and measure when it comes to medical device outsourcing, especially in terms of adhering to the required quality standards. From the common pitfalls to assessing an outsourcing partners' vertical integration capabilities, this article encapsulates the core benefits and the many factors to consider before engaging in medical device outsourcing.
Not sure if your business is ready for manufacturing outsourcing? Let us help you evaluate and make sound investments to rise in agility and adaptability – Speak to an expert now.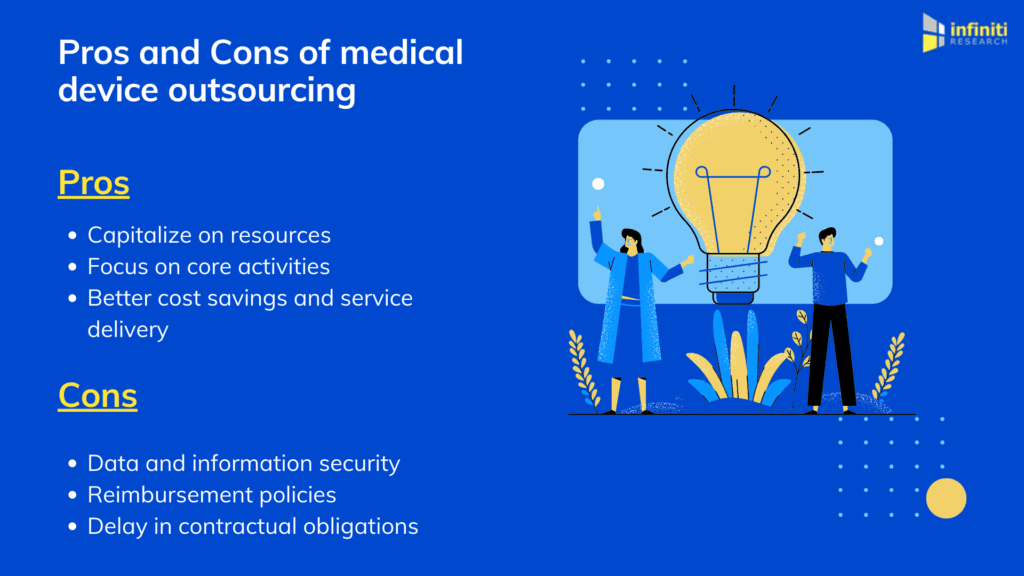 Benefits of medical device outsourcing
Capitalize on resources
Medical device outsourcing facilitates OEMs to take advantage of the third-party resources without having to source and store them locally or train personnel. This will ultimately result in more cost-effective production. Countries including Taiwan, China, and Korea are top medical device manufacturers. Therefore, it is more viable for a US medical device company to outsource production operations entirely overseas rather than bringing in equipment to manufacture medical devices, both in terms of cost and maintaining quality standards.  
Focus on core activities
Relying on medical device outsourcing companies gives the opportunity to give more attention to other core activities such as R&D of new medical devices and marketing and promotion of existing products. By doing so, medical device companies can also eliminate challenges relating to recruiting and training new employees in the manufacturing process.
Better cost savings and service delivery
Improved cost savings and service delivery are the key features that have fueled the growth of the medical device outsourcing market over the last couple of years. By outsourcing to manufacturers who are solely focused on production, MedTech companies can ensure that their delivery schedules are met without having to worry about resource (human and materials) related issues.
This is just one side of the coin of medical device outsourcing. Let's delve into some of the key challenges that companies face in the process of outsourcing.
Challenges of Medical device outsourcing
Data and information security
One of the most pressing challenges in outsourcing medical device manufacturing is the threat of loss of private information. In the medical device outsourcing process, it is vital to share technical proprietary information with the manufacturer, increasing the chances of losing private information. This adversity of such risks is more in the case of information being shared with manufacturers in international locations.
Choosing the right outsourcing partner could be challenging unless you have a strong market intelligence partner to guide your outsourcing decisions. Connect with us to learn why we are the trusted market intelligence partner for 70+ Fortune 500 companies.
Reimbursement policies
The incessant pressure on medical device companies to reduce the product pricing coupled with cost reduction measures taken by several market players are hampering the medical device market. Although there is a protuberant increase in healthcare expenditure, many healthcare providers are still reluctant to reimburse medical devices. If this situation prevails, it could affect the medical device outsourcing market at large.
Delay in contractual obligations
Another major challenge faced by MedTech companies while outsourcing is the delay by manufacturers in meeting contractual obligations. As in most cases, medical device outsourcing is done with manufacturers overseas, there may be several communications gaps and challenges to getting work done faster within the expected time frame. Also, quality checks in case of materials are used and the production process becomes difficult to monitor.
Request more information to gain more insights on how we can help tackle your unique business challenges.