The U.S. healthcare system is extremely complex and often difficult to comprehend. Healthcare consumers face difficulty in understanding the factors that cause limited access or uncoordinated care, conflicting interests amongst healthcare providers, and even high charges that leave them financially broke. Healthcare organizations themselves are often affected by rapid changes taking place in their external environment. Amidst the dynamic nature of the industry, it is vital for healthcare providers to undertake a strategic planning process to streamline their operations.
What is strategic planning in healthcare?
The answer to what is strategic planning in healthcare is simple. Strategic planning involves creating objectives and setting goals relating to where a healthcare company would like to go in the future, and then constructing a plan to achieve these objectives. Healthcare firms must consider the factors that could change the organization's operations significantly. This includes potential government policy changes, technological advancements, and economic trends. Although some providers tend to overlook the importance of strategic planning in healthcare, agile organizations in the healthcare industry use it to their advantage to succeed in both the long and short term.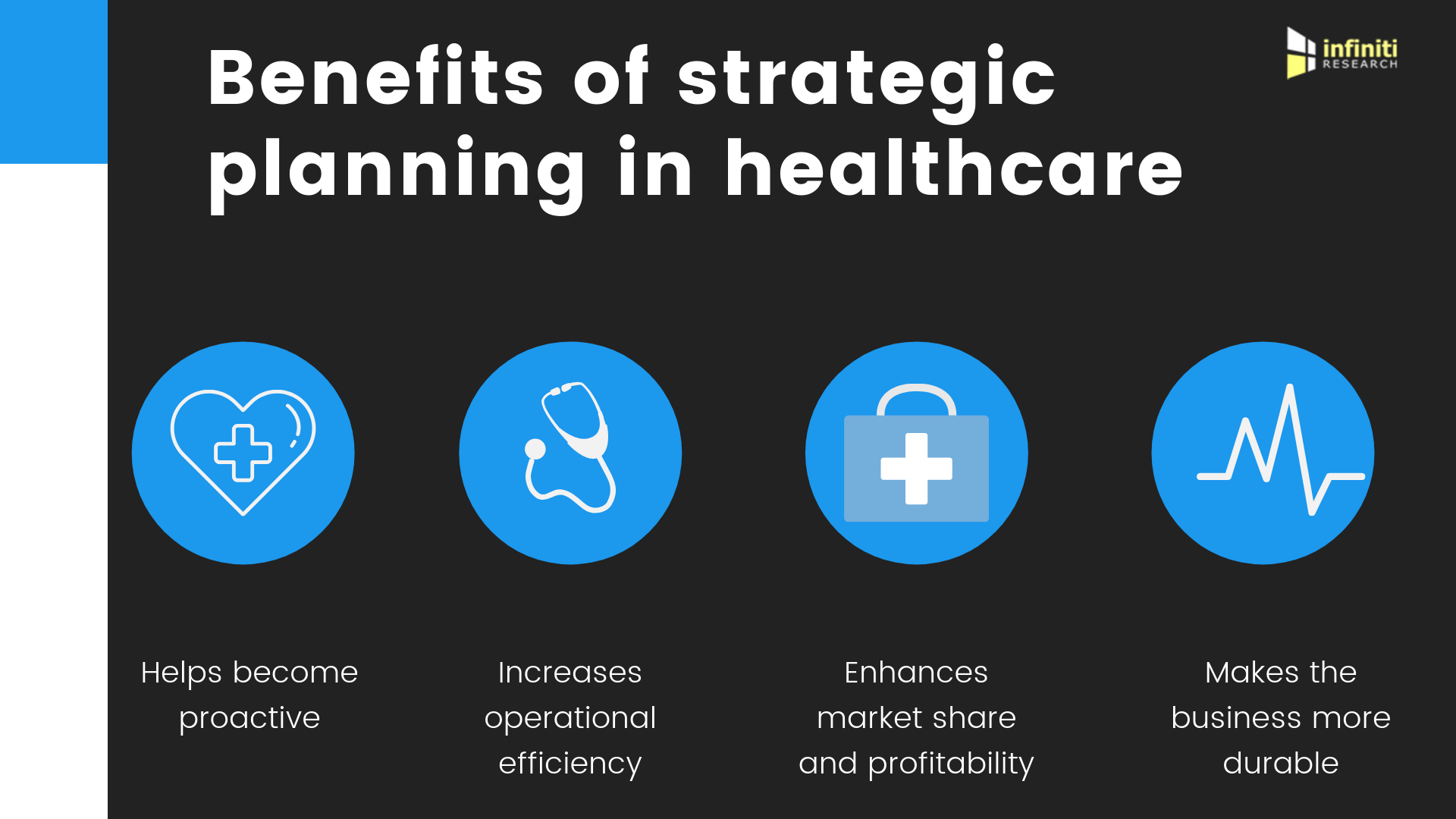 The work of strategic planning doesn't stop at the strategic plan, but it's a start. Request a free proposal to know how our experts can help healthcare organizations.
Benefits of strategic planning in healthcare
Strategic planning in healthcare has numerous benefits primarily because healthcare organizations operate at many levels ranging from patient care to financing. As such it is crucial for healthcare systems to plan well in advance for the future. Unlike traditional techniques, a strategic plan takes into account every sector of the organization, considering foreseeable changes for all departments. Some of the key areas that a healthcare strategic plan can significantly improve include:
Helps become proactive
Strategic planning helps providers to become proactive rather than reactive. Through strategic planning, healthcare companies can anticipate unfavorable events much before they occur and allows the organization to take necessary precautions before they actually happen.
If you're considering adopting a strategic plan at your organization or are looking for ways to align your operations, then Infiniti may have just the solution you've been looking for. Get in touch with us for more insights.
Increases operational efficiency
Having a robust process in place acts as a roadmap for healthcare companies to align the operational activities to achieve predetermined goals. It guides management discussions and decision-making in determining resource and budget requirements in order to accomplish the key objectives, thereby increasing operational efficiency.
Enhances market share and profitability
Organizations can gain valuable insights on market trends, consumer segments, as well as product and service offerings in healthcare which can have an impact on their success. An approach that is targeted and well-strategized to turn all sales and marketing efforts into the best possible outcomes will facilitate increasing profitability and market share.
Makes the business more durable
Due to the highly dynamic nature of the healthcare industry, organizations that lack a durable foundation, focus, and foresight will have trouble riding the next wave. Strategic planning in healthcare ensures that organizations are well focused on what they want to achieve and how to achieve it. To learn more about Infiniti's solutions for the healthcare industry – Request more information.