There are two fundamental working models for health insurance, the first being the out-of-pocket expenses paid by the insured, which is then reimbursed by the insurer and the second being the direct payment model, where the insurer pays the amount directly to the health

care provider. Even though health insurance may seem like a relatively simple process, changes in country, governance, policies, laws, insurance agents, and healthcare acts make it a complicated affair. In the case of China and Japan, the majority of its population is covered under its universal healthcare system or insurance program. The government spends a lot of money in healthcare reforms in an attempt to bring the healthcare cost down and reduce insurance frauds with better healthcare reimbursement plans. A large chunk of this healthcare cost is spent in the sourcing and procurement of medical devices. The government tries to reduce the cost burden to the healthcare facilities by reimbursing a part of the cost of medical devices. But procurement processes for these medical devices is complicated as the reimbursement rates cannot be easily calculated.
The complexity of reimbursement plan poses a critical challenge for suppliers as well as the buyers for these medical devices. Here's how Infiniti Research approaches this problem and offers a definitive solution to concerned stakeholders:
Understanding the Complexity of Medical Insurance in China and Japan
Japan
In order to reduce their overall government spending in the medical sector, the Japanese government has been lowering the reimbursement rates for medical devices over the past three years. They have also made attempts to promote domestically procured medical devices and doesn't recognize CE markings or FDA certificate. Since there is a lack of private insurers in the Japanese market, suppliers are obliged to clear their products for medical reimbursement. Despite the difficulties and confusing classification of devices, if a manufacturer wants to list his device, they have to benchmark their prices with approved prices based on device classes.
China
China also assumes a similar stance to promote domestically procured medical devices. But, there exists an added complexity in the procurement of the medical devices as they employ tendering and bidding process, which is conducted at national, provincial, and hospital levels. Apart from the rigorous tender and bidding process and lengthy regulatory and reimbursement approval procedure, the system also lacks a standardization procedure as the reimbursement is based on a multitude of factors such as age, place of residence, class of medical device, type of hospital, average employee wages, and local level income. The larger portion of medical device expenses is paid by the patients, as a result of which the Chinese government is making efforts to increase coverage of their health insurance plans.
So Why Should Manufacturers be Concerned about the Reimbursement Scenario?
Gaining an understanding of the reimbursement scenario simplifies and speeds up the regulatory approval process. The manufacturer

should have a thorough knowledge of medical device classification to benchmark imported medical products with domestic products. In some cases, it is essential to modify products to suit the local requirements and to comply with reimbursement standards. Since the government has made the procurement of imported devices unfavourable, foreign players can look for mergers and acquisitions to increase their survival chances and enjoy reimbursement benefits.
Challenges Faced by Foreign Medical Devices Suppliers in Tackling the Reimbursement Scenario
Japan
Presence of multiple regulatory bodies
Complicated medical device reimbursement application and review procedure
Preference towards domestically manufactured devices
Lack of knowledge on the dynamic Japanese medical devices market
Regular price revisions and lowered reimbursement rates
Lack of proper categorization of imported medical devices
Unclear grouping of medical devices for reimbursement
Requirement of local influence for survival
China
Complex reimbursement calculation methods
Low reimbursement for complex medical devices
Exclusion of multiple components by government insurance
Variation in deductibles and hospital tier level affects the reimbursement percentage
Locally manufactured devices having higher proportion of reimbursement
A host of factors such as age, income, city of residence, occupation, hospital locality, and family structure for consideration of reimbursement to patients
How Infiniti Research Equips Foreign Medical Equipment Suppliers to Tackle the Issue:
A lot of information is available regarding the medical reimbursement scenario in China and Japan, but it is either outdated, irrelevant, or impractical. The existing reports usually focus on a general overview of medical reimbursement scenario excluding the intricacies and don't offer scope for new adjustment in regulatory changes. Infiniti Research addresses all these problems and provides a systematic solution for medical device manufacturers to provide product-wise reimbursement information.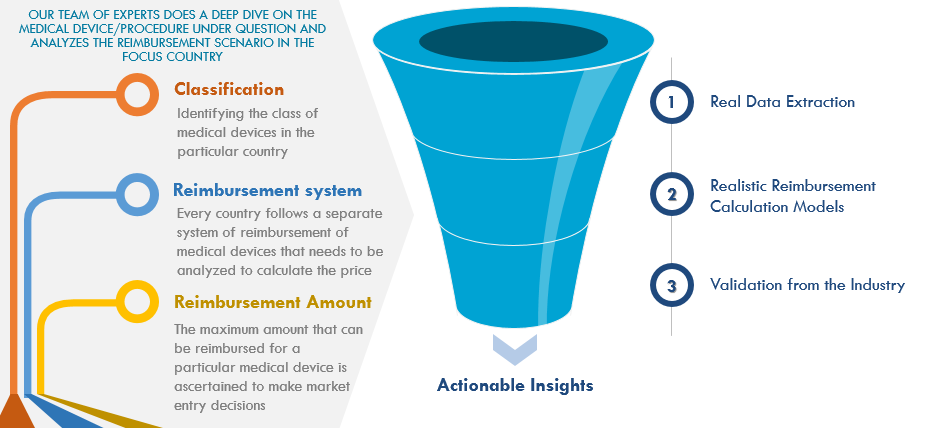 Information pertaining to medical devices is extracted from public registries, government, private databases, traditional media, internet scan, local language resources, and insurance aggregators to create a sound basis for reimbursement models. Research experts at Infiniti Research also assess the reimbursement scenario for each device and start by building models from scratch, making realistic assumptions on inputs from physicians and industry insiders. The models are then validated from KOLs, other doctors, insurance agencies, hospital departments, and regulatory bodies.