Businesses around the world are expanding their operations on a global level. This means that core functions like marketing should be backed by a global marketing strategy that are tailor-made to suit different regional cultures and preferences. A global marketing concept involves the use of new elements in a company's marketing strategy such as changes in packaging and advertising that are designed to resonate with the local audience across various geographies. However, some elements such as the company logo remain standardized. A global marketing strategy is a component of a company's global strategy and it encompasses all functional aspects of a business ranging from finance to operations to R&D.
Benefits of a global marketing strategy
If done right, a global marketing strategy can have many benefits for an organization. Start with open and honest conversations about where the company is going. This can help you create a global marketing strategy, build collective commitment, and is one of the many secrets to running a successful and enduring global enterprise. Experts at Infiniti Research have highlighted four key advantages that businesses can gain by adopting a global marketing strategy.
Planning to expand your business overseas? Request a free proposal to know how our experts can help you with the right insights for successful market entry.
Better product and service effectiveness
The more companies grow, their learning must keep pace simultaneously in order to be effective in rolling out a new and improved product or service offerings. Take the example of Facebook for instance. Once the company's IPO turned out to be a remarkable success in the North American market, their next target region for expansion was India. Studies revealed that internet advertising made up for only less than five per cent in India's advertising market, compared to North America's which was close to twenty per cent. Facebook had to improve on their already existing North American strategy to monetize all the users in India in terms of its revenue base and develop its global marketing strategy in India.
Stronger competitive advantage
Although some companies may be natural at competing in a local market, this may not be the case when they are competing with global players in international markets. A brand with a strong global marketing strategy can achieve this, provided the strategy is targeted at the right audience and is well communicated. It also allows for a better-informed and more focused organization as a whole worldwide. Further, it allows companies to adapt quickly wherever needed and keep up with customer demands or other global marketing trends. Request a free brochure to gain access to our complete portfolio of services.
Greater customer awareness
The internet plays a great role in keeping customers around the world connected to their favorite brands. They can track the progress of a brand and its products constantly, helping companies to keep their customers posted on their latest innovations in products or services. A global strategy can help companies identify different elements that can capture the attention of different audiences. They can also promote the "WOW" factor in their offerings through a global marketing strategy that consequently increases customer awareness.
Cost reduction and savings
Economies of scale and scope through standardization can be achieved by focusing on new markets. Furthermore, customers from all corners of the world can find brand using the internet, and they can reach potential customers with one single point of contact such as a website, blog or a Facebook page. The cost savings can help businesses serve customers better worldwide.
Creating a Global Marketing Strategy: Where Companies Go Wrong
What's in it for you?
This resource provides detailed insights on :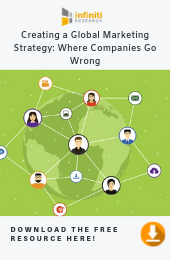 The common mistakes companies make while formulating market entry strategies overseas
The impact of gaps in marketing strategies on your overall performance in a new market
Strategies to avoid these mistakes
Why businesses must have a tailored marketing approach for different regions.
Although having a global strategy is highly rewarding, the strategies of several companies (even well-known multi-national players) have faced backlash in the past. Download this free resource from Infiniti Research to learn where companies are going wrong while creating their global marketing strategy and how it can be rectified.