The global chemical industry currently represents one of the largest worldwide interacting sectors delivering essential materials to several major industries including pharmaceuticals, agriculture, manufacturing and construction, and automotive. This is an indicator of the fact that any major changes in the chemical industry could also significantly affect these related sectors. Procurement is an unceasing challenge for companies across various sectors, and procurement in the chemical industry is no exception. In fact, procurement challenges are particularly pronounced for chemical sector companies. Implementing sustainable solutions is the way forward for CPOs in chemical companies to effectively meet critical procurement challenges.
Based on insights gathered from our industry experts, we have listed below some of the top procurement challenges faced by CPOs in the chemical industry.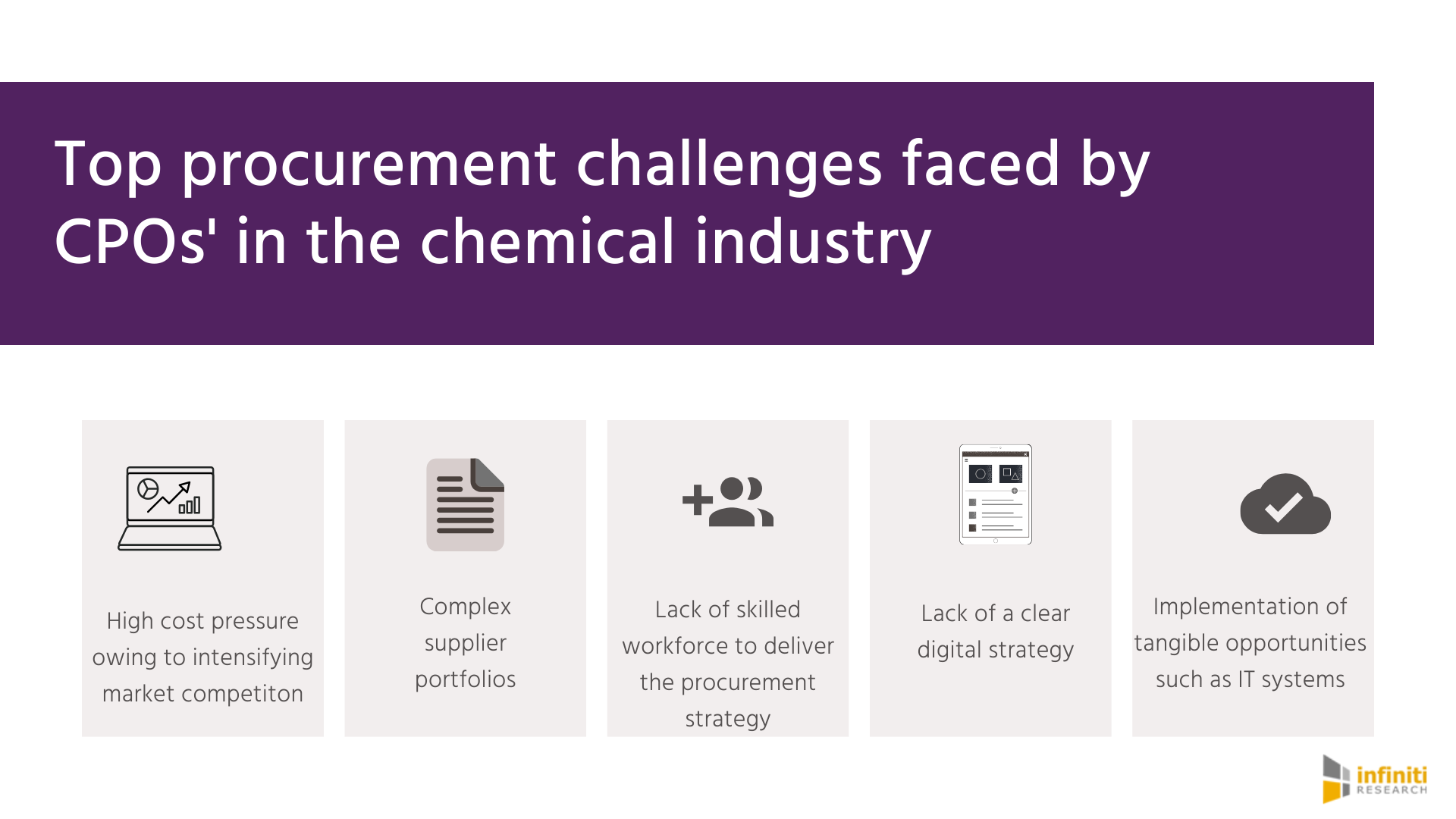 If your company offers multiple products, you will know that there are multiple facets to each of the products you are offering. As such, any change in market trends can have a significant impact on each of these aspects. Keep abreast of the changing market trends by requesting a free proposal.
Maintaining compliant, efficient, and effective processes that drive growth is paramount for success in the chemical industry. Ensuring supplier excellence is the key to achieving this. It can be done through robust sourcing and vendor evaluation processes. Another key challenge that most CPOs face in the chemical industry is the lack of a skilled workforce, capabilities, and localization that would act as a high-performing business partner. The success of procurement in chemical companies is also weighed down by the absence of a concise digital strategy or systems to support procurement business targets.
How Infiniti's procurement market intelligence can help chemical industry CPOs combat these challenges
Creating a competitive advantage by overcoming critical procurement challenges requires clear insights into the market changes and effective strategies on how the company can adapt. Here's what Infiniti Research provides for procurement officers:
Category market intelligence
With advanced market intelligence techniques, experts at Infiniti Research help CPOs and other key decision-makers in chemical organizations to analyze and understand best practices for category-specific strategies and sourcing of chemical ingredients as well as raw materials. Our techniques can also support companies in the chemical industry with in-depth market knowledge and price benchmarks to create a competitive edge over other market players.
Demand planning and management
Infiniti's demand planning and management solutions help procurement in chemical companies by providing critical insights on cross-functional optimization strategies and also pin-pointing capabilities to identify key cost-saving opportunities for companies in the chemical industry.
Supplier risk management strategies
Our team of experienced risk-management experts offers specific supplier management and evaluation insights that help organizations in the chemical industry explore various supplier-related risks and improve their decision-making process during supplier selection. We also help chemical companies undertaking specific supplier assessments.
Chemical industry best practices and competitive benchmarking
Leveraging new business processes, organizational approaches, and technologies are now becoming imperative for chemical companies to stay ahead of their peers in the market. As attempting to improve all aspects of the business processes at once could prove to be unfruitful, chemical companies can leverage solutions such as industry best practices assessment to benchmark and implement the best practices for sourcing and product development. Our solutions can help companies to improve time to market, reduce costs, and respond appropriately to a new product or service launch.
Don't let unforeseen events hamstring your business growth! Request more info to learn how your business can leverage the right opportunities and level complex market challenges using our solutions.