The cutthroat competition in the market today is making it more challenging than ever before for retailers to benchmark their pricing assortment and promotions against their counterparts in the market. Furthermore, trends such as the growing inclination towards mobile shopping apps and the rising influence of customer reviews in buying behavior are adding to the complexity. Ergo, to gain a competitive edge in the market, every retailer must leverage competitive intelligence solutions.
What is competitive intelligence?
The information collected by a company relating to its target market and key competitors, which is then analyzed to create a highly effective business strategy is termed as competitive intelligence. Competitive intelligence tools are used to assemble important market information and derive actionable insights. Competitive intelligence solutions include a deep-dive exercise wherein businesses unearth the finer points relating to their competitor's business plan including their customer base and the markets in which they serve.
When it comes to your competition, the more you know about what they're doing now and what they're planning to do in the future, the better decisions you'll be able to make. Request a free proposal to know more about our competitive intelligence solution.
Competitive intelligence in the retail industry
As companies in the retail industry fight for the biggest chunk of the market share, competitive intelligence services can be leveraged to gain a complete picture of the competition's front end, back end, logistics, supply chain, and marketing strategies. Experts at Infiniti Research believe that competitive intelligence is already revolutionizing the way retailers plan and execute their strategies. Here's how competitive intelligence can benefit companies in the retail industry: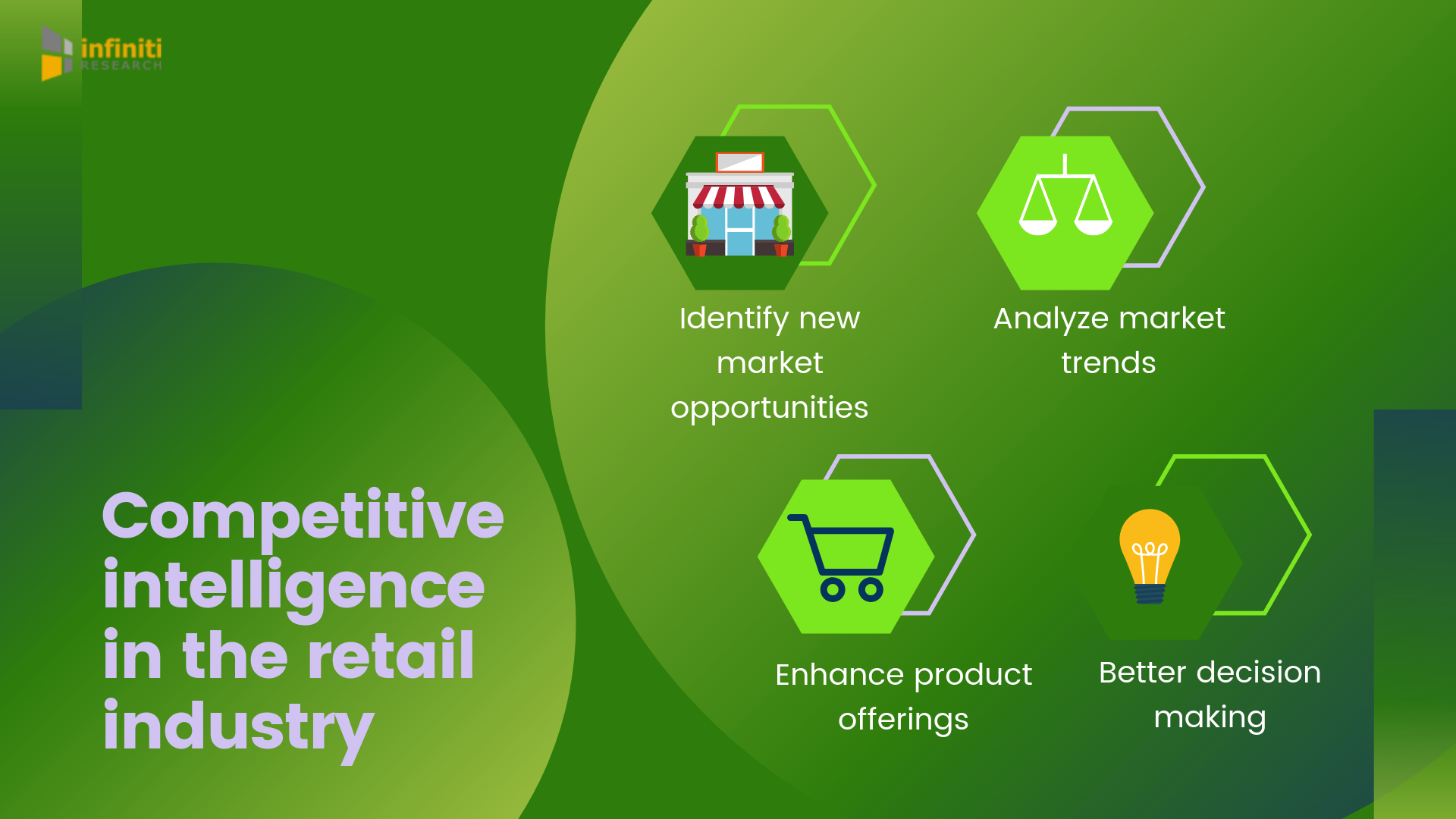 Identify new market opportunities
When retailers identify the rival's weaknesses by leveraging competitive intelligence solutions, it helps them instigate ideas to fill these gaps through product or service improvement and other innovative ideas to enhance customer service. Competitive intelligence can help companies in the retail industry to identify untapped opportunities and thereby solve customers' unmet needs. Conducting regular competitive analysis will give retailers a clear idea of the areas of improvement in terms of product or service performance, company policy, and customer interaction.
Analyze market trends
In order to survive successfully and beat the market competition, it is imperative for retailers to be aware of the latest market trends and analyze what their counterparts in the market are doing to stay in the game. By using competitive intelligence solutions to learn about other businesses, technologies, and the buzz in the market, retailers can discover the market trends that have the potential to garner more customers and increase sales. Competitor research gives retail companies a chance to learn about how the marketplace runs and understand the spending culture of customers in a particular market.
Enhance product offerings
Using competitive intelligence tools, retailers can monitor their competitor's product features and pricing strategies. Through this, they can understand the ebb and flow of their SKUs' pricing across the industry. By keeping a close watch on the competitors' product offering companies in the retail industry can determine the ideal mix of SKUs to offer and identify potential opportunities for improvement.
Better decision making
Knowing what the competitors are doing makes it easier for retail companies to plan their next move. Retailers will be able to stay competitive if they can anticipate what similar companies are planning. The competitive intelligence information may confirm that the current direction will keep them competitive. In other cases, they may realize they need to steer the company in a different direction based on what competitors are doing.
Not sure how to gather your competitor's data? Request more information to know how our competitive intelligence service can help.
Internal benefits of competitive intelligence analysis in retail
Benefits for the marketing team
The data gathered about the competitors' marketing efforts, whether that be content marketing, events, social media, messaging, or A/B tests, can be used to improve and implement innovative marketing initiatives. By collaborating with the product team, the product marketers can craft powerful messaging strategies to assist with upcoming product launches or other marketing initiatives.
Benefits for the sales team
The information that is obtained from the competitor's sales teams, and products can be leveraged to improve the company's sales collateral, demo scripts, and other sales processes. If the information gathered is turned into sales battlecards or competitor profiles, the sales team will be well equipped with the information needed to turn competitor data into actionable insights. Furthermore, this can give the sales team the competitive edge that they need to close more deals.
Benefits for the product team
Retailers can improve their product offerings by gathering information about competitors' products through their websites, customer reviews, and online forums. The product team can analyze the specifications of the competitors' products, how they work, and what people like (or dislike) in order to make improvements to their own products.
Top companies across industries use an external partner to gain better data insights and report positive results from that decision. Don't have time and expertise to undertake competitive intelligence on your own? Get in touch with our experts now!