Market research plays a crucial role in the planning and concept testing phase of new product development. Concept testing a new product or service idea with your target market could ultimately save your business from a huge loss and help define your sales and marketing strategies.
Concept testing research can help you tackle challenges and make better decisions around concept development and design to drive the best possible outcome.
While product failures can adversely impact business growth, well-established organizations are at a greater risk of losing substantial sales opportunities over time. For example, if a new B2B product or service witnesses low adoption post-roll-out, there's nothing much you could do. But conducting in-depth concept testing research at an early stage could help you avoid this scenario by offering insights on the competitive landscape, market needs, and target markets.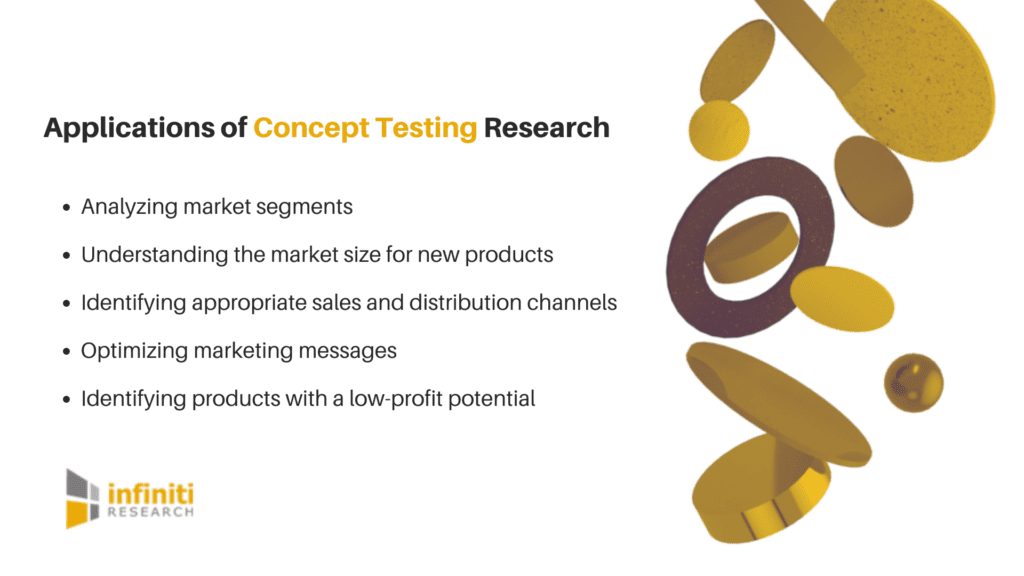 Concept testing research enables you to gauge product success even before you launch it in the marketplace. Today, businesses can rely on several qualitative and quantitative concept testing methodologies to test concept ideas and gauge market needs. With over 17 years of experience in the B2B market research, Infiniti Research has helped leading companies concept test their value propositions, messaging, and product success using innovative research methodologies. Contact our experts to learn more about our research methodologies.
Product Concept Testing: Market Research Methodologies
Qualitative research methodologies can help uncover meaningful insights about your target markets through in-depth interviews and focus group discussions. In contrast, quantitative methodologies can help you reach a statistically significant consensus by surveying hundreds of people.
Qualitative concept testing methodologies offer exploratory insights using which businesses can develop B2B messaging frameworks and value propositions in line with target markets. At Infiniti, we strongly recommend businesses begin with qualitative research and then conduct quantitative research to be well-equipped with all the questions and insights required to move ahead.
At Infiniti, we adopt a holistic approach to analyze and find specific customer segments with a high affinity for the new product or service. We assist our clients across the product development journey by helping them gather and analyze market data.
Our concept testing market research services cover different stages of new concept design and product development, including:
Concept evaluation and product development
Evaluating ideas and determining market affinity can help define product success at an earlier stage prior to development. Concept evaluation can also help refine product features enabling you to focus on what matters to your consumers rather than adopting a generic vision.
Marketing strategy creation
Concept testing research insights can be leveraged across all stages of product development. It can be used to develop promotional campaigns or to gauge the impact of your marketing campaigns.
Pricing and promotions
Concept testing research can help you find the best price point for your new product or service. Hence, it turns out to be a fail-proof way of verifying your ideal price point, understanding which customer groups to target at specific price points, and creating personalized marketing messages.
What makes us stand apart? With the expertise gained by working with clients across industries, we've implemented several comparative concept testing standards related to specific industry segments, helping simplify and streamline the concept evaluation process. Request a free proposal to know more.
Why Concept Testing Research is Important
Concept testing research is crucial if you're looking to launch a new product or service as it empowers businesses to analyze market affinity for a product idea even before development.
A few applications include:
Identifying products with a low-profit potential
Optimizing marketing messages
Identifying appropriate sales and distribution channels
Analyzing new market segments
Understanding the market size for new products
Request a brochure to gain in-depth insights into our solution portfolio and learn how you can benefit by collaborating with us.
How Infiniti's Approach to Concept Testing Research Can Help
We adopt a comprehensive approach comprising qualitative and quantitative research to help our clients analyze target market needs and devise value propositions in line with those needs. The initial phase focuses on needs assessment, market evaluation, and concept analysis which empowers businesses with insights on market segments, customer needs, competitive dynamics, and the purchase intent at various price levels.
If you'd like to know how our custom market research solutions can accelerate concept development and testing, request more info.