In the late 80s, the role of a robust business strategy was to find an attractive niche in the market, maintain a good industry position, and help gain a competitive edge. Whereas a corporate strategy was more refined, one that upheld a business's position through strategic decision-making and a narrowly focused set of resources to determine new ways to drive business value.
However, when the terms of competition slowly shifted, companies realized the need to redefine their corporate strategy. Today we frequently find many SMEs deploying resources on a large scale without an understanding of their strategy. A corporate strategy is a vital component in determining a company's future growth potential. A well-defined, robust corporate strategy will yield profits and help achieve business objectives within short timeframes. An inappropriate strategy will not only fail to yield benefits but will eventually result in a catastrophe. Hence, having one is a step forward because any corporate level strategy can quickly be redefined and improved once made explicit. Our market research experts combine the best and most current thinking on strategy with timeless leadership principles to help you develop a robust, future-focused corporate growth strategy. Contact us to find out how we can help you.
Essential Components of Corporate Strategy Development
If you are asked to create a goal-oriented strategy at the corporate level, or if you're looking to improve your business outcome, you may be wondering what's essential to develop a corporate strategy. A corporate strategy is nothing but a holistic business strategy. While a business strategy focuses on acquiring customers and driving profits, a corporate strategy is built to oversee and improve different business processes and other entities under the same umbrella.
Organizations today invest significant time and resources into creating robust, well-defined corporate strategies. While having an interconnected strategy is a good business practice, it is crucial to note that business success depends not only on these strategies. Strategic leaders are needed at every level to execute the strategies and create supporting strategies for each value chain element.
Infiniti Research's strategy development team works with business leaders and helps develop strategies to elevate the business to a new level of proactive planning. If you're wondering how we can help you drive business outcomes– Request a proposal.
The essential components of strategy development that business leaders must focus on include-
Resource allocation
The allocation of resources focuses primarily on people and capital. To maximize business value, business leaders must determine how to allocate resources across business units.
Organizational redesign
Organizational redesign involves ensuring the firm has the necessary corporate structure and related systems in place to drive outcomes.
Portfolio management
Portfolio management analyzes how individual business units complement each other and their correlations to gauge success rates.
Process prioritization
One of the most critical aspects of corporate growth strategy is the prioritization of processes. Business leaders responsible for strategic decision-making must consider many factors, but it ultimately boils down to prioritization that focuses on creating value.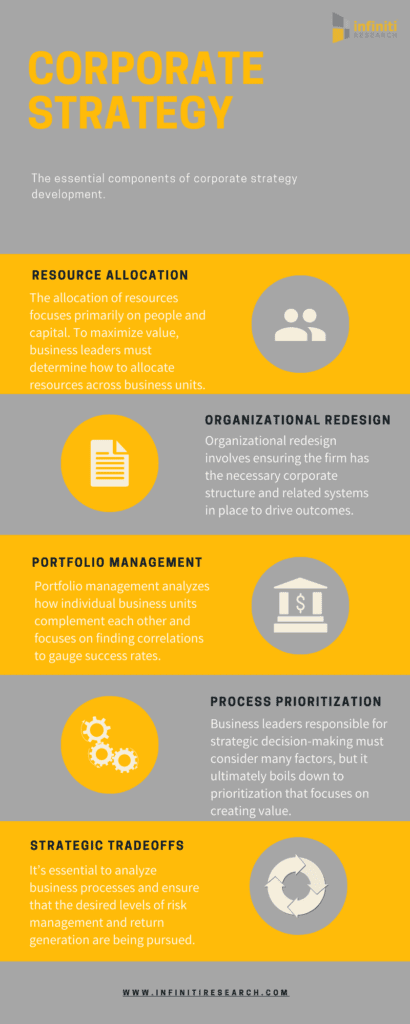 Strategic tradeoffs
It's essential to analyze business processes to ensure that the desired levels of risk management and return generation are being pursued.
A company can achieve initial success without real awareness of its underlying strategy. However, while venturing into new market segments, it becomes more of a challenge to thrive without a good understanding of their strategic significance. This is why many companies fail when they attempt corporate acquisition programs, product diversifications, or M&As. With extensive experience in corporate strategy development, we regularly work with senior leadership teams to develop or improve strategies that will help them gain an edge, find new sources of competitive advantage and sustain long-term growth. Request a brochure to gain detailed insights into our market intelligence capabilities.
Future scope
Having emerged successfully from the financial crisis, strategy development will be essential for companies looking to chart out a path to future success.
Developing a corporate growth strategy to tackle corporate issues, such as resource reallocation and organizational redesign, will drive significant economic trends.
To ensure that their strategies help drive value, leadership teams should forge stronger links between corporate strategy and other processes like talent management and allocation of capital expenditures.
In today's complex business world, it's more likely that your competitors could emerge from unexpected directions. Hence businesses must stay prepared to tackle evolving challenges and focus on enhancing capabilities. Developing a corporate strategy acts as a first step enabling companies to embark in new directions. Therefore, a corporate-level strategy must provide a framework for guiding the selection, development, and exploitation of resources and help focus on the right areas to drive business value. Developing or revamping corporate strategies is crucial for organizations experiencing disruptions – Request more information to find out why.