In recent years, additive manufacturing (AM) has created a buzz in industries across the world, promising a flexible and cost-effective alternative to traditional manufacturing. One such sector that AM has brought about key transformations is the aviation industry. Additive manufacturing techniques play a pivotal role in aviation companies to reduce costs, increase efficiency, shorten time-to-market, and allow greater design flexibility. It acts as a vital technique to create complex designs and produce lightweight, yet strong structures. That being said, at present, there are several additive manufacturing challenges that need to be addressed by aviation companies before they go into its widespread adoption in the sector.
Driving change in an organization isn't easy. A deep understanding of how your organization should adapt to the changing market innovations is key to foster organizational change. Contact us to learn how our market intelligence can help your business with the right strategies.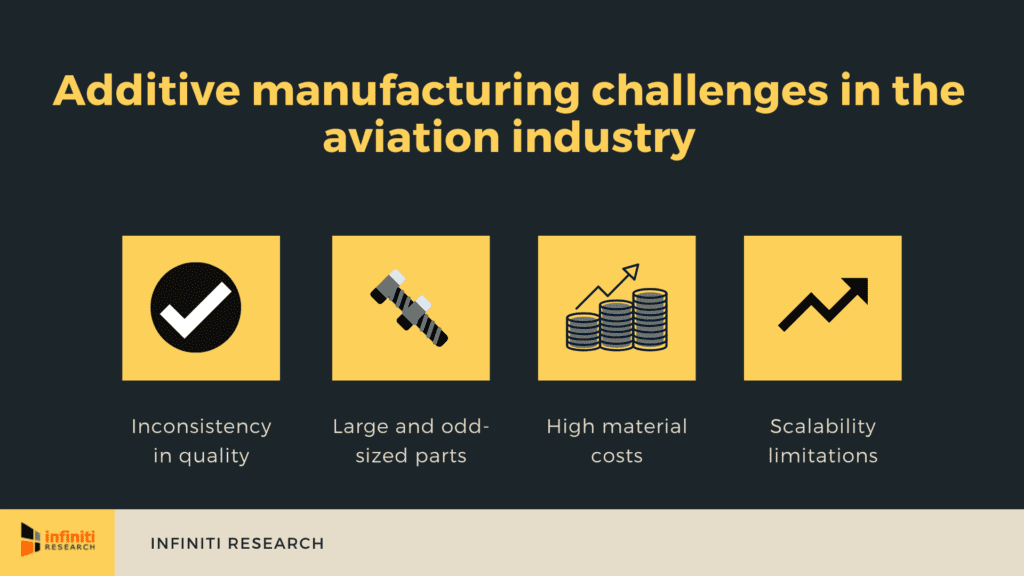 Additive manufacturing challenges in the aviation industry
Inconsistency in quality
Additive manufacturing currently faces several challenges in maintaining quality consistency. This is especially true in the case of the production of fully dense metal parts. Several aviation experts have also been raising concerns over the repeatability of the existing additive manufacturing systems. Also, the current AM systems are believed to offer accuracy of only approximately 30-40 microns. This is one of the critical challenges of additive manufacturing in the aviation industry as this does not align with the quality tolerance standards of aerospace companies. Consequently, some additive manufacturing parts require additional work after they are printed. This hurts the efficiency and purpose of AM.
Large and odd-sized parts
Another key challenge of additive manufacturing in the aviation industry is the inability to manufacture large and odd parts, making the production of certain large aircraft components difficult. This is one of the key areas where additive manufacturing underperforms when compared to traditional manufacturing.
Gain industry insights and solutions to your key business challenges from Infiniti's industry experts – Request more info.
High material costs
AM technology uses only a small quantity of polymers and metal powder for the production of aircraft parts. However, these come at a much higher price when compared to the materials that are generally used in traditional manufacturing. This, in turn, lowers the incentive to use additive manufacturing in the aviation industry. This challenge must be addressed by AM providers by identifying alternative materials that can bring down the production costs.
Scalability limitations
Traditional manufacturing and sourcing techniques often help companies to stock large quantities of inventory for unforeseen contingencies. But in the case of AM, it may not be possible to scale up production in case there is a sudden surge in demand. As this scenario is highly likely in the aviation sector, scalability becomes one of the biggest challenges of additive manufacturing in the sector. Several additive manufacturing providers are already working on this challenge by enhancing the production speed of AM systems.