Whether you're about to develop a new product or looking to expand into new market segments, it is essential to identify your target customers and then devise robust business strategies to address the needs of your customers. This is crucial for business success because, without customers, your business has no chance of surviving in the long run. However, the real challenge lies in finding the right target customer groups. To do so, you need to distinguish your target market segments and the potential customers in each of these segments through target customer analysis.
Once you've gathered the necessary information, you can then devise a plan to address customer needs. New insights on market developments and customer needs can also help you set new prices for your products, adjust your products and services to suit your potential customers, and find out why your existing customers prefer your products and services.
Our dedicated financial services research division delivers 100+ projects in primary and niche market segments every year. Submit a free no-obligation proposal request to learn how we help financial service providers leverage market data to find potential target customer groups.
What is a target customer analysis?
Most businesses today claim that their approaches and business strategies revolve around the needs of their target customer groups. But the term target customer is among the most elastic in management theory. A working definition might be that your target customer groups are the entities that are most likely to buy your products and services. This makes it crucial to find your target customers and devise strategies to address their needs. Target customer analysis uses innovative research methodologies that aim to identify and address diverse customer needs.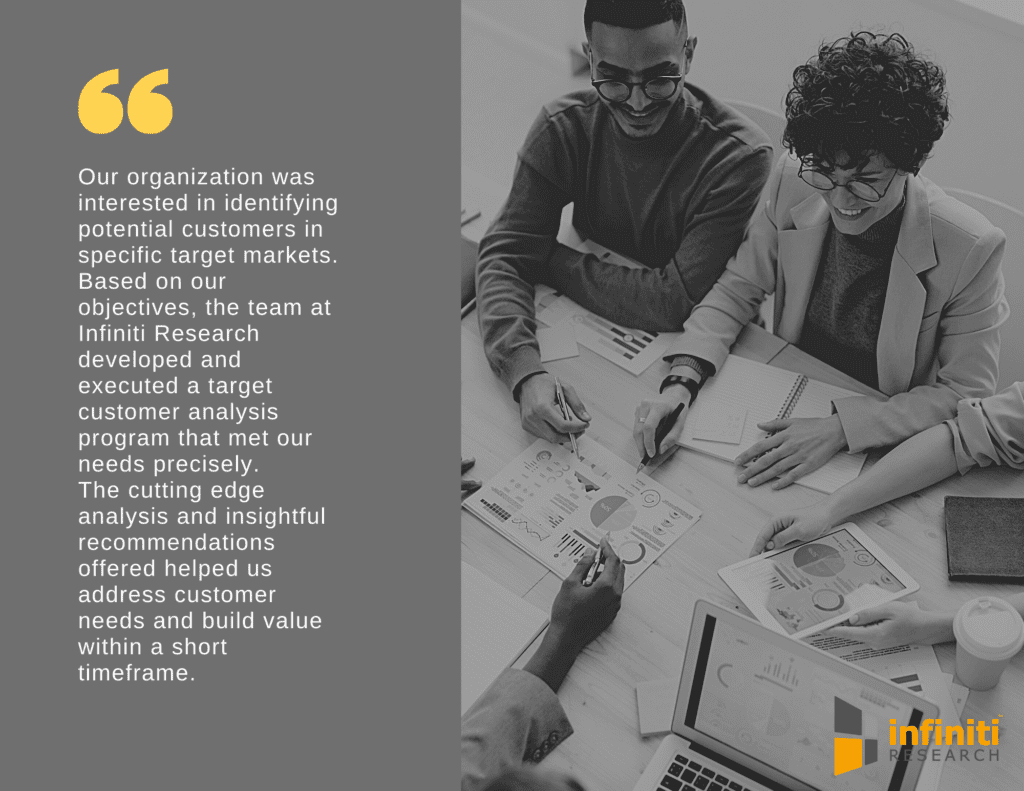 About the client
The client is a seven-year old US-based financial services provider with over a million customers and 900+ employees. Over the years, the company has managed to gain a unique edge in the market by being customer-centric and developing responsive strategies to meet evolving customer needs.
Get in touch with our customer intelligence experts to gain complete access to our comprehensive portfolio of solutions specially curated for the financial and banking sectors.
Business challenge
The client wanted to launch a new fintech product but was unaware of their target customers in new market segments. Therefore they approached Infiniti Research to leverage our expertise in target customer analysis to support product development, a go-to-market plan, and a robust business strategy.
Our approach
Our customer intelligence experts reviewed internal and external documentation related to target customers and existing business strategies in the project's initial phase. This provided a better understanding of the client's target market, target customer groups, and potential market segments. The secondary market research also helped gather information related to customers in different target markets. Upon completion of both these phases, we compiled and analyzed the primary and secondary data, empowering the leadership team with access to high-quality market data and consumer insights.
In the final phase, we developed and delivered structured surveys to identify and collect information about the target customer groups. Key activities in this phase included focus group analysis, survey design and execution, identification of channels for the survey instrument, and analysis of the survey data.
Our approach to target market analysis will help you better understand your customers, their interests, and their needs. For more insights on how we can help you get started – Request more info from our experts.
Business outcome
The target customer analysis study offered insights that enabled the client to evolve their service offerings and build strategies to market their offerings successfully. The data-driven insights and research findings also informed the client's overall marketing strategy by helping them identify the target customer groups in different target markets. Integrating the research findings into their business strategy for pursuing the target customers helped them achieve remarkable benefits, including-
Identified and refined customer profiles
Gained a better understanding of their customer's interests and preferred delivery channels
Achieved a 15% improvement in brand reach through enhanced targetting
We offer flexible pricing plans and engagement policies for all long-term engagements – Request a free brochure for more insights.