The fast fashion sector is a booming industry with diverse and big opportunities in store. However, this sector is faced with a unique set of challenges due to its highly dynamic nature. The recent events of some of the biggest fast fashion retailers having to shut shop is a wake-up call for players in the industry to stay prepared for a tougher economic environment with changing consumer trends and shifts in the fashion system. According to experts at Infiniti, this year will be shaped by consumer shifts linked to technology, social causes, and trust issues along with the potential disruption from geopolitical and other macroeconomic events. Only those fast fashion retailers who accurately reflect the trends or have the courage to self-disrupt will emerge as winners. By leveraging a market opportunity analysis fast fashion retailer can stay abreast with the changing market dynamics and also identify lucrative opportunities that can be capitalized on.
Every day you're dealing with the changing nature of retailing and the information imbalance caused by mobile apps, social media, and big competitors with bigger budgets. Request a free proposal to know how our market opportunity analysis can help you successfully compete.
Business challenge
The client is a fast fashion retailer headquartered in Central America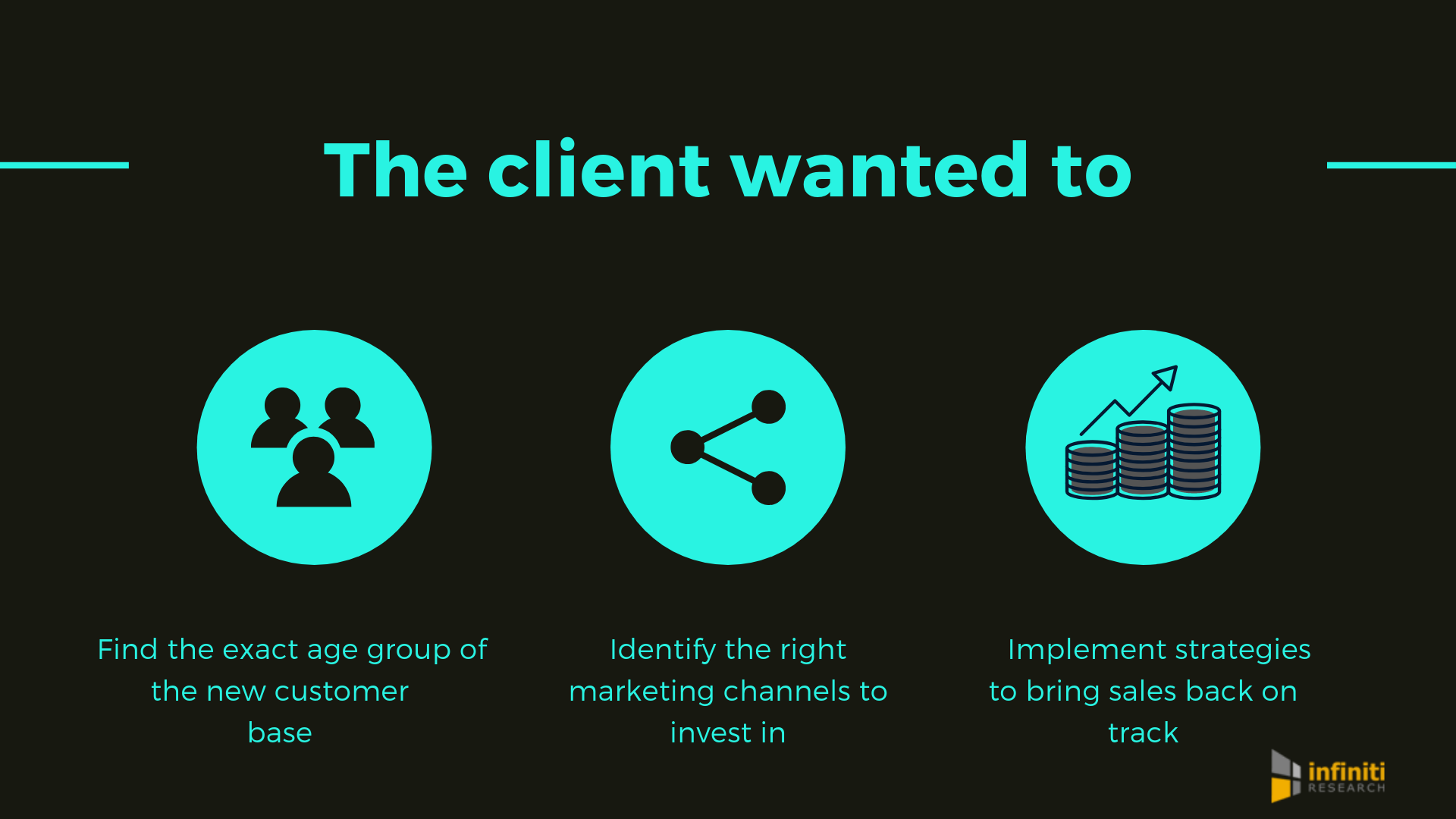 Our client, a reputed fast fashion retailer noticed a sudden drop in sales. They believed it was due to the recent change in their merchandising mix. Their newer clothing line adhered to the latest trends in the fashion industry. They assumed that this attracted a different and new set of customers for the business. They were facing predicaments in confirming this assumption and if proved right they wanted to identify opportunities to lure similar customers and strategize to keep them hooked on to their brand. With Infiniti's market opportunity analysis, the client also wanted to:
Find the exact age group of the new customer base

Identify the right marketing channels to invest in

Implement strategies to bring sales back on track
Capitalize on the right opportunities to scale your business to greater heights. Get in touch with our experts to learn more about our market opportunity analysis solutions and its benefits for your business.
Solutions offered
Our industry experts helped the client undertake a comprehensive market opportunity analysis. Factors including market size, customer database, and market trends were taken into account. A detailed customer intelligence engagement was also provided to the client apart from market opportunity analysis.
During the customer intelligence solution, our team of experts split customers into groups based on those who purchased since the merchandising mix change was implemented and those who hadn't. For each group, they compared the number of new vs. existing customers, purchase frequency, transaction, and the total spend. When the categories favored by the different segments were compared, it was found that new merchandise was purchased mostly by new customers. It was also identified that the newer customers were younger, between the age group of 20-35.
Infiniti's market assessment study offered as part of the market opportunity analysis also helped the client identify the key transformations in the US fast fashion industry. It also helped them identify the top marketing channels that are most lucrative to attract and retain new customers.
Results obtained
With over 15 years of experience in helping global businesses in successfully overcoming roadblocks in business, our experts helped the company in the fast fashion retail industry to adapt to the industry trends and transformations.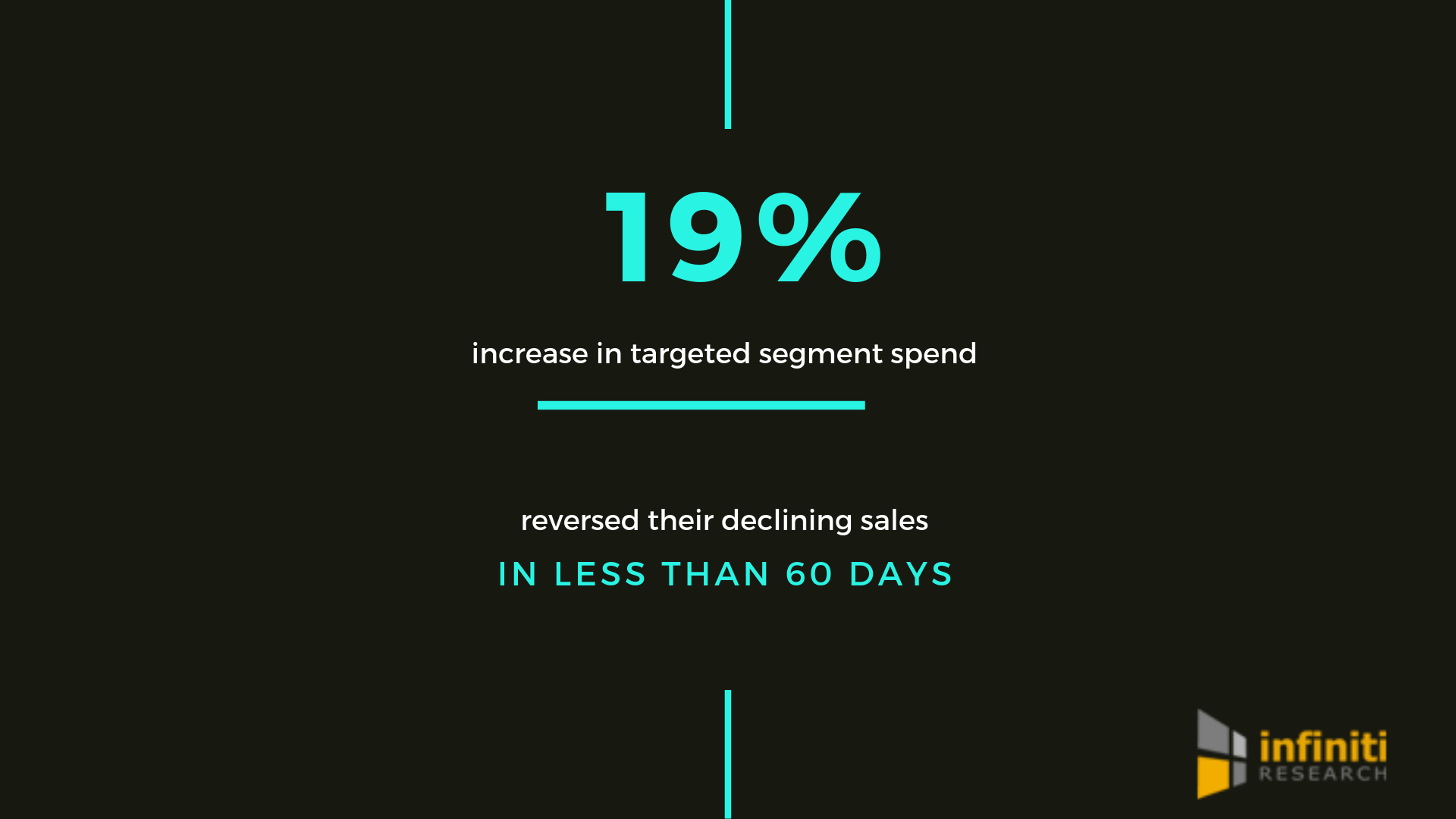 Our market opportunity analysis helped the client identify that their target customers are more likely to respond to display ads over direct marketing. This helped them invest in the right marketing channel and lure more customers to their brand. With this, they attained a 19% increase in targeted segment spend. Consequently, in less than 60 days they reversed their declining sales.