An e-commerce software can also be referred to as a shopping cart solution, e-commerce website builder, or an online store builder as it serves the sole purpose of helping businesses sell their products on a digital platform.
E-commerce software continues to be one of the fastest-growing verticals in the overall enterprise applications software market as these software solutions help retail enterprises sell their products online. These solutions offer end-to-end solutions to e-commerce companies – front-end for customer interaction and capabilities for managing back-end activities like order management, warehouse logistics and distribution, CRM, data analytics, mobile support, and tracking. E-commerce software ensures the seamless functioning of an online store by making inventory management easy, assisting in tax calculations, and handling other tasks required to manage a website and fulfill client orders.
An e-commerce software also functions as a centralized platform for all activities, ranging from online presence to service delivery and eliminates the need for integrating different systems. Moreover, it helps businesses retain customers by providing personalized and targeted services. E-commerce software offers scalable, high-performance, and cost-efficient solutions to businesses that are looking to expand their operations. This is one of the pivotal factors which is likely to drive the market for e-commerce software in the future. A typical e-commerce software comprises of customizable site templates, an integrated shopping cart, search engine optimization (SEO), email marketing, inventory management, and analytics. The customer is only required to create an account and use store management tools to customize their e-commerce business. Therefore, with the advent of easy-to-use software, it has become inexpensive for small businesses to add e-commerce to their website, spurring the e-commerce movement around the world.
The Business Challenge
The client, a software technology company that provides cloud-based e-commerce platforms and services for retailers around the world – approached Infiniti to assess the market shares of key competitors in the global e-commerce market space.
The primary objective of this research engagement was to offer an in-depth analysis of the current market scenario, market segmentations, competitive landscape, and key accounts, which would assist the client in developing an effective growth strategy in Asia-Pacific. Infiniti's experienced market landscape assessment team worked with the client to identify the key revenue-generating segments in the e-commerce software market and offered actionable insights specific to the current market trends, product offerings, and awareness towards new and upcoming technologies.
Infiniti's market landscape assessment team tracked the latest developments in the e-commerce software market through secondary research. Our research experts also reached out to the key stakeholders such as channel partners, business executives, dealers, trade partners, and suppliers to get a complete overview of the market.
Why Infiniti Research is the preferred partner for more than 55 Fortune 500 Companies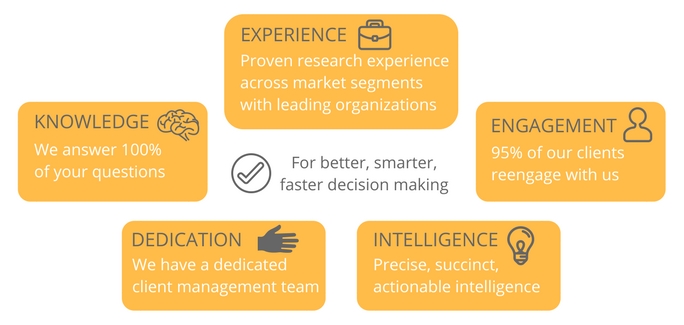 Solution Offered and Impact
A dedicated market landscape assessment team with hands-on experience in meeting the various information needs of global companies was assigned to this engagement to help clients understand the key strength and pain points of their competitors. To address the challenges specific to clients' requirements,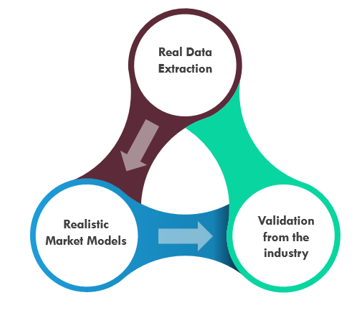 Infiniti's market landscape assessment team recommended a comprehensive and methodical approach for this engagement. This approach helped the client gain a detailed understanding of the e-commerce software market landscape, including a detailed analysis of the market landscape and key trends and market segmentation, along with a detailed profile of target regions. The experts also focussed on shortlisting the key competitors in the market based on their market shares, annual revenues, and target regions. Moreover, the research experts also identified the important customer accounts to analyze their current product requirements, purchase decision-making process, pain points, and key stakeholders. Furthermore, an in-depth assessment of key customer accounts in each target region helped the client identify need gaps.
Additionally, the our experts also used secondary research for gathering relevant information specific to the target market, competitors, and major customers. This helped with hypothesis development and establishing an analytical framework for the market assessment study. Additionally, secondary research was also used to organize and analyze the relevant published information from a variety of proprietary and other open secondary sources including annual reports, media platforms, company presentations, news aggregators, and industry forums.
In a short span of 10 weeks, the client – a leading e-commerce software development company – gained a better understanding of the current and future market scenario and the major competitors in the e-commerce software market.
Benefits of Our Integrated Approach?
In just about 10 weeks, the client derived several benefits from our relationship. With the help of our solutions, the client gained a holistic overview of the  competitive and market landscape of the e-commerce software industry. Moreover, with an analysis of the key trends and segments in the market, the client benefitted in terms of ROI.
Here are some of the key points appreciated by our clients:
Dedicated Market Landscape Assessment Portal. A centralized platform for the collection, storing, processing, reporting, and dissemination of information with the specific purpose of assisting the decision-making process and developing actionable insights. This portal includes comprehensive information on quantitative and qualitative aspects on target markets, competitors and end-users.
Collaborative learning. We leveraged the experience of our market landscape assessment team and our technical capabilities to enable report-sharing and other collaborative features appreciated by client teams.
Database Access. Access to an exclusive database containing information about 60+ medical diseases and conditions, such as patients undergoing treatment, untreated patients, and patients with chronic conditions.
Interactive Dashboard. Using our Portal based solution for healthcare professionals, we took a design-first approach to problem-solving and helped break through previously held assertions.
Value for Money. Infiniti's dedicated market landscape assessment team customizes reports to suit business requirements and offers the best insights for every dollar spent.
A must-read market landscape assessment study for strategy experts and decision makers looking for effective insights on the e-commerce software market.