Despite its bad reputation, fats are essential to your general health and to the daily function of your body. Healthy fats like lecithin help main core body temperature and get rid of non-desirable fats.
Lecithin is a type of substance that is obtained from numerous commercial sources like egg yolks, soybeans, sunflower, etc. and finds application in different industries, including food and beverage, pharmaceutical, and the cosmetic industry. Basically, it is a fat that contains choline, a B vitamin related to brain development, memory, and reduced blood pressure. Lecithin is a crucial element in the cell's structure that assists in maintaining the health of cell membranes. This is important as the cell membrane allows nutrients to pass in and out of cells, and act as a barrier to unwanted elements. Is lecithin the fat that helps reduce fat? Yes! It's actually required by the body to support the breakdown of fats in the digestive system and also assists in general fat metabolism.
Additionally, unique characteristics like its ability to function as an emulsifier and stabilizing agent are also expected to spur its demand across various industries in the next couple of years. In the food and beverage industry, the rising demand for lecithin for use in margarine and spreads, chocolate and confectionery, beverages, and bakery products is envisaged to play a crucial role in spurring its demand among the key players in the food and beverage industry.  Apart from the food and beverage industry, it is also used as a stabilizer, emulsifier, and wetting agent in pharmaceutical applications and is also utilized by the paints and coatings sector due to the augmented demand for automobiles.
The global market space for lecithin is marked by frequent changes in consumers' buying patterns and a number of other factors, which make the market space extremely dynamic. Additionally, with the increase in per capita income, the expenditure on convenience foods and healthcare products has increased. This has subsequently resulted in an

increase in the demand for lecithin and its associated products; thus, offering more opportunities for emerging market players. However, factors like fluctuating prices of raw materials are expected to make the market space extremely dynamic and competitive in the near future. To help businesses deal with the rapidly changing demand-supply landscape of this market, our market intelligence study focuses on helping global suppliers of food products get actionable insights on the key trends and future requirements for the food and beverage products. Additionally, this market intelligence study would also help clients identify potential partners who would be a good fit for the supplier by assessing their design and manufacturing capabilities.
The Business Challenge
To assess the changing demand-supply landscape for this market space, the client – a world leading food, commodity, and agribusiness company – approached Infiniti to engage in a market intelligence study that would offer the clients insights into the market space for lecithin in terms of food and feed use. To stay ahead of its

competitors, the global food, commodity, and agribusiness company wanted Infiniti to assess major market dynamics, supply and demand outlooks, and supplier profiles for lecithin specific to food and industrial applications. Additionally, this market intelligence engagement would provide the client a fact base to identify attractive market opportunities in the near future.
The key objective of this market intelligence study was to develop a comprehensive understanding of each region under focus by covering regional distribution of key products, supply-demand trends, price profiles of key products, and an assessment of major producers and customers for lecithin specific to the food and industrial applications.
To meet the client's specific category requirements, Infiniti's experienced market intelligence team tracked recent developments and innovations in the market through secondary journals and reached out to key stakeholders such as industry experts, KOLs, product users, procurement experts to understand their views on the market. Our market opportunity experts also spoke to key stakeholders responsible for the sales and distribution of these devices to understand how the market would grow in the short and long term and also to validate market size and opportunity model developed for this segment.
Why Infiniti Research is the preferred partner for more than 55 Fortune 500 Companies
Solution Offered and Impact
By evaluating a wide array of published literature to develop an initial hypothesis, our market intelligence team focussed on offering the global manufacturer a detailed assessment of lecithin categories covering demand-supply volumes and price profiles, market segmentation for key application segments, and major producers. Our solutions also helped the client identify the top five customers of lecithin in each region under focus, and offered a detailed profile of each customer to assess their usage trends, volumes, and application areas.
In a relatively short period of time – just 14 weeks – the global food and commodity manufacturer was able to leverage the information offered by Infiniti to develop a detailed understanding of the market in each region under focus, covering regional distribution of key products, supply-demand trends, price profiles of key products, and an assessment of major producers and customers for lecithin specific to food and industrial applications.
A summary of the key aspects and focus for the market intelligence engagement is provided below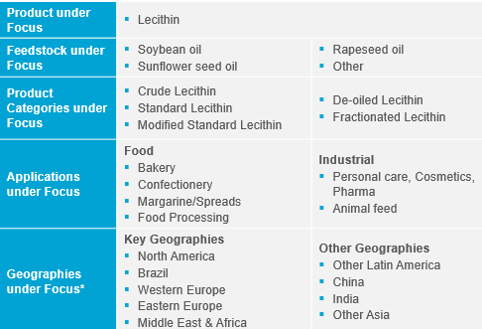 To assess the challenges specific to the food and beverages sector, Infiniti's market intelligence experts have developed an extensive proprietary database consisting of information on more than two million industry experts, key opinion leaders, payers, end-users, and distribution channels. This database also includes high quality and accurate information obtained through quantitative and qualitative surveys with effective response rate. We also have a collection of the best-in-class global network of 3000+ influencers and KOLs spread across multiple channels in 50+ countries.
What do the clients appreciate about our approach?
In 14 weeks, the client – the global food and commodity manufacturer – saw clear benefits from our relationship. The benefit was not only in terms of revenue impact but also in terms of the additional insights that were offered to help them understand the market space better and access to a information that would help them identify lucrative market opportunities in the near future.
Here are some of the key points appreciated by our clients
Dedicated Market Intelligence Portal. A centralized platform for the collection, storing, processing, reporting, and dissemination of information with the specific purpose of assisting the decision-making process and developing actionable insights. This portal includes comprehensive information on quantitative and qualitative aspects on target markets, competitors and end-users.

Collaborative learning.

We leveraged experience of our healthcare team and our technical capabilities to enable report-sharing and other collaborative features appreciated by client teams.
Database Access. Access to a patient database containing information about 60+ medical diseases and conditions, such as patient undergoing treatment, untreated patients, and patients with chronic conditions.
Interactive Dashboard. Using our Portal based solution for healthcare professionals, we took a design-first approach to problem solving and helped break through previously held assertions.
Value for Money. Infiniti's dedicated client management team customizes reports to suit business requirements and offers the best insights for every dollar spent.
A must-read market intelligence study for strategy experts and decision makers looking to identify lucrative market opportunities for lecithin.