The automotive industry being extremely competitive, compels manufacturers to offer a wide range of vehicle choices to cater to end-users' demands. Instead of shipping the entire vehicle to the overseas market, manufacturers have started shipping vehicle components to save costs. Additionally, rapid globalization has led to tremendous changes in the supply chain landscape of the automotive industry. With the growing economy, there are certain challenges within the supply chains of the automotive industry. The most common ones are keeping inventories well-stocked but not overstocked and guaranteeing a reliable logistic chain that adapts to changes. Additional challenges of this global market space are the number of recalls that have been issued in the past years. The supply chain facility in the automotive industry is at a constant need to perform at the highest level due to the fluctuation in the supply and demands of automotive parts.
To stay a step ahead of the competition in the automotive industry, there is a need for better planning, increased visibility, and a focus on continuous improvement in the supply chains. Well managed supply chains are key to business success for OEMs. Infiniti's market intelligence study focuses on providing the client with precise and accurate information obtained through qualitative and quantitative surveys. Our market intelligence study also helps automotive suppliers find ways to account for the demand for various brands and how to deal with them.
The Business Challenge
To obtain a clear understanding of the supply chain landscape for electric wires of an automotive manufacturing company, the client – a global manufacturer of electrical wire and optical fiber cables – approached Infiniti to engage in a competitive and supply chain assessment. The scope of this assessment was to understand the supply chain through which automotive wires and cables are supplied to a leading automotive manufacturer and to identify key players involved in this supply chain.
The primary objective of this market intelligence study was to identify a leading automotive company's major tier 1 and tier 2 cable suppliers in North Africa and Europe. Moreover, the market intelligence study also offered an in-depth overview of the  key decision makers and purchasers of high-temperature cables, which are used in the client's sub harness. The market intelligence team also carried out a detailed study to calculate supplier shares in various segments. It also involved the identification of applications other than the main harness for which the target cables are required. Our analysts also reached out to key opinion leaders and suppliers to understand their views on how the supply chain in the market flows and its growth in the short and long term to validate the market size and opportunity model developed for this segment.
Why Infiniti Research is the preferred partner for more than 55 Fortune 500 Companies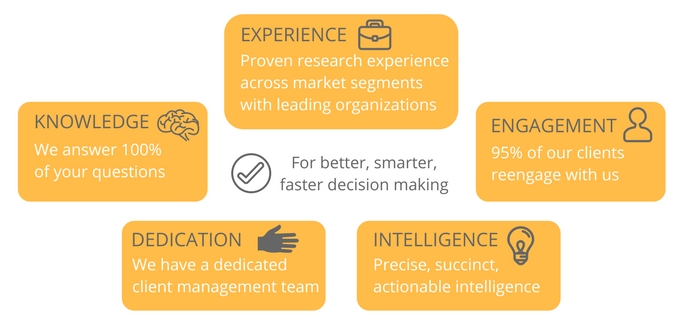 Solutions Offered and Impact
The market intelligence experts collected data from various automotive databases to identify manufacturers of automotive wires and cables, sub-harness and module manufacturers and further identified additional suppliers through peer company analysis, other databases, and other secondary sources.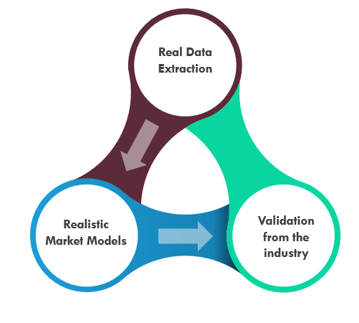 The research analysts also conducted secondary and primary checks to identify suppliers that provide high-temperature cables. The market intelligence team also gathered data by calculating total wire requirement and supplier shares for each segment.
By following a blended research approach, the team formed an initial hypotheses and analytical framework. Furthermore, a scrupulous assessment was conducted through proprietary and open data sources, market research reports, white papers, magazines and publications, publications of traders and distributors, case-studies, journals/magazines, news aggregators, and industry forums. Additionally, our experts engaged in semi-structured interviews and discussions with suppliers, industry specialists, and stakeholders from the automotive sector to assess the current and emerging market trends and analyze the supply chain landscape for the target region.
With the help of this market intelligence assessment, the client – a global manufacturer of electric wire and optical fiber cables – was able to gain a better understanding of supply chain through which wires and cables are supplied to a multinational automotive manufacturing company and also identified the key market players involved in the supply chain. The study helped the client shorlist the key purchase and decision makers and gain actionable insights on regulations for European cable standards.
Benefits of Our Integrated Market Intelligence Approach
In a relatively short period time, the client saw clear advantages from this engagement. The client gained an overview of the current market trends, various delivery channels, the supply chain map, details of additional suppliers, market size, and the key players operators in different levels of the supply chain – OEMs, Tier 1, Tier2, and Tier 3 players. Additionally, the client was able to identify the applications other than main harness for which target cables are required.
Here are some of the key points appreciated by our clients
Dedicated Market Assessment Portal

. A centralized platform for the collection, storing, processing, reporting, and dissemination of information with the specific purpose of assisting the decision-making process and developing actionable insights. This portal includes comprehensive information on quantitative and qualitative aspects on target markets, competitors and end-users.
Collaborative learning. We leveraged the experience of our healthcare team and our technical capabilities to enable report-sharing and other collaborative features appreciated by client teams.

Database Access

. Access to a patient database containing information about 60+ medical diseases and conditions, such as patients undergoing treatment, untreated patients, and patients with chronic conditions.
Interactive Dashboard. Using our portal based solution for healthcare professionals, we took a design-first approach to problem-solving and helped break through previously held assertions.

Value for Money

. Infiniti's dedicated client management team customizes reports to suit business requirements and offers the best insights for every dollar spent.
A must-read market intelligence study for strategy experts and decision makers looking to understand the supply chain landscape for electric wires of an automotive manufacturing company.