The pandemic outbreak and subsequent lockdowns have drastically altered economies, impacting the day-to-day lives of consumers globally. This has affected the purchase funnel as well as the motivations driving customers' purchase decisions. Given the rapid changes in today's world, the need for reliable customer insights to make crucial business decisions has never been greater. In such a scenario, accurate insights on the path to purchase is essential to uncover market and customer needs. Our customer intelligence expertise enables us to offer a holistic view of the customers' path to purchase, enabling clients to analyze customer journeys, enhance the planning process, and understand switching behavior.
About the client
The client is one of Europe's leading food and beverage processing companies.
Business challenge
With millennials changing how they interact with brands, it has become increasingly complex to analyze purchase paths. As more and more customers engage with brands across multiple touchpoints, uncovering insights into the path to purchase can help a business optimize its marketing initiatives. Path to purchase research focuses on analyzing the customer's purchase path to find conclusive insights to accelerate decision-making and drive sales.
The client faced challenges when the sales of a well-established product category started to shift online. With consumer-centricity at the core of their business strategy, the client realized they needed to leverage customer intelligence to reevaluate their understanding of the path to purchase and meet the target market's needs. To do so by regularly monitoring the market and consumer trends, they collaborated with Infiniti's customer intelligence team. The partnership's key objectives revolved around understanding the impact of online vs. offline sales channels and the role of millennials in driving sales & their contribution to sales trends.
Our customer intelligence solutions can help you translate consumer insights into profitable growth opportunities. Want to know more about our expertise? Contact us right away!
Solution offered
Detailed analysis of the client's business needs revealed that the client lacked insights into the customer landscape and the business environment. Hence in-depth market research and customer intelligence were leveraged to help the client achieve their strategic goals. The solutions offered also enabled them to-
Understand customer needs
Build customer profiles for each segment
Develop unique value propositions to target prospects
Request a free proposal for details on how the path to purchase research backed with customer insights can help you influence shoppers, increase sales, and drive sales at each stage of the purchase journey.
We adopted a holistic three-phased approach with a core focus on analyzing the consumers' decision journey and the path to purchase. The engagement involved the following phases: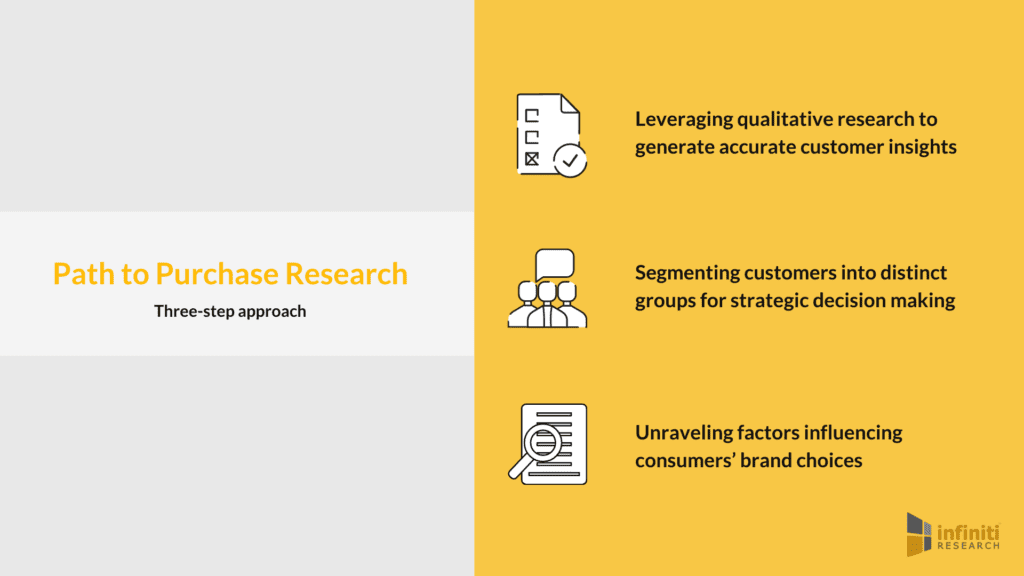 Leveraging qualitative research to generate accurate customer insights
The initial phase focused on qualitative research that shed light on the customers' decision-making process, brand affinity, and market needs. Our customer intelligence experts also enabled the client to leverage these viewpoints to improve problem-solving, enhance value propositions, and overcome barriers to market expansion.
Segmenting customers into distinct groups for strategic decision making
Segmenting customers into different target groups enabled the client to navigate the increasingly complex marketing environment. Customer segmentation also aided the client in enhancing their marketing efforts and identifying growth opportunities.
Unraveling factors influencing consumers' brand choices
By helping the client analyze the customer's decisions, we helped them focus their investments on critical areas that make up the consumer-decision journey, helping them drive sales and loyalty after purchase.
Our three-pronged research approach enabled the client to gain a fundamental understanding and accurate insights into the consumer landscape to uncover the reasons that impact customer loyalty, enhance brand awareness, rule out assumptions, and evaluate critical factors impacting the path to purchase funnel.
Our market experts combine the latest thinking and best practices to help businesses make the right decisions that influence customer buying behavior, which is why leading businesses leverage our solutions to build successful strategies. Request a free brochure to know more about our expertise.
Outcome
The solutions offered enabled the client to build buyer personas and unique value propositions for different BUs. This also enabled them to enhance their marketing efforts, shape top-of-the-funnel marketing strategies, improve sales, and build stronger customer relationships to drive customer loyalty.
The path to purchase research also empowered the client with valuable market insights on the marketplace's critical challenges and the barriers they must overcome to expand their customer base in target regions. On completion, our customer intelligence experts provided an in-depth report covering the buyer journey and personalized recommendations for targeting customers at each stage.
Why should businesses leverage customer intelligence to analyze the customer's path to purchase?
We partner with players from various industries to help them analyze attitudes and motivations that drive customer behavior from the initial interaction to the final point in the purchase decision journey. By leveraging innovative approaches, advanced research methodologies, and techniques grounded in distinctive perspectives regarding consumer mega-trends, and organizational structures, we help our clients gain a holistic view of their customer base while shedding light on the most promising sources of growth to build successful brands.
In today's complex, highly competitive business world, you need to understand customer needs and what is likely to generate a sale- Request more information to find out how we can help.