Food processing equipment market overview
The modern Food Processing technology is increasingly being channeled towards achieving safer, healthier, nutrient-rich, wholesome, environment-friendly & sustainable means of production. Food processing is an integral part of the food supply chain has led to the rise in demand for industrial food cutting machines over the last few years. Owing to the rising popularity of convenience foods that involve minimal preparation time, food vendors are increasingly expanding their portfolio of processed food products. There is also an increasing demand for industrial food cutting equipment for cutting, dicing, and shredding. Moreover, the rising support for the food processing industry through government initiatives in emerging economies is expected further to boost the adoption of industrial food cutting machines. As a result, the proliferation of the global food processing industry will promote the growth of the global industrial food cutting machines market.
Engagement overview
Today, food cutting equipment finds application in a wide range of categories including vegetables, fruits, meat and poultry, cheese, seafood, and even in bakery and confectioneries. As the quality of food and food processing hygiene takes the front seat, it is vital for food cutting equipment manufacturers to stay updated with new market trends, innovations, and competitor strategies to offer products that fulfill changing market needs. This recent success story from Infiniti Research showcases how our industry experts enabled a prominent player in the food cutting technology market to devise actionable insights in growth opportunities in regions including NAFTA, Europe, and APAC. During the twelve-week engagement, Infiniti's market opportunity analysis helped the client to identify key growth segments and major market drivers to expand their market share. By actioning market insights gained through the engagement, the client soon signed a multi-million-dollar long-term contract with an international food manufacturing company.
Client profile
A prominent player in the food cutting equipment market, headquartered in North America. The company manufactures and sells commercial cutting equipment to food processing and related industries. Over the years, the company has also expanded their global presence into the EMEA and APAC regions.
Business challenge
The client, a multinational company in the food cutting equipment market, found it challenging to accurately identify and understand the changing market dynamics in different markets. As such, they approached our industry experts to assess the food cutting equipment market and competitive and end-user landscape to develop actionable insights on the growth opportunities across NAFTA, Europe, and APAC. The client also wanted to gauge the demand for food cutting equipment in different segments of the food industry with a critical focus on the fruits and vegetable segment. They also wanted to innovate their existing product portfolio to accommodate specifications and features based on the latest market trends and technological advancements. Experts at Infiniti were also tasked with undertaking a competitive intelligence study to evaluate how key players in the market catered to the dynamic end-user requirements.
Request a FREE proposal from our industry experts for precise and data-driven strategies to solve your business challenges.
Our Approach
Infiniti Research used an integrated approach, including primary and secondary research, to provide strategic insights to solve the client's unique business challenges. Direct interviews with several business executives, channel partners, dealers, trade partners suppliers from the industry were undertaken as a part of the primary research. The secondary research involved a thorough analysis and information gathering from sources, including Market Research Reports, Annual Reports, Company, and Executive Presentations, and also through social media monitoring. The engagement also included:
Market opportunity assessment: To evaluate growth opportunities in regions including NAFTA, Europe, and APAC and identify new avenues to enhance market share
Industry Trend analysis: To delve into the latest technological advancements in the food cutting equipment market and understand lucrative product specifications that have high demand in different segments of the food processing industry
Competitive intelligence study: To gain a deeper understanding of end-user requirements in the food cutting equipment market, examine how top competitors catered to these demands, and evaluate gaps in the product portfolio and market strategies compared to other key players in the market.
Strategic Insights and Key Recommendations to The Food Cutting Equipment Market Client
Through a detailed market opportunity assessment, experts at Infiniti Research observed an increasing demand for pre-cut vegetables, especially in the NAFTA region, owing to the busy lifestyles of the urban population. Notably, consumers are willing to pay 2.5 times more for pre-cut fruits and vegetables than regular bundled vegetables. Consequently, there is an immense opportunity for market growth in cutting equipment for fruits and vegetables. This trend is also expected to dominate in emerging markets of EMEA and APAC due to rising urbanization.
Another area of focus for food cutting equipment manufacturers is the bakery and confectionery market. With this industry proliferating in emerging countries like India, there are lucrative opportunities to be explored for food cutting equipment companies. Different types of blades (single and double bevel) with specific cutting speeds are required for the different bread formulations (white, wheat, breakfast, potato, low fat, low carb, and hard crust). End-users prefer machines that provide precise cutting with minimum waste, especially for whole bread and crouton cubes. A notable innovation in this area is the ultrasonic food processing machines designed for bakery products; it comprises a vibrating knife that creates a frictionless surface to cut the food without deforming it.
The detailed competitive intelligence study undertaken by our industry experts suggests that some key players are offering demo programs to end-users and integrators for testing slicing and dicing equipment in their laboratories to increase the sales of machines. Such strategies are giving them an edge in the market to compete effectively and increase market share. Apart from this, experts at Infiniti also recommended strategies to the client to re-evaluate and enhance after-sale services of their food cutting equipment. This will help the client promote brand loyalty and customer satisfaction, which is vital in the case of equipment involving substantial capital investments.
Infiniti's industry trend analysis identified an increasing need for food cutting equipment that compact and easily portable. Manufacturers are focusing on machines that are compact with additional features for faster changeovers. The quick changeover feature helps clean and sanitize machines quickly. Adopting these features as a part of innovation can help the client penetrate new markets and considerably expand market share.
Another key trend observed was that multi-purpose machines (which can cut different fruits and vegetables) that offer high throughput are the key requirements driving the fruits and vegetables and snack industries. Due to the increasing demand for cut vegetables and fruits worldwide, companies mainly prefer such equipment. Manufacturing and promoting multipurpose machines can help the client capitalize on high growth opportunities, especially in emerging markets.
Business Impact
Infiniti's market opportunity assessment helped the client uncover critical growth prospects in their target markets in NAFTA, Europe, and APAC regions. Based on recommendations by industry experts at Infiniti, the client was able to invest in new and lucrative segments such as food cutting equipment for fruits, vegetables, and bakery. By expanding their product portfolios through technological innovations in these segments, the company soon became a leading manufacturer and supplier of food cutting equipment in the APAC region. Other key benefits gained by the client through the engagement include: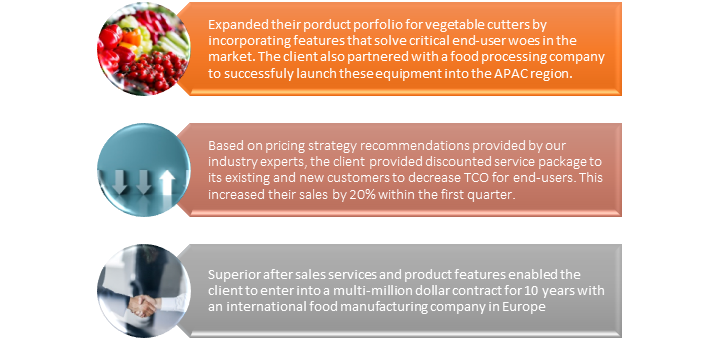 Get in touch for detailed insights into the food cutting equipment market