To anticipate your competitors' moves, you must think like their strategists and key decision makers- Competitive research can help you do so.
The economic crisis and pandemic-induced impacts shed light on the harsh realities of the business world. It also brought to light the fact that in bleak times, business success often depends on the strategies of key competitors. Identifying your competitors is essential for developing robust growth strategies and finding your edge in the market. Also, there's no denying that tracking your competitors and analyzing their moves can help you find new opportunities for growth and performance improvements. Hence analyzing your competitors' moves at an organizational and individual level is crucial if you wish to anticipate rather than react.
Some companies have an in-house team, whereas others collaborate with external b2b solutions providers to regularly conduct in-depth competitive research to assess the competitive landscape. But the process doesn't always have to be complex and time-consuming – particularly given the new wealth of primary and secondary data sources. The approach often extends beyond the data-gathering efforts of most competitive research processes toward a thought process that helps turn these data sets into competitive insights. These data sources impact competition in several ways, including-
It helps gain a competitive edge by offering new competitive insights
It paves the way for new business and growth opportunities, often from existing business operations
Given the rise in competition, businesses must develop a framework for competitive assessments, gather competitive insights, and uniquely position their brand in the marketplace. Competitive research can help identify new trends and bridge gaps in your business plan by adopting a holistic strategy.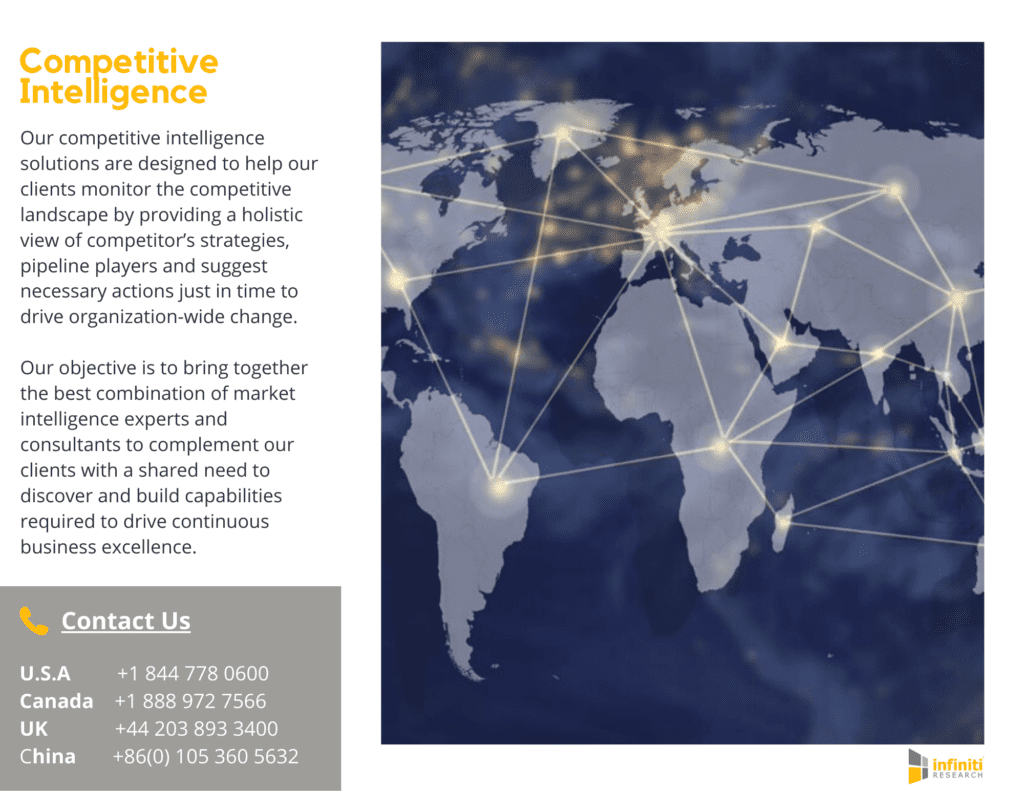 Keeping track of your competitors, their business strategies, and brand perception can not only help you identify best practices but can also help you stay ahead of trends that could impact your business, says a competitive intelligence expert at Infiniti Research.
Your competitors have important lessons to teach you, and it's essential to keep track of their moves to strengthen your business and improve customer value propositions. Wonder how competitive research can help your organization? Request a free customized proposal to get started.
What is competitive research?
Competitive research focuses on leveraging advanced research methodologies to identify your competitors and evaluate their strengths and weaknesses. Using systematic approaches to analyze your competitors and see how your products and service stack up against your competitors' products will also help reveal the threat they pose to your business.
What are the benefits of competitive research?
Before getting started, the first decision you need to make is to decide how you would gather the intelligence and competitive insights- whether in-house or through external collaboration. In general, the best way to get started with competitive research is first to set a framework for your competitive assessment.
Experts at Infiniti Research suggest that you may want to review the competitive landscape at a macro level or economy at a micro level, especially if your organization competes in a specific region with specific macro and micro-economic factors impacting growth.
Get in touch with our competitive intelligence experts to gain complete access to our comprehensive portfolio of custom-built solutions.
Analyze your business environment
Conducting in-depth competitive research can help reveal new market trends and opportunities that might have otherwise been missed. This is crucial for business success since identifying and predicting market trends can drive value for businesses through enhanced value propositions.
Bridge gaps in your business plan
Analyzing your competitors' strengths and weaknesses will help you look at data the way you've never done before. You'll often find that there is an underserved customer segment that could benefit from your offerings. Moreover, you can redefine your products and services to reach those customers and close current gaps between your offerings and market needs.
Infiniti Research is committed to helping businesses achieve global success through enhanced decisions and market insights. To learn more about the benefits of competitive research- Request a free brochure.
Improve your marketing programs
If your competitors' offerings are in demand, they probably better explain the benefits of their products and services to the customers. Competitive research can help you improve your products or marketing programs in the long run by shedding light on the best practices followed by your competitors.
Create a strategic plan for your business
An essential benefit of conducting competitive research is that it will shed light on key focus areas and opportunities for driving business growth. This includes improving your product or service, using more strategic pricing strategies, and improving the promotion of your products.
Getting started with competitive research: Sources
With several sources of competitive intelligence available today, it is now easier than ever to conduct competitive research. However, not all data sources are reliable when it comes to analyzing your competitors' strategies. This is why we do the legwork for you and help you build robust strategies and a business plan by analyzing data from sources like-
Web monitoring
Primary and secondary databases
Public records
Tools designed to track competitive insights
Business databases
Analyzing the competitive landscape might seem daunting, but it's essential for business success and is just as important as understanding your customers. When you incorporate the right methodologies and streamline the research process, you will eventually realize that it's not as difficult as you imagined.
Our approach to competitive research will help you better understand your competitors and eliminate the speculations that undermine the development of strategies in an increasingly complex business world. For more insights on our core capabilities and industry expertise – Request more info from our experts.